Suitable flooring boosts the aesthetics of a room. But it's not that easy to get a good one. With many brands in the industry, you choose wrongly without proper guidance.
Johnson Hardwood is a high-quality flooring brand that provides luxury at an affordable price. If you're interested in buying vinyl flooring from this brand, it's only natural to learn about it.
It'll help you decide if the vinyl flooring is ideal for you. Check out the features in this review.
Features of Johnson Hardwood Vinyl Flooring

The vinyl flooring from Johnson hardwood has outstanding features that might make all the difference on your floor. Check it out.
WaterShield Rigid Core Technology
Johnson hardwood is a premium brand that offers premium products. One of the ways they achieve that is to provide high-quality hardwood vinyl flooring coated with WaterShield Rigid Core technology.
The essence of this technology is to help the vinyl flooring resist becoming a victim of some external factors. For instance, if you've got a pet, they could ruin your flooring with claws- if it's not well protected.
But this technology engineered into this vinyl flooring protects it from possible moisture and animal damage.
Another feature of Vinyl flooring from Johnson hardwood is the low or semi-gloss on the vinyl flooring. The low gloss has many advantages, depending on where you want to install it.
More so, it is trendy in the flooring industry these days, and I'll show you why. Although high-gloss floors look shiny, low-gloss floors do not, which is great for hiding scratches and claw marks.
It also perfectly hides the stains caused by your kids or their toys. As a result, it makes it easier to maintain and clean. We all know vinyl floors are easy to maintain.
So, in addition to the easy maintenance nature of vinyl flooring, the low gloss makes cleaning this type of floor a breeze. It would prevent thick stains from sticking. And when they stick, you won't need to change the vinyl flooring as it won't be visible.
100% Virgin Vinyl Phthalate Free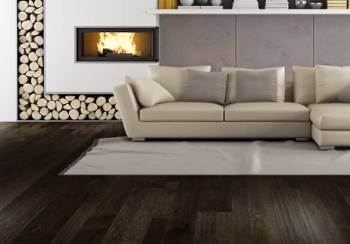 While some people subscribe to using Vinyl flooring in the house, compound, and other locations, others don't.
The reason is that some people believe Vinyl flooring is harmful to both pets and humans.
While they might be correct, not all types of Vinyl pose such risks to human and animal health.
For instance, Vinyl flooring without phthalate is a safe option to use.
Based on studies, Vinyl materials that deploy phthalate are toxic. Although the goal is to make PVC (Polyvinyl Chloride) soft, its effects are terrible.
That's why companies like Johnson Hardwood use virgin vinyl flooring that's 100% phthalate free. So, when next you hear people talk about how vinyl flooring is toxic or emits VOC, do well to remind them that those vinyl floorings have been polluted with phthalate, which is not what you'll get with this brand.
Here is another reason to fall in love with vinyl flooring from this brand. Unless you use hardwood flooring, you won't get that natural look.
But Hardwood is expensive; Vinyl is cheaper. When Vinyl is the only option you can opt for, it's best to do it right. Most of the Vinyl flooring with this brand is carved with embossed texture technology.
The technology is what gives your vinyl flooring a natural look. It won't look like your regular vinyl flooring that doesn't look natural.
In fact, people would tend to confuse it with stone or hardwood flooring. That's Johnson hardwood's way of giving your luxury at a lower price.
Now, Vinyl flooring installation with this brand is easy to install. The installation technique of most Johnson Hardwood vinyl follows the float installation.
This installation technique is the easiest. It's not your regular installation style as it's done over underlayment and subfloor. Although it sounds complex, it's easier than you can imagine.
DIY-ers would have fun installing this flooring. More so, this technique is fast and saves you money. If you don't know much about installing flooring but are a fast learner, you can install this flooring yourself.
Johnson Hardwood has provided all the installation instructions you need to pull it off successfully. You'll get all the instruction manuals you need on the website.
As much as this brand is invested in making its flooring functional, they are also aesthetically conscious. Depending on the series you shop their vinyl flooring from, you'll get some unique design options.
That way, you can blend the colorful beauty with the realistic aesthetics of the flooring. Together, you'll get luxurious vinyl flooring on your floor.
Some design options give your floor 10 different visual aesthetics with three color tones- dark, light, and medium. You can watch the full collection from here!
Since it's Vinyl flooring, it is easy to maintain and care for. Coupled with the low gloss and other features, you'll quickly eliminate stains and marks.
You'll find instructions on the best way to maintain the products you get from the brand on their website. Don't worry; it's nothing too deep or severe.
The hallmark of the Vinyl floor from Johnson Hardwood is its affordability. Regardless of all the technologies deployed in forging this product, it sells at an affordable price. Once installed in your apartment, it gives your house the feel of luxury.
What Needs Improvement?
No flooring is perfect. So, it's normal to expect some flaws with the Vinyl flooring from Johnson hardwood.
Don't get me wrong; Johnson Hardwood flooring is durable. However, its lifespan is not as long as hardwood flooring. So, the wear and tear protection would start to break down after using this vinyl flooring in your house for a while.
Eventually, the product itself would need replacement. Nevertheless, you'd get the value for your money's worth.
Frequently Asked Question (FAQ)
Is vinyl hardwood flooring good?
Yes, it is. In fact, it is a famous type of flooring, thanks to its resilience. More so, it doesn't require too much effort to maintain. If you want excellent water-resistant flooring, you'll get it with Vinyl flooring.
Is vinyl or hardwood floor better?
Frankly speaking, the better flooring option depends on your preference. But generally, Hardwood floor is more durable and natural than Vinyl. However, they are expensive. That doesn't mean the Vinyl floor has no advantage besides being the cheaper option.
What are the disadvantages of vinyl plank flooring?
Vinyl plank flooring has a couple of disadvantages. For starters, they are difficult to repair, and the non-virgin variant releases volatile organic compounds (VOC) into the atmosphere. That disqualifies them as an eco-friendly option.
Which is better, Vinyl or laminate or Hardwood flooring?
When it comes to lifespan, Hardwood flooring is better. Then, Vinyl lasts longer than Laminate flooring. However, Hardwood is the most expensive option among these three flooring types.
Conclusion
Hopefully, this Johnson hardwood vinyl flooring review will have helped you reach a decision. Of course, vinyl flooring from this brand has some issues; they don't override the advantages of the products.
Besides, these flaws can be overlooked because there's no perfect product. When you finally get your vinyl flooring from them, seek guidance on installation. Enjoy.