Imagine your child or little puppy has a habit of spilling liquids. And over time, you noticed that your typical floor's surface is getting discolored and fragile! Feeling worried?
Well, that won't happen if you get your hands on the Golden Arowana flooring. The waterproof design and multi-layer formula make it 100% liquid-friendly.
For more information, read the review right away.
Features of Golden Arowana Flooring

Needless to say, each flooring includes some unique features. So let's get into the details of the wonderful Golden Arowana Flooring by looking at its mind-blowing specs, functionalities, and so on.
Entirely Waterproof Design
I can rest assured that the Golden Arowana flooring will ensure excellent protection against water drops and moisture.
Ask me why?
Because this floor gets HDPC (high-density plastic composite) vinyl plank, making it 100% waterproof.
Moreover, prior acclimation won't be required at all when it comes down to installation. So for your not only house, but Golden Arowana can also be your go-to flooring for a few more indoor places.
Alongside the plastic composite, the maker has added carbonized bamboo additionally into a couple of models. Thus, you can consider it as sturdy as Oak flooring in some aspects.
On top of that, Golden Arowana can withstand mediocre to high traffic levels, ensuring excellent durability.
The unique part? Well, unlike the typical flooring brands out there, its sturdy core includes enhanced density and strength. As a result, Golden Arowana assists in hiding floats and imperfections over the majority of surface floorings (hard).
Want to know the secret of its durability and ultimate longevity? Well, this is where the "multi-layer formulation" comes into play!
Plank layers equip all the necessary components and stuff, including the Vinyl layer (top), Wear layer, Foam Pad, and Composite Core. Each has its own specialties and benefits.
For instance, the Vinyl layer on the top stands for ensuring the real "hardwood" look. Wear layer, on the other side, offers resistance against wearing, scratch, and such things.
Besides that, a 1mm Foam Pad aids in resisting moisture from underneath. Furthermore, the pad minimizes sound transmission and delivers a cushion in order to remove the necessity of extra padding. Impressive, eh?
Ensures Quick & Hassle-free Installation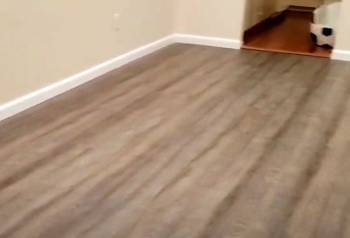 This is where many homeowners suffer a lot. Although the current market gets tons of top-notch floorings, most of them are tough and time-consuming to install.
Besides, few of them require extra bucks for a complete setup by professionals.
Luckily, Golden Arowana Flooring has got you covered with its unclick locking system.
Unlike the cheap models out there, this one right here assists you in installing it over solid surfaces, and that too without much effort.
So, from now on, you won't have to count additional dollars on a very seasoned person! Even the one with minimal knowledge of floor installation can get it done successfully.
Cleaning and Maintaining It is a Breeze
The title says it all! Thanks to the effective U.C. bead technology it comes with. With its assistance, it becomes comparatively easier and less time-consuming to clean up.
As for cleaning, either go for dry or wet mopping. I'd personally suggest using dry mops at least twice a month to hold the aesthetic of Golden Arowana Flooring.
Suitable for Multi-Surface
Let it be your bedroom, living room, kitchen, dining, or even your office; Golden Arowana is friendly with every surface. Its entrancing look can surely complement your entire decoration.
On top of that, the excellent waterproofing ability makes it friendly with every indoor surface. 
What Could Have Been Better With Golden Arowana Flooring?
After researching deeply, I've found some noticeable drawbacks of the Golden Arowana flooring. Check out these things, and let's teach you how you may overcome them.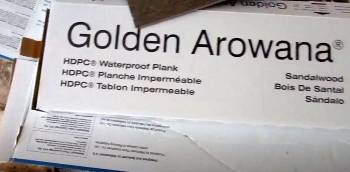 To resist fade, the Golden Arowana Flooring is unfortunately not the best choice for you.
Its upper and lower layer may fade over time by getting in contact with extreme light and heat. That is what you won't expect!
So, you shouldn't install such an HDPC floor on a surface that gets close contact with natural light and stuff like that. 
Not Friendly with Sharp Objects
Although the Vinyl layer on the top ensures resistance against scratch, still a few customers end up with scratch marks on the surface of their Golden Arowana Flooring.
By using extra rugs on the floor and covering up through mats, you can easily overcome the situation. And don't press heavy objects or furniture over the floor's surface in a rough way.
Frequently Asked Questions (FAQ)
How Good Is Golden Arowana Flooring?
If you compare the Golden Arowana Flooring to its same-level flooring models, then it's definitely a better choice for homeowners. Multi-layer formulation, sturdy construction, and 100% waterproof design make it stand out.
Who makes Golden Arowana?
The company named "WellMade" is the direction manufacturer of Golden Arowana. It expands its applications to the country of Bartow, Georgia.
Who makes Costco Vinyl flooring?
Instead of holding their particular "in-house" brand, Costco Vinyl flooring tends to carry exciting floors from some other brands, including Mohawk and Shaw.
Is Hdpc waterproof?
Yes, the high-density plastic composite claims to be fully waterproof and moisture-resistant. And guess what? The Golden Arowana flooring gets the same feature for optimal reliability.
Last Words! 
Not only beautiful furniture but the correct floor can also dramatically increase the whole aesthetic of your house. And that's what I tried my level best to show you right here through this Golden Arowana Flooring review.
Here, I explained why it deserves to be your first priority for the next home decoration project!