Water damage is a very big concern for any household. Especially for the basement of your house, you have to worry a lot about water damaging the area. That's when you might think of going for Drylok.
Drylok is a water sealant people use for waterproofing their basement. Now, if you are just wondering whether it's worth your time or not, then I would suggest checking out the pros and cons of Drylok.
This will give you a clear idea of why you should use Drylok for your basement.
Benefits And Drawbacks Of Using Drylok
Don't have much time on your hands? Then, I highly recommend checking out this quick table for the pros and cons of using Drylok.
| | |
| --- | --- |
| Pros | Cons |
| It helps a lot in reducing smells from basement walls | Can become the cause of mold growth in your basement |
| Lowers the humidity level | It's not a permanent, reliable solution |
| Protects your basement from water damages |   |
| It's a pretty cost-effective waterproofing solution. |   |
| You can apply the fix by yourself. |   |
Not getting the full picture yet. Well, don't worry, I will discuss these in detail just in a bit. Stick with me till the end to get all the details of these pros and cons.
The Advantages Of Using Drylok For Your Basement
First, let's get through the advantages you get from applying Drylok to your basement. This will clear any confusion regarding the application of Drylok in your basement.
Provides A Sealant On Your Basement For Water Damages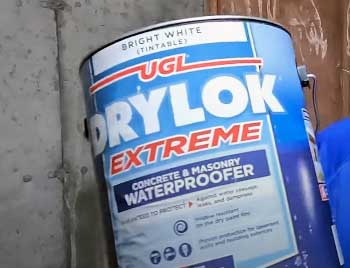 Well, the main purpose of using Drylok is to seal out your basement so water doesn't seep through the basement walls.
Drylok seals up the areas from where water seeping through can be a possibility.
With the application of Drylok to such areas, you can ensure that your basement isn't going through any water damage.
It Helps In Lowering The Humidity Level Of The Basement
A higher humidity level in your basement can be an issue for too much moisture buildup in the basement. Using the Drylok solution for your basement will provide a sealant on the basement that stops the moisture from building up too much.
As a result, the humidity level in your basement also lowers quite a lot.
It's Not That Expensive As A Solution
While the problem is quite severe, this solution isn't that expensive in comparison. Drylok is a cost-effective solution you can try out for waterproofing your basement.
So, this can be a great solution for people who don't want to spend too much money on waterproofing their basements.
It Doesn't Require A Professional Application
The cost gets even lower when you discover that it doesn't need professional installation. You can apply the product to your basement by yourself.
It's super easy to apply, and you won't have trouble applying the Drylok in your basement to seal the water-seeping areas.
It Gets Rid Of Any Smell Coming From The Basement Walls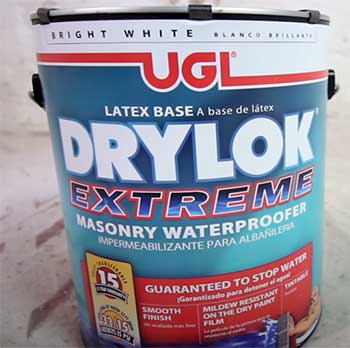 A lot of the time, if water keeps seeping through your basement walls, it can cause a fungus or bad smell around the area.
When you seal the area, it will cover up that smell and remove it from your basement walls.
As a result, you end up in a better environment in your basement.
Typically, these are the benefits you get to experience with using Drylok for your basement.
So, they can be a bit convincing when you think about water sealing your basement.
The Disadvantages Of Using Drylok For Your Basement
Now, let's talk about the cons of Drylok because it's not all good when it comes to using Drylok. You will have to get around some issues if you truly want to use the solution.
They Can Cause Mold Growth
The thing with Drylok is that it doesn't completely stop the water from seeping through. It's almost like an inefficient solution for fixing any water damage in your basement.
Moisture somehow comes through cement, and you will end up with mold growths in your basement.
It's Not A Permanent Solution
The fix can be effective for a while, but if you are thinking about a long-term solution, this isn't the thing for you. The solution doesn't last long and ends up flaking on the cement wall after a while.
I think these issues can be a deal breaker because you wouldn't want mold growth in your basement. At the same time, if it's not a permanent solution, then you will need to find out a proper solution that's long-lasting.
Points To Consider Before Getting Drylok
Whenever you are getting Drylok, you should think through the following things –
The water damages aren't that severe in your basement.
No heavy pipelines are running around the basement.
There is no serious leak or crack on your basement walls.
You are looking for a quick and easy fix rather than a solid one.
After you go through all these points and find the solution viable, you can go for it. Otherwise, I would suggest consulting a professional repair service if your basement gets damaged from water.
Frequently Asked Question (FAQ)
Can mold grow behind Drylok?
Yes, mold growth is a possibility behind Drylok. If the cement wall has an issue of water seeping through, then moisture can build up behind Drylok and cause mold growth.
Is there anything better than Drylok?
If you are not worried about paying a bit extra, Sani-Tred is a better option than drylok for waterproofing your basement.
Does Drylok stop water from coming into the basement?
Yes, Drylok does stop water from coming into your basement walls. However, it isn't that effective if the problem is too severe. Also, it's not a long-term solution.
Conclusion
To sum up the pros and cons of Drylok, I would say it's a good solution as a quick fix. Also, it's a cost-effective fix for sealing your basement from most water damage.
But if you are looking for a much more permanent and solid fix, then there are better fixes you can find out there. However, they might be a bit expensive.
So, it just comes down to what meets your needs the best.