Do you want to learn how to waterproof various substrates of your home?
You need the best waterproof sealer, which will work on all the substrates. But finding the right one might become difficult for you if you do not know what to look for.
No need to worry. I have brought you two of the best products, Tamoseal and ThoroSeal. Here in this write-up, I'll compare them with each other. After reading their differences, you'll clearly understand which will be better for you.
Let's get into it right away.
A Quick Comparison Table
Here's a quick comparison table between Tamoseal and ThoroSeal surface sealers:
| | | |
| --- | --- | --- |
| Aspects | Tamoseal | ThoroSeal |
| Product Type | Polymer-Modified Waterproofing Formula | Micro-Porous Waterproofing Formula |
| Features & Benefits | Offers Fewer Features & Benefits | Offers More Features & Benefits |
| Application Areas | Exterior & Interior | Exterior & Interior |
| Coverage | 225 Sq. Ft. Per 50lb. | 225 Sq. Ft. Per 50lb. |
| Cure Time | 7 Days | 7-10 Days |
| Price | $34 for 50 lbs. | $78.79 for 50 lbs. |
In-Depth Comparisons Between Tamoseal And ThoroSeal
Now it's time to get into more details. You can make the right choice when you know about them in detail.
So, here are some key differences between the two sealers: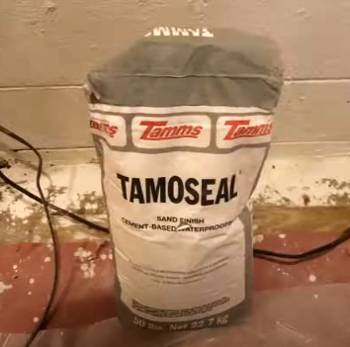 Tamoseal is a cement-based and polymer-modified material mainly designed for waterproofing masonry and concrete substrates.
Apart from that, Tamoseal waterproofing can effectively seal a range of other substrates.
It will become an excellent sealer for vertical and light-duty horizontal surfaces if you mix this waterproofing formula with FLEX-CON or AKKRO-7T acrylic admixture.
On the other hand, ThoroSeal is a cement-based waterproof coating formula.
You can use this breathable micro-porous and seamless coating formula for filling, sealing, and waterproofing various substrates.
You can use it on various substrates, including pre-cast & cast-in-place concrete, masonry, brick, stucco, unglazed terra cotta, and porous stone. It's suitable for the exterior and interior of new construction or renovation projects.
Besides, it's an ideal alternative to mechanical finishing on substrates.
Tamoseal is a multipurpose formula. You can do both waterproofing and decoration using this cement-based sealer.
After applying, it'll become an integral part of your substrates, and this breathable formula will create a tenacious bond over your surface which will be durable.
It's available in two standard colors, Gray and White. Apart from that, some other colors are available to order in large quantities, including Oyster, Alpine, Pearl, etc. The sealer is slightly flexible and can seal static cracks.
On the contrary, you can use ThoroSeal for interior and exterior substrates. This breathable formula allows interior moisture to escape without affecting the coating.
Besides waterproofing, it can hide blemishes and minor surface defects on concretes.
It can protect exterior walls and other surfaces from standing water and wind-driven rainwater; you can also use it as an alternative to rubbing, concrete, or mechanical finish.
It's available in two colors, White and Standard Gray. However, you cannot use it on painted surfaces.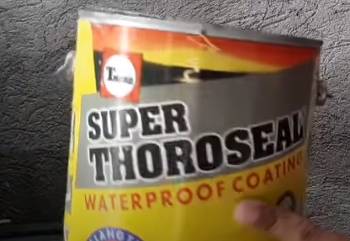 Tamoseal can be applied on various substrates. But this formula is mainly designed for concrete and masonry.
That's why areas made of these two materials will be the best place to apply Tamoseal.
You can apply it to waterproof concrete and block foundations, water tanks, reservoirs, interior or exterior walls, balconies, etc.
In contrast to Tamoseal, ThoroSeal works on more substrates. You can use this waterproofing formula in various interior and exterior places, including basement walls, containment walls, water cisterns, bridges, tunnels, roadways, below-grade interior & exterior, balconies, water tanks, and about every part of your home.
Under normal waterproofing conditions, a 50 lb. bag of Tamoseal can cover up to 225 square feet at the first coating. And for the finishing coating can cover up to 450 square feet per 50 lb. bag.
However, the amount will vary based on the texture and porosity of the substrates.
Similarly, ThoroSeal will also cover 225 square feet per 50 lb. bag in the first coating and 450 square feet in the second coating.
Tamoseal will take 12 to 24 hours to cure the first coating, and then you can apply the second coating. It'll take at least 7 days to fully cure.
On the other hand, you can apply the second coat of ThoroSeal after 24 hours of the first one. But for a block or masonry wall, you should wait at least 5-7 days before the second coating. It will take 7-10 days to become fully cured.
You will have to spend around $34 for 50 lbs. of Tamoseal. You might be wondering where to buy Tamoseal from. You'll find them in any home improvement store and many online stores.
On the contrary, a 50 lbs., Standard Gray ThoroSeal will cost around $78.79.
Which One Will Be Best For You?
Now comes the part where you decide which one to choose. After reading all the differences, you can see some differences and similarities between these two products. Keeping everything in mind, I suggest you go for ThoroSeal.
Industry experts say ThoroSeal works better in waterproofing interior and exterior substrates. Besides, it works on more substrates than Tamoseal.
Frequently Asked Question (FAQ)
What is Thoroseal used for?
ThoroSeal is a polymer-modified and ready-to-use sealer formula. This cement-based sealer waterproofs various substrates, including mortar, concrete, masonry, etc. You can use it on the interior and exterior.
How long does Thoroseal take to cure?
ThoroSeal takes 7-10 days to cure fully. But you can apply the second coat after 24 hours. However, you should wait 5-7 days before applying the second coat on block and masonry substrates.
How do you apply Thoroseal to basement walls?
ThoroSeal will work excellently in waterproofing basement walls. You will have to start applying ThoroSeal from the top and work down eventually. The surface can be damp but not water penetrating.
Is Thoroseal cementitious?
ThoroSeal is a cement-based waterproof formula. So, it's cementitious, and you can use it on various cement-based surfaces in the interior and exterior of your property.
Final Thoughts
Waterproofing is essential for homes. It will protect our homes from water and moisture, making them durable at the same time.
So, you must choose the right product for waterproofing that will give you a long-lasting performance.
After reading all the information about Tamoseal vs. ThoroSeal, the choice is pretty clear. Use ThoroSeal, and you won't regret it in the future.
So, go ahead and complete your project with ThoroSeal.