For great reasons, Mohawk RevWood is a big flooring company. However, there have been major complaints from users, such as poor customer service, weak warranty policy, and lack of waterproofing elements.
So, I have taken my time to give you the most accurate data you can find. By the end, you'll be well aware of the drawbacks to expect with this product. It's going to be a long ride, so let's jump into it!
Mohawk RevWood Problems

You don't always get what you expect, which can be frustrating. I know because I've been there a couple of times! Mohawk RevWood has its upsides, no doubt about that, but its downsides too. Would you like to know some of them? Here they come!
A common complaint from consumers is that the flooring can't be refinished. Such a bummer! Let's be logical; even the most glossy, gorgeous finish fades at some point.
And when that happens, you need to get to work to maintain the look and make it rosy and fresh again. Refinishing is a marvelous way to extend the life of your floor, but with Mohawk, it's impossible to do it.
Therefore the option left would be to replace, which can be quite expensive. With this flooring, the most convenient and cost-efficient way to maintain that initial beautiful, shiny appearance and increase the lifespan is to wipe off any spills immediately.
Moreover, avoid mopping the floor with water. A dry cloth or mop will do the trick!
Non-universal Waterproofing
Waterproofing is necessary for flooring if you don't want to deal with warps, swelling, and mold growth. But not all floors are designed with this significant feature, in this case, Mohawk RevWood.
Users have been majorly unhappy with the lack of waterproofing in the flooring. Moisture and accidental spills are unavoidable, so it can be frustrating to deal with this problem.
A house with kids running around or a pet would be a complete disaster. Since these floors easily absorb water, they can be super difficult to clean and maintain.  
Enough of the bad part; let's get to the good one! To make this floor waterproof, you can apply a polyurethane coat that will offer protection from moisture.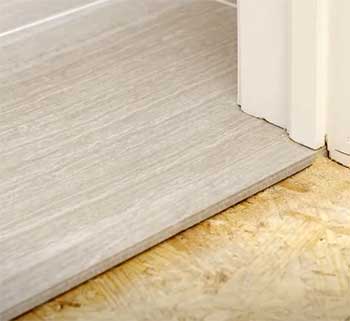 One significant problem you should be prepared for regarding Mohawk is the absence of a repairing option.
As much as the floors are affordable, there are extra costs in case of damage.
It's designed with a thin wear layer such that if some dents or dings need to be fixed, you have to take out the whole plank and get a new one.
That can be time-consuming and very expensive.
Go for it if you can get higher-priced flooring with low and cheap maintenance. It might be better than continuously spending a lot in case of a blemish or scratch. But then, that's up to you.
I've seen and heard customers complain about receiving damaged products upon delivery. That's something to do with the shipment process and packaging.
Imagine you've spent a lot of cash and can't wait to install your flooring, only to find broken pieces in a box. And to add salt to the injury, the management sometimes fails to take responsibility and blames the customer and the environment.
Yes, you can get lucky and get a replacement after returning, but then how long will that take? Therefore, if you plan on getting Mohawk, it is only fair if you know this beforehand.
Mohawk RevWood is prone to stains, just like other laminate floors. The company assures the customers that the planks are treated to handle stains and ensure they don't permanently stick, but this only happens during the first few months after the installation.
After one year or so, you must clean up any spillage immediately to avoid discolorations. That's so much work and commitment, especially if you constantly have busy schedules.
Inaccurate Warranty Policy
Most of us are keen on warranty, so this is a point you want to take advantage of. The company insists they offer lifetime coverage for its products, but sadly, that is not the case. 
If you closely look at the small print, you'll see that the warranty lasts 20 years. And that's not all! Most customers have observed that the company looks for excuses not to honor the warranty by claiming that the damage was due to neglect, for instance, incorrect installation procedure.
So, you must go back to your pockets and get another product rather than going back and forth with the management.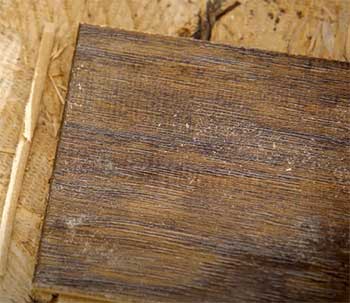 Before deciding to buy a product, do you get this uncontrollable need to check out customer reviews? (I do it all the time)
Mohawk RevWood is a huge and popular brand but lacks an adequate online review database.
You need more information to help you decide whether to get the item.
And I've heard users saying that they didn't get the flooring for that reason and opted for a different company with more reviews.
The management from Mohawk RevWood is not the easiest to deal with. First, they take too long to respond to customer queries when you call or email them.
What's more, they take forever if there is an exchange of the item if it was faulty when delivered. You might have to wait a month or even more before getting another one. Plus, the customer service people are somewhat rude and dismissive to the users.
It would help if you looked at several factors to get the most durable laminate flooring. Thickness is one of them. The perfect thickness should be 12mm, but for RevWood, it's 8mm and less tough.
Moreover, the floor is not scratch resistant. If you are after highly durable flooring, Mohawk RevWood is not your guy. If you prefer a brand with excellent longevity, consider RevWood Plus, which is more expensive but will last for generations.
Frequently Asked Questions (FAQ)
Can Mohawk RevWood be refinished?
While most wood floorings can be refinished based on the thickness of the veneer layer, you can't refinish Mohawk RevWood. 
Does Mohawk RevWood need underlayment?
Yes, Mohawk RevWood requires underlayment to ensure any unevenness on the floor is smoothened and aligned. The best option would be cork underlayment, as it ensures insulation, noise reduction, and accurate leveling. Make sure the surface is cool, stable, and dry.  
How do you clean a RevWood Mohawk?
Gently and lightly spray the cleaner on a clean cloth and then apply it on the RevWood but not directly. However, don't use varnish, soap, or detergent on this floor. And also, cleaning machines such as spray mops are not advisable.
Is Mohawk RevWood Plus waterproof?
RevWood Plus, unlike the regular one, is 100% waterproof. It can confidently stand up to moisture or spills without any warping occurring or damage of any kind.
Last Remarks
There you have it! With the problems with Mohawk RevWood being at the back of your head, you should be able to decide whether you still want this flooring.
Yes, the product is super affordable but is it long-lasting? Short answer, no! And not just that, the after-sales service is unpleasant. Word of advice; carefully analyze your needs and preference and dig into other flooring options before making a choice.
After all, you deserve the very best!