Did you know you can get a spoon-thick smoothie from fruits and chunks of ice in less than 60 seconds?
That's right!
I have Princess House on one side and Vitamix on the other. Can they blend? For sure! However, one is better than the other. Vitamix offers a ten-year warranty, while Princess has two-year coverage. Vitamix has four blades, while Princess has six blades.
Are you still there?
Great! Let's keep going!
A Quick Comparison Table
| | | |
| --- | --- | --- |
| Features | Princess House Blender | Vitamix Blender |
| Number of Blades | Six | Four |
| Maximum Blade Speed | 14000-18000 RPM | 22700-28500 RPM |
| Wattage | 300-800 watts | 1340-1680 watts |
| Weight | 2.2-six pounds | 10.5 pounds |
| Capacity | 68 oz | 48-70 oz |
| Technology Used | Vacuum blend | SELF-DETECTNear Field Communication(NFC) |
| Cost | Around $310-510 | Around $200-$600 |
| Warranty Period | Two years | Ten years |
Key Differences Between Princess House And Vitamix Blenders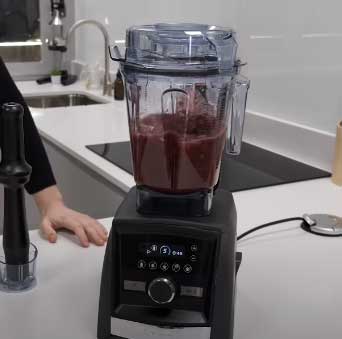 Blender blades have many functions, from crushing ice for cocktails to preparing food such as soups and salads.
The Princess House has six edges that allow you to conveniently enjoy a fresh pina colada or a tasty sauce whenever you feel the urge.
To get the best results, switch the blades with the lid. Word of advice; rinse the edges immediately after use to extend their lifespan.
Inversely, Vitamix has four highly sharp blades that are made of stainless steel.
The hardened one can easily do heavy-duty stuff like chopping hard vegetables.
Moreover, the blades can also create seasonings and other types of purees. All in all, having six is better than four for flexibility and efficiency.
The more speed a blender has, the more powerful and better it is. Princess House has between 14,000 and 18,000 revolutions per minute. The blades can cut fruits and vegetables into a smooth whole quickly.
The speed in Vitamix is even better. Are you late to work and can't afford to go on a hungry stomach? This is the blender for you! For the 5200 model, the speed is 28500 RPM.
On the other side, the 7500 version has an RPM of 22700. Whether you have large pieces of veggies or fruits, Vitamix can quickly and efficiently break the ingredients down such that you never have to chop them into smaller pieces before blending.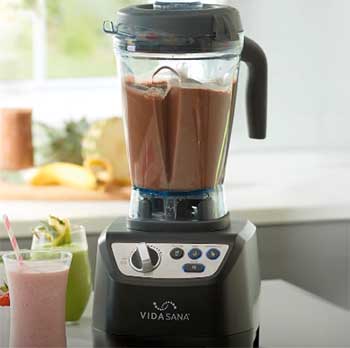 When determining a blender's quality, wattage is one of the factors you should look at.
Why?
This is because the number of watts tells a whole lot about the strength of the appliance.
The wattage of a Princess House blender ranges between 300 and 800, depending on the model you want.
In contrast, the amount of watts in Vitamix varies from 1340 to 1680.
You can choose either a higher or lower rate depending on the ingredients.
This machine can quickly grind nuts or coffee beans. However, it consumes more power than a low-wattage appliance.
Is the density of your kitchen blender a concern to you?
I've got you covered whether you want a lightweight or heavy-duty device. Princess House weighs from 2.2 to six pounds. The kitchen apparatus is super light and portable. You can carry it from room to room with no trouble.
Contrarily, the weight of Vitamix is around 10.5 pounds. It's a lot heavier than the other machine. But it's due to the heavy-duty components used in the construction, making it exceptionally durable.
Nevertheless, for a more portable blender, consider going with Princess House.
Explore your kitchen possibilities to the maximum using a high-capacity blender! Using Princess House, you can blend up to 68 oz servings simultaneously.
The device also has one additional cup to take when running late. Thanks to the large size of this kitchen tool, you get to take delight in healthy smoothies all day long!
Conversely, the capacity of Vitamix varies from 48 to 70 oz. Are you serving a crowd? Vitamix has a full-container setting strong enough to blend many ingredients. As the machine runs, you can keep adding till it's enough.
Princess House uses vacuum blend technology, ensuring no air in the blender when mixing by sucking it all up. As a result, no air bubbles are present, thus creating an even and smooth mixture.
This superb system ensures vitamins remain since they don't sink and stay at the bottom. Not a fan of frothy milkshakes? Vacuum technology ensures you never have to deal with that.
Contrarily, Vitamix features SELF-DETECT technology that automatically regulates settings to improve your recipes. This technique is present in the Ascent model.
Vitamix A2500 uses Near Field Communication technology to ensure 100% safety since the blender will not operate until the jar is correctly placed in the base.
Regarding price, both brands have different versions that vary in price. Take the Princess House blender; the cheapest one costs $310. And then there is a more advanced model with extra features for $510.
On the flip side, the cheapest Vitamix blender, E310, has a price range of $200. And then there is the 5200, which ranges at $480. The most expensive one is the A3500 series, which costs $600.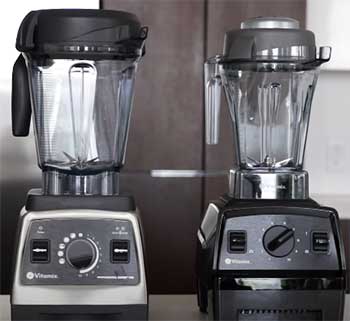 Is warranty term one of the key things you consider when you're out on a shopping spree?
So do I!
As we all know, companies are always saying the nicest things about their products.
But is it always true? Of course, not!
With that in mind, Princess House provides a two-year warranty to its customers after purchase.
Within that time frame, you can ship back the product after noticing defects.
On the other hand, Vitamix has a ten-year warranty applicable from the date of purchase. The security covers damaged parts, shipping costs, and performance. This is the best warranty you'll ever need compared to other blenders.
Which Blender Is The Better Pick?
If you are still on the fence, you can use cost or individual needs to guide you. If the warranty factor is on top of your list, Vitamix wins by a mile by providing ten-year coverage compared to the two years given by Princess.
Based on cost, Vitamix is a convenient option and budget-friendly. However, Princess House has the lightest blender, with more blades and lower wattage.
Frequently Asked Questions (FAQ)
Is there a blender better than Vitamix?
The Ninja blender is the closest rival to Vitamix due to its powerful motor, advanced blade technology, exquisite design, high resistance to scratches, and consistent blending.
Who is Vitamix's competition?
Vitamix competes with high-end brands such as Duke, Breville, Sharkninja, and KitchenAid. They all manufacture household appliances.
How do you clean a Princess House blender?
First, disconnect the device from the power unit. Then clean the exterior part of the jar and the base using a soft, wet cloth. After that, wash the lid with warm, soapy water. But remember, never clean the main body in a dishwasher. The final step is to clean the inside of the jar to remove any left-off substances.
Which one is better, Vitamix or Ninja?
Vitamix 5200 is a step ahead of Ninja because of its excellent quality, smoother blends, easy cleaning process, and ability to blend hard ingredients like nuts suitably.
Wrapping Up
Did you enjoy reading the Princess House blender and Vitamix comparison as much as I did writing this piece? The kitchen tools are on top of their game; that's a fact! Back to the burning question; which one are you putting your money on?
If you need a light machine that can be comfortably moved around, opt for Prince House. And there's more! It has six razor-sharp blades and functions using low wattage.
Vitamix is the perfect choice if you are a sucker for warranty, fast speed, and large capacity. Serve more meals with a single blend!