If you are someone who seeks ice cream frequently, mostly during summer then Ninja CREAMi is a must-have kitchen appliance in your home. It helps you to make some delicious frozen treats in a matter of minutes.
But is there any budget-friendly and efficient option in the market for it?
In this blog post, you will know about some considerable options for Ninja CREAMi. It will eventually help you to decide whether it is a good idea to invest in Ninja CREAMi at all. Without further ado, let's get started.
Substitutes of Ninja CREAMi
It is a common trait of consumers to look for the cheaper and more efficient options that are available in the market. I am not claiming that my mentioned alternatives are better than Ninja CREAMi, but these should be definitely considered before the final purchase of the product.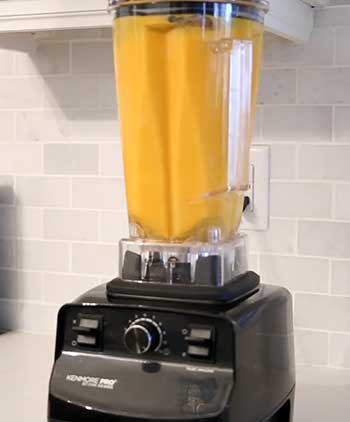 Yes, it is very easily available in every household.
There are chances that you already have one in your kitchen for regular use, or inside the kitchen, shelf to use later.
If you still do not have one, then you can get it anytime at a very cheaper rate.
There are so many brands of blenders available on Amazon, Walmart, and e-commerce sites like these, from which you can get them to your doorstep.
You can also go to the physical shops to check better quality blenders and all the variations those offer.
You can make any type of shake and ice-creams with it, without investing a fortune in it.
I am sure, by doing a proper customization of the flavors you can reinvent your own flavor of ice cream as well.
Cuisinart Ice Cream Maker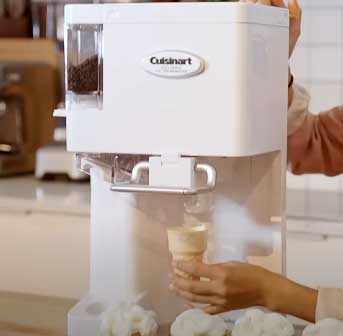 It is from the Cuisinart brand.
It has got very good reviews from the customers, and unlike the Ninja CREAMi, it would cost the customers less than a hundred dollars.
Furthermore, it is very easy and flexible to use.
For the users, it can make the perfect arrangement to help them with their sudden craving for ice cream.
Cuisinart ice cream maker comes with a large capacity to make the dessert item for many people at a time.
This ultimately saves time. The design of the ice cream maker is very sleek and the making process makes it easier to clean.
So, once the ice cream making is complete, there will be less hassle for cleaning it.
Hamilton Beach Electric Automatic Ice Cream Maker & Frozen Yogurt Machine
Hamilton Beach Electric Automatic Ice Cream Maker is another cheaper alternative to the Ninja CREAMi. The cost of it is significantly lesser compared to Ninja CREAMi while having so many positive reviews from existing users.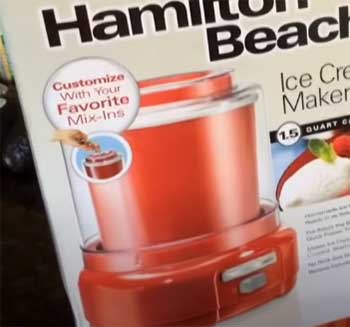 This machine comes from the brand Hamilton Beach. It has a detachable freezer and the entire ice cream maker is made of metal.
Due to having a large 4-quart capacity, it can serve the whole family at the same time.
So, I think if you are looking for an ice cream maker on a budget then Hamilton Beach Electric Automatic Ice Cream Maker & Frozen Yogurt Machine can be a good option for you.
You can make homemade ice cream, frozen yogurt, sorbet, sherbet and custard, gelato, and so on with this ice cream maker in no time. Moreover, it is very easy to use, mostly the entire process can be divided into three steps.
It is very hygienic as the entire process is automatic without involving the hand.
This is another reasonable priced alternative to Ninja CREAMi for making ice cream. It comes in three color variations. The ice cream machine looks nice on the outside for sure due to the external structure of Aluminum and the overall color of the product.
As the name says, the coffee machine comes from the brand of the same name, Elite Gourmet. There might be some insignificant difference in the prices due to the colors of the coffee machine. It also comes with a capacity of 4 Quarts, which is enough to serve a full family.
The operation of it is fully automatic, so there is not much involvement needed from the user of the ice cream machine. It would only take 40 minutes to make the ice cream. The hand-crafted solid Pine wood bucket on the surface of the machine gives a natural look to it.
DASH My Pint Electric Ice Cream Maker
If you need to make small-scale ice cream, then DASH My Pint Electric Ice Cream Maker can be a compact and affordable option. You can make other recipes with it, for instance, sorbet, frozen yogurt, and so on. It has two colors having only 0.4 Quarts. The material of this machine is plastic.
The advantage here is that it is very lightweight, so you can carry it with you. It takes only thirty minutes to make ice cream. You can purchase it as a perfect gift for your near ones.
So, these are some alternatives that you can consider before rooting for Ninja CREAMi.
Is Ninja CREAMi Worth It?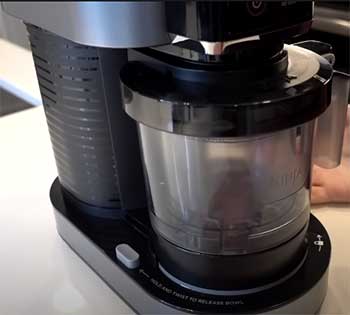 After having some idea of the alternatives, I think whether Ninja CREAMi is worth it will depend on your budget and preference.
If you are on a tight budget, then the mentioned affordable options will be suitable for you.
You do not have to compromise much on the quality much for it.
But if you are into having more functionality on your ice cream maker and would not mind spending some more money on it, then Ninja CREAMi is definitely worth the money that you are going to pay.
Frequently Asked Questions (FAQ)
What is similar to Ninja CREAMi?
Ice cream makers from different brands, blenders, etc. would serve best in making the perfect homemade ice cream to enjoy with your friends and family.
Is the Ninja CREAMi like a Pacojet?
Well to some extent Ninja CREAMi is like a Pacojet, as it has the same process to do the job as Pacojet.
What makes the Ninja CREAMi special?
Apart from having seven functions, Ninja CREAMi comes with its unique creamify technology to ensure the creamy texture and consistency of ice cream.
Is the Ninja CREAMi better than a blender?
It is better than the blender, as it specializes in making ice cream and ensuring its desirable taste, consistency, and texture of it.
Wrapping Things Up
Overall, there are plenty of Ninja CREAMi alternatives in the market, but there is no argument that Ninja CREAMi is a great ice cream maker, and it can serve you well if your budget allows.
It comes with 7-seven functions that give you great control over the process of making ice cream. Moreover, it has an amazing creamify feature which ensures the creamy texture and consistency of the ice cream.
When it comes to the alternatives, depending on your budget and preference, you can choose any I have mentioned in this blog. I am sure you will not be disappointed about it.