Painting is a quick and effective way of revamping the interior of your house. If you have some prior knowledge in this sector, you should know how good PPG paints are. 
Today, I have brought you the PPG Diamond paint review to discuss its performance for interior use.
All highlighted features as well as lacking are mentioned in the review so that you can make an informed decision. So, without further ado, let's see what makes PPG Diamond paint stand out.
Features of PPG Paint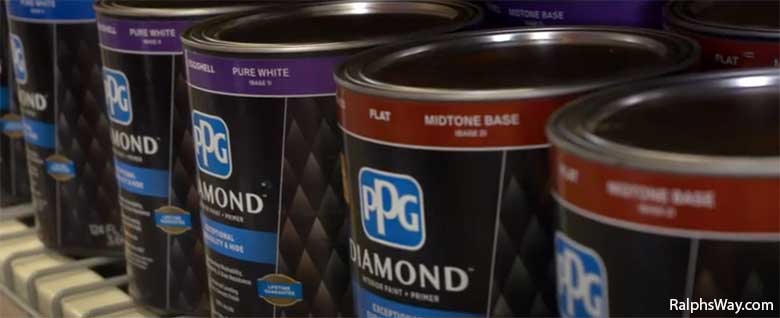 PPG diamond paint has some unique features that set it apart from the rest of its competitors. I have discussed them in detail to give you a better understanding of the paint.
Paint And Primer In One Package
PPG diamond paint comes with primer included in the paint. Do you know the job of the primer? 
The primer prepares the surface for the paint application. By applying primer, the painter ensures maximum adhesion and a smooth surface, so the paint stays better.
As the PPG diamond has the effect of the primer included in the paint, you don't need a separate primer application. Not only does that saves time and money, but it also saves the DIYers from the complicated of paint and primer compatibility. 
You can just start painting right out of the box with PPG diamond painting.
Excellent Washability And Scrub Ability
PPG diamond paint is famously known as washable paint. So, what benefits does washable paint bring to the table? I think the answer is pretty easy to assume. 
Over time, scuff marks and dirt start to appear on a painted surface.
Every time our walls get dirty, we need to repaint them after every few years. But when it's the PPG diamond washable paint, you can just get away with washing and scrubbing the marks off the surface.
In short, you get to use a single paint application for several years going forward. Additionally, washability and scrub ability also save you the extra money you would have spent on repainting.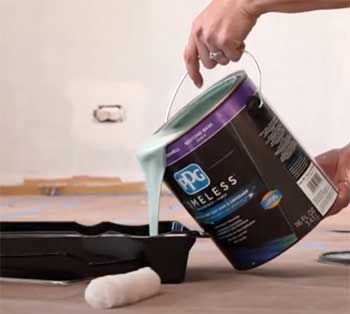 The term stain resistant can be explained in two ways.
One, stain-resistant paint means that the paint is preventive of any sort of discoloration. 
And the other explanation is that dirt doesn't absorb the stains and dirt.
Both these explanation is applicable for PPF Diamond paint.
Whether it's the atmospheric dust or kids drawing on the wall, PPG diamond will safeguard your interior from any of these stain marks.
The paint itself is already washable, but you don't even have to get to washing since most of the stains won't be able to sit on PPG Diamond paint.
Mold And Mildew Resistant
Deepening on the house's location and weather in your area, mold and mildew contamination is a common problem a lot of people face. And who wants to deal with the bad smell from the mold and mildew on your walls right?
Certain anti-microbial substances in the PPG Diamond paint stop the mold and mildew from building up. However, painting this on an already molded surface might not bring you much good as the mold still stays underneath the paint. 
If you don't remove the molded part before application, the paint will be affected by mold and mildew too.
As an interior paint, PPG Diamond needs to blend in with your house's interior color and look. Without the color match, the flow of your interior design might get interrupted. 
So, to ensure you get the color of your preference, PPG Diamonds comes in over a thousand colors.
No matter the color theme of your interior, there will be something for everyone. Moreover, you can also mix two colors to create new and unique tints. 
Each of these colors comes with a distinct code. For your preferred color, just tell the website or store the number you are looking for.
Are you looking for a cost-effective way of giving your interior a new look? 
Then the PPG Diamond can be a great choice for you. Interior paints are not cheap. Especially when it comes to a package of paint + prier in a single package, the price to performance ratio of PPG Diamond is quite unbeatable.
With only a gallon pain PPG Diamond you can cover up to 300 to 400 sq. ft wall.  Great value with beautiful interior, it's a no-brainer to look for other paints other than PPG Diamond.
Unlike traditional interior paint, PPG Diamond has a pretty low odor and is totally free of harmful VOC (Volatile Organic Compound) chemicals. Being a low odor paint PPG Diamond is environment friendly because they are not oil-based. 
So, the paint easily breaks down with water. Then comes the VOC factor. The chemicals are a great risk to the environment.
Even the painter can be affected by the gas from VVOC paints. But the good news here is that PPG Diamond is entirely free of VOC. As a result, you get better performance, a longer repainting cycle, and quicker application.
If you want to paint your project faster, then the PPG Diamond can be a great hole. For several reasons, this paint dries a lot faster than its competitors. For starters, OPPG Diamond is acrylic paint. So, it dries fasters by nature. 
Moreover, it's water-based paint. So, unlike the oil-based counterparts, PPG Diamond dries super-fast as the water evaporates from the paint. As per the PPG paint's website, the touch dries within an hour, and for recoating, you'll have to wait for four hours.
What Could've Been Better With PPG Diamond Paint?
Like any other paint, PPG Diamond isn't flawless either. There are some minor flaws present here that shouldn't be a deal-breaker. But going forward, you should know these to make an informed decision.
Leaves Sheen On Flat Finishes
Another negative side of this paint is that it leaves a sheen on flat surfaces. This might not be an issue for many people, but you should really look for other options if you don't want sheen. 
Few customers complained about this sheen issue since they could have bought paint with a dedicated sheen if they wished to.
Almost every paint on the market claims to provide one-coat coverage, and the PPG Diamond is no exception. However, that claim isn't backed up by the paint itself. 
When applying, you need multiple coatings to paint the walls fully. Otherwise, you won't be able to attain the stain resistance or washability offered by PPG Diamond paint.
Final Thought
That's a wrap for today. I hope my review on PPG Diamond paint was helpful enough to understand the performance and characteristics of PPG Diamond paint fully. As you can see, this paint checks all the boxes of excellent paint with some minor flows.
If you can look past those, there is not much competition left in the market for interior paint. If you are looking forward to painting your house but running short on the budget, then look no further. PPG Diamond is here to rescue.