Ever thought about why trailers are literally everywhere?
One answer, they are the pinnacles of all logistics! With such an expensive investment, how do you discern the best trailer for your freight? Leave that to me!
And what other better way than to distinguish the features of these two outstanding machines? PJ has a powder coating finish, while Big Tex has a paint finish. The latter has an axle capacity of 12,000 lbs, whereas the former has 3,500 lbs.
We have a lot ahead of us, so let's embark!
A Quick Comparison Table
| | | |
| --- | --- | --- |
| Item Description | PJ Trailer | Big Tex Trailer |
| Finishing Type | Powder coating | Paint |
| Axle capacity | 3,500 lbs | 12,000 lbs |
| Design and Build | Single axle | Single axle Double axle |
| Maintenance | Higher | Lower |
| Ease of Use | Very Easy | Slightly complex |
| Durability | Moderate | Excellent |
| Cost | Lower | Higher |
Key Differences Between PJ Trailers And Big Tex

One of the main significant factors to consider when getting a trailer is the finishing used.
Let's start with PJ.
This trailer brand uses powder coating specifically from Sherwin-Williams, which is usually a thicker finish compared to paint.
This external sealant is hard to scratch, but at the same time, it's challenging to repair in case of damage.
The coating tends to flake off significantly if you don't immediately try to prevent the spreading of the oxidation from the metals.
On the contrary, Big Tex uses a paint finish from Valspar Company for coating purposes.
The good thing about this paint is that it has a higher lifespan, excellent corrosion resistance, has filling capabilities, and produces the glossy, sleek look that Big Tex trailers are known for.
The capacity is the maximum weight an axle can handle efficiently. The diameter determines the strength. For instance, the thicker the axle, the more loads it can carry.
PJ trailers have an axle capacity of 3,500 lbs, which is perfect for carrying lightweight materials.
On the other hand, Big Tex machines have a capacity of 12,000 lbs. If you want a trailer that can easily carry heavy goods such as landscaping components, Big Tex is the way to go.
In the trailer world, there are single-axle and double-axle models. If you're planning on getting a trailer for the first time, I understand how confusing these terms might be, so let me tell you!
The single version means that there is one axle with a wheel joined on both sides, while the double one has two axles put together closely. PJ trailers have one axle, which is easy to handle, lighter, and cheaper.
In contrast, Big Tex trailers have both single and double axles. Campers can easily carry a heavy load with the two axles as the weight is equally distributed. Better yet, the tires have an increased chance of lasting longer.
If you plan on transporting lighter goods lesser times, the single one will do the trick. But for the frequent moving of bulky goods, opt for the double one.
Purchasing a product is not the end; maintenance is necessary to keep the item in good condition. PJ trailers have higher care as they face more strain on the bearings and the welds are sloppier.
On the other side, Big Tex trail cars have low maintenance. Due to their exceptionally designed frame, there is a flat tow behind your vehicle. Also, there is reduced tire wear and bearings' strain, which reduces the maintenance needed.
PJ Trailers ensure the device is accessible by simplifying your usage process. I can tell you're smiling already! Because who doesn't want an item that is easy to use?
With PJ, you don't have to add welded attach points when loading the trailer. Moreover, this brand has developed an interactive towing calculator that streamlines the process by allowing you to input weight ratings for the trailer and tow vehicle.
Contrarily, Big Tex has a more complicated system, making it slightly tricky to use. That said, PJ is the winner regarding ease of use.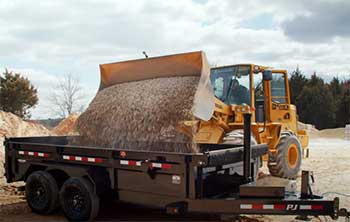 If you're going to put money on a trailer, it should be one to hold value and last years to come.
The material used and construction plays a massive role.
If you want one with the best longevity, let me not beat around the bush; Big Tex lives up to that.
Their frames are high gauge steel with low carbon and high steel, making them less brittle and preventing trailer twisting.
Better yet, it has an adjustable, heavy-duty suspension.
Oppositely, PJ trailers have an average lifespan. This brand doesn't last as long as Big Tex; therefore, it is the best option for excellent durability.
Getting a trailer is not something you wake up and decide on; it's mostly planned. A PJ trailer is more affordable as you can get it for as low as $3,721.
On the flip side, Big Tex trailers will cost you an arm and a leg. The lowest-priced trail car goes for $8,400. And if you have a more expensive taste, it can cost you up to $15,750.
Which Trailer Brand Is Better?
Good thing you are well-equipped with immerse knowledge on the trailers; thus, you can easily choose one.
PJ is more affordable and incredibly easy to operate. Big Tex has excellent durability, low maintenance, and greater axle capacity. And a little bonus, it has both single and double axles.
Frequently Asked Questions (FAQ)
Are PJ trailers good quality?
PJ trailers are made of premium materials that give them remarkable strength due to their solid construction.
Does Big Tex make good trailers?
Big Tex manufactures professional-grade, highly durable, and incredibly high-quality trailers designed using the most advanced processes, materials, parts, and paints.
Who makes a PJ trailer?
PJ is a US-based trailer company owned by Peter Thiesen.
Are PJ trailers made in Mexico?
PJ also has a manufacturing unit in Mexico, Ohio, and Mount Arab.
Wrapping Up
Where is your head at with the PJ and Big Tex trailers comparison? Do you already have one in mind that you can't wait to get your hands on?
If you are looking for an affordable option, get PJ by all means. Plus, it's easier to operate. However, choose Big Tex if excellent lifespan, low maintenance, and larger axle capacity are on your mind.
Haul like the boss you are with a trailer of your choice!