Lamar and PJ trailers both have their fan base in the trailer industry with unmatched quality. Though both brands are popular, their differences come from their variety, availability, financing, warranty, and cost.
The job of a trailer is simple; it allows a vehicle to carry an extra load effortlessly. Yes, there are other ways to carry or transport stuff, but the way trailers will enable you to carry with space and stability makes it a helpful addition.
Today, I have compared Lamar and PJ trailers, two of the famous trailer manufacturer out there, to decide which one will be better suited for you. So, without further ado, let's begin.
Quick comparison table
| | | |
| --- | --- | --- |
| Specifications | Lamar trailers | PJ trailers |
| Trailer options | Dump trailers, Car haulers, Equipment haulers, Utilities, Deck overs, Tilt trailers | Flat decks & deck overs, Car hauler & equipment, Utility trailers, Tilt trailers, Dump trailers, Truck beds |
| Reliability | More reliable | Decent reliability |
| Availability | 80+ dealers | 300+ dealers across USA and Canada |
| Financing | No | Yes |
| Warranty | 3-Year Structural & 1-Year Component | 3-Year Frame & 1-Year Limited Warranty |
| Cost | Less expensive | More expensive |
Key Differences Between Lamar And PJ Trailers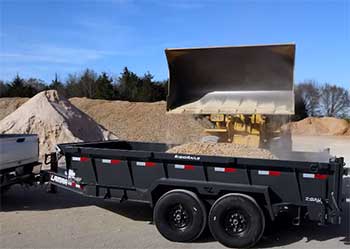 Do you know there are different types of trailers out there?
Each of them is meant for different jobs.
Regarding versatility, you'll notice similarities here.
Both manufacturers have the same dump trailers, car haulers, equipment haulers, utilities, deck overs, and tilt trailers.
PJ has the flat decks as extra, adding more versatility to its lineup.
While there is no surefire way to measure the reliability of trailer manufacturers, you can assume the customers' feedback. Reliability is essential for trailers because you want them to stay in the middle of nowhere.
Regarding reliability and customer support, Lamar trailer users seem more confident and satisfied. However, that doesn't mean PJ trailers aren't reliable; they have some complaints here and there.
You need more than choosing a manufacturer based on different qualities to get your hands on it. That particular brand needs to be available in your area, too, so that you can use its products.
The more dealership of a brand there is, the better your chance to have that brand available in your area.
Increased availability as lo leads to a positive and improved shopping experience. In that regard, Lamar has 80+ dealerships, while PJ trailers have 3000+ available throughout USA and Canada.
Whether you need a trailer for personal or professional use, it's only sometimes possible to buy one because of its high price. In that case, the financing option brings the trailer within the customer's immediate reach.
In that regard, PJ trailers have an appealing financing option that you can apply for online and at the dealer shop. PJ trailers have yet to have that financing option.
Trailers are a massive investment you don't make now and then. So, before you make the purchase, a warranty is an important consideration to safeguard your investment in the future. The warranty policy for both Lamar and PJ trailers is almost similar.
Both brands offer the same 3 years structural warranty on the frame. Additionally, Lamar provides another year of warranty on components other than the ones sourced by a third party. As for PJ trailers, they will give you another year of limited warranty.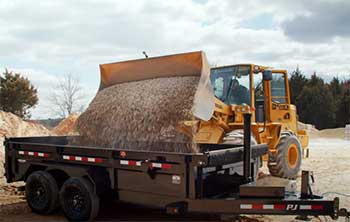 As I stated earlier, trailers are costly, and you should look for the best value when you buy them.
Both Lamar and PJ trailers have a wide range of trailers and come in different price points.
Each type of trailer also varies in terms of its capacity.
If you consider PJ trailers' higher capacities, it might be a reason why it costs more than Lamar in most segments.
As for the entry price for each trailer type, both PJ and Lamar trailers offer the same price.
Which Trailer Will Be Better For You?
After the comparison, you can see both brands have their strengths and weaknesses. PJ trailers and Lamar both built a solid position on the market over the years. However, their differences will attract separate user bases.
For example, Lamar is the better option for you if you are after reliability and affordability. On the other hand, if you want availability and financing options, you should go for PJ trailers.
Frequently Asked Questions (FAQ)
Is PJ a good trailer brand?
PJ trailers pack all the right qualities that make them one of the finest trailer manufacturers in the industry. Since its establishment in 1991, they have been offering their customer great trailer variety, reliability, and financing option so that everyone can buy their trailers.
What company makes PJ trailers?
PJ trailer makes their trailer at their facility instead of outsourcing the manufacturing from a third-party company. It's a US-based company, and the headquarter is based in Paris, Texas. The manufacturing plant is located at the same location.
How much does a Lamar trailer weigh?
Lamar sells a wide range of trailers with different weights. Their dump trailers are the heaviest, with a maximum weight of 5100 lbs. On the other hand, car haulers are the lightest, with the lowest weight of 2150 lbs.
How much does a Lamar dump trailer weigh?
Lamar du trailers are made with high-quality materials. It has the perfect balance between weight and durability. The heaviest dump trailer weighs around 5100 lbs. while the lightest one is about 2200 lbs.
Final Thought
That's a wrap for today. My comparison between Lamar and PJ trailers will help you figure out the better suit for your need. There is no denying the fact that trailers make our life so much easier, whether it's for personal use or professional use.
If you decide to get a trailer, both Lamar and PJ trailers will provide you with a cost-effective, versatile, convenient, and simple way of carting stuff. All you need to do is get your priorities straight, and you'll get your hands on the perfect trailer for the job.