Are you in the market for a new trailer to do some dumping or transfer stuff from one place to another? I know that you might be struggling to choose between the Load Trail and Big Tex Trailer brands.
Well, both are good, but Load Trail is way better than Big Tex. People have complained regarding several issues with the Big Tex trailers, and they don't seem pretty durable over the long run.
However, Big Tex has a larger variety of trailers than Load Trail, and they offer the same warranty of 3 years over their trailers. Load Trail does come with a lower variety, but they are quite admired.
Still, keep pace with me to find the differences between these two brands.
A Brief Comparison Table
| | | |
| --- | --- | --- |
| Factors To Compare | Load Trail | Big Tex Trailer |
| About Each Brand | One of the most famous names in trailer manufacturing operating since 1996 and conversely more famous than our compared brand | They are also known as one of the largest and fastest growing professional grade open trailer manufacturers for the past 30 years. |
| Types Of Trailers Offered | DUMP TRAILERS, Deckover Trailer, Tilt Trailer, Car Haulers, Utility Trailer, Tank Trailer   | Utility Trailers, Landscape Trailers, Car Hauler Trailers, Equipment Trailers, Tilt Trailers, Dump Trailers, Roll-Off Dump Trailers, Flatbed Gooseneck Trailers, Deck-Over Tag-Along Trailers |
| Customer's Recommendations | Higher | Lower |
| Warranty Over Trailers | Up to 3 years | For three years from the date of purchase |
| Durability over the longer run | Higher | Lower |
| Manufacturing combination | Reinforced steel beds and heavy-duty hinges. | high-tensile combination of low carbon, high alloy |
| Weight Bearing | Usually, higher | Reasonable but slightly lower |
Comprehensive Differences Between Load Trail and Big Tex Trailers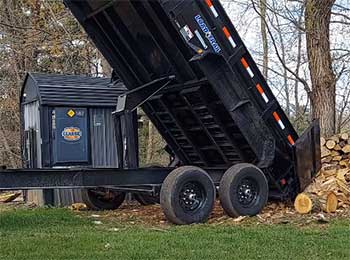 For a brand, its well-known image in the market is everything.
That's why we narrow down to find how many years the Load Trail and Big Tex have been in this trailer manufacturing and selling business.
When you go deeper, it looks like there is no huge difference between the maturity of both trailer manufacturing and selling brands.
However, the Load trail looks older than Big Tex. Yet, they are compared at the same spot in the market, and people consider finding the direct differences between both trailers.
Types Of Trailers Offered
Big Tex has a high value for offering a large variety of dumping and other trailers for everyone's needs.
They make up to 9 types of trailers so that a consumer may choose the specific one to perform a specific duty with it.
However, on the other hand, the Load Trail offers less variety of trailers. Yet, they are better in manufacturing, quality, and construction than Big Tex.
Customer's Recommendations
What do you think of the customer likeness when you think of both brands to buy a trailer for yourself?
I've done my research, and at those various community discussion forums, I've found people recommending Load Trail more than Big Tex.
That's because the brand sells more durable trailers, and customers usually don't find many complaints about them as they may find with the Big Tex Trailers.
There is no difference between the warranties of both brands over these trailers. Whether you get it from the Load Trail or Big Tex, you will be offered up to 3 years of amazing warranty from the first purchase date to only the original buyer of that trailer.
Durability Over The Longer Run
Load Trail leads Big Tex to offer unasked and un-demanded durability, craftsmanship, construction, and better customer satisfaction in their trailers.
That's true because an enormous amount of buyers have found the Load Trail better at construction with thick steel.
In contrast, I've seen people complaining about the poor hinges, very thin metal, and other problems with the Big Tex trailers.
It means the brand's trailers are not satisfactory in quality and build.
Manufacturing Combination
Both brands use different materials in the manufacturing of these trailers. Some say Big Tex ensures poor quality because the metal used is so thin, and the finishing is also not done properly. They use a combination of high tensile and carbon alloy that ensures a reasonable level of durability. But not quite long.
Despite the Big Tex trailers, Load Trail uses highly reinforced steel beds with heavy-duty hinges. This way, they ensure that their trailers stay up to the mark.
Being low-quality and inferior trailers, Big Tex trailers cannot bear more weight and carry it from one spot to another.
But that thing is so rare when you use the Giant, well-maintained, and well-constructed Load Trail trailers. They will bear more weight and make your dumping easier.
Which Brand Should I Choose For A Good Trailer?

If you've read all the above-explained factors, you should understand that Load Trail has more winning points than Big Tex.
It means your investment for a trailer would be safe and secure when investing in a good-sized Load trail trailer.
It will also work pretty fine and stays longer with you. That means you get a higher value for the money you'd spent on a trailer from this brand.
Frequently Asked Questions (FAQ)
Are Big Tex Trailers Good Quality?
They are good quality trailers with extended durability but are not up to the mark.
Who Owns Load Trail?
Johnny Thiessen Owns the Load Trail company.
What Is The Best Brand Of Dump Trailer?
PJ Trailers, Maxx Trailers, and Load Trail trailers are some most famous brands of trailers available in the market today.
Are Load Max And Load Trail The Same?
The Load Trail has expanded its name, and now they have added Max. Both are the two names of a similar thing!
Final Wording
Some customers claim Big Tex trailers are of higher quality, but the review is based on someone's personal experience.
However, I didn't find more people recommending Big Tex as a better brand for trailer needs when we compared the Load Trail with Big Tex Trailer.
Hence, you can easily decide with which brand you should go. If you have any prior and good experience with Big Tex, I won't change your mind. But Load Trail would be better if you are new in the market!