Wouldn't it be great to find the right wood preservative product for your home and furniture? 
Read my PenaShield and Bora-Care review to find out. Because here, I will discuss the two best wood preservatives and compare them with one another. 
We all go through wood insects, termites, and other insects every single day. And to be honest, it makes our life more and more difficult. That is why you must know which product is the best for wood preservation. 
So, without dillydally, let's take this show underway. 
A Quick Comparison Table 
You will gather some basic knowledge about these two products from a comparison table. Plus, it will help you make up your mind and understand their in-depth differences later. 
Here's a quick comparison table between PenaShield and Bora-Care:
| | | |
| --- | --- | --- |
| Aspects | PenaShield | Bora-Care |
| Type | Borate-Based Wood Preserver | Low Toxicity Wood Preservative |
| Material | Borate Mineral Salt | Borate Mineral Salt And DOT |
| Special Feature | A Ready-To-Use Formula | Prevention And Remedial Control |
| Benefits | Emits No VOCs | Penetrates Wood And Stays There For The Life |
| Usage | Outdoor and Indoor | Outdoor and Indoor |
| Performance | High-Performing | Superior to PenaShield |
In-Depth Differences Between PenaShield And Bora-Care
You need more information than just the comparison table above to make the right decision. So, stay with me here to learn the comparisons in detail. 
Here're some key differences between PenaShield and Bora-Care:
PenaShield is a clear wood preservative for decking and more. It is a borate-based ready-to-use penetrating fungicide and preservative. 
Using this wood preserver, you can kill and prevent termites, carpenter ants, wood-boring beetles, and decay fungi. 
On the other hand, Bora-Care is a low toxicity wood preservative that doesn't need to be applied to the soil but to the structure. 
With a patented glycol penetrant, this termiticide, insecticide, and fungicide concentrate can kill and prevent termite, wood-bearing beetles, carpenter ants, and decay fungi. 
PenaShield prevents insects from damaging the wood. It's a borate-based solution that you can readily apply on wooden surfaces. Borate mineral salt is the active ingredient in PenaShield. 
Most importantly, this mineral salt makes sure that it does not break down over time like any other synthetic chemicals. Plus, you will receive long-term residual benefits to help protect treated wood for years. 
On the contrary, apart from borate mineral salt, another active ingredient of Bora-Care is Micronutrient Disodium Octaborate Tetrahydrate or DOT. Its unique patented blend of glycols combines with borate salt to give outstanding performance. 
This wood preservative mixture is half as toxic as sodium chloride or table salt. So, it won't damage the environment either. 
PenaShield is a ready-to-use formula that you can spray or brush on raw and untreated wood.
This preservative can penetrate the wood and deliver long-lasting protection with its unique patented formula. 
Most importantly, it will not stain or discolor your wood surfaces. Once it becomes dry, you can paint over it or treat it with a water sealer. 
In contrast, many professionals and homeowners use Bora-Care as a pretreatment in new construction for termites and other wood-destroying insects.
Plus, you can also use this solution to eliminate the existing infestation in your home. 
Besides, you will get prevention and remedial control of wood decay fungi and algae with Bora-Care. 
You will receive many long-lasting benefits from PenaShield and Bora-Care. Let's check them out. 
PenaShield helps protect the wood from wood destroying organisms like termite and wood-boring beetles. It will help you prevent wood decay and dry rot. Besides, this ready-to-use formula emits no VOCs. 
On the contrary, Bora-Care eliminates the need to pump gallons of pesticides into the ground under your home. 
Think I'm exaggerating? 
Well, it's because you won't have to apply it to the soil. You can directly apply this solution to structures. 
On top of that, you can provide residual protection to your wooden structures using Bora-Care because it penetrates the wood and stays there for its life.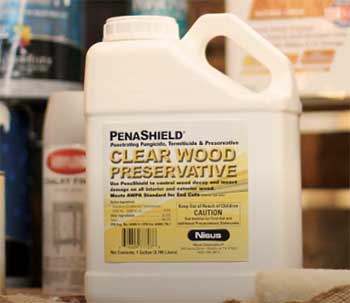 You have to use PenaShield to bare wood. You will get an excellent result when you use it to treat decks.
Besides, you should use it on older decks after cleaning them and before staining, sealing, and painting. 
Apart from that, you can also apply it to roofs after removing old shingles.
This wood preservative also works perfectly on fences, wooden play structures, or any other wood that you want to last. 
Bora-Care is a replacement for soil treatment in new construction sites. Besides, it works as a primary termite treatment solution in many places and considerations. 
You can use this wood preservative to protect against drywood termites, Formosan termites, Powderpost beetles, subterranean termites, Carpenter ants, and old house borers. Plus, this product can kill and prevent wood-decay fungi and algae. 
You can use PenaShield both inside and outside, but you must maintain a water repellant level. For indoor application, PenaShield will last for a lifetime. But for outdoor use, you will have to apply it once in a couple of years. 
Besides, one gallon of PenaShield will treat 150-250 square feet of wood. 
On the contrary, you can directly apply Bora-Care on wood surfaces and structures. Most importantly, it will penetrate the wood surface and remain there for a lifetime protecting it from various insects. 
Which Wood Preservative Is Best For You? 
By this time, with the above in-depth comparison, you should be clear on which one is better than the above—no need to worry if you still can't figure it out. 
I will tell you which product I feel is best for wood preservation. 
According to my practical experience and other customer reviews, it is evident that Bora-Care is better equipped to protect your wood structures. 
Although, you will have to mix it after purchase. But look at the bright side. It will penetrate the wood and last for a lifetime. 
Plus, unlike PenaShield, you won't have to reapply it every couple of years. So, you most definitely should use Bora-Care to preserve your wooden surfaces. 
Frequently Asked Questions (FAQ) 
Is borax the same as Bora care?
When boric acid and borax form a union, a new compound substance called borate salt formulates. This borate salt is the active ingredient in Bora-Care. 
Can you make Bora care with borax?
Yes, you can make Bora-Care with borax. To make Bora-Care, you will need borate salt, a key component of Bora-Care. This borate salt is made from borax and boric acid. 
Do your own Boracare?
Bora-Care does not come readymade. So, you will have to mix it before use. But the mixing is quite easy. You will have to mix 1 gallon of Bora-Care with 1 gallon of water. It becomes a complete 2-gallon solution that you can put in a sprayer and apply to the surface.  
How do you use PenaShield?
PenaShield is a ready-to-use formula that does not require any mixing. You can directly apply it from the container using a brush or spray with a low-pressure sprayer.
Final Thoughts 
Our wooden surface can quickly become damaged by various insects, wood-decay fungi, and algae if we do not treat them properly. And for that, you need to find the best solution. 
From my PenaShield vs. Bora-Care review, now you know the best wood preservative out there. I've given you what you needed. Now go and protect your wood surfaces and structures.