We all love a shining and beautiful deck in our backyard. But maintaining that beauty and shine also comes with a bit of time and investment.
Wood stains are there to maintain your deck, and people often seem confused between Penofin vs. Australian timber oil.
To protect the natural loom and integrity of the wooden deck, both Penofin and Australian timber oil are pretty popular worldwide. But to determine which one will be suitable for your particular need, I'll do a complete breakdown of both wood stains.
Without wasting any time, let's get to it.
A Quick Comparison Table
Before we get into the differences, let's have a quick look at this comparison table. The table will give you an initial idea about the differences you'll see going forward.
Moreover, if you are in a hurry, you'll get the gist of the discussion below from the table.
| | | |
| --- | --- | --- |
| Specification | Penofin | Australian Timber Oil |
| Type | Oil-based, Semi-transparent | Oil-based, Semi-transparent |
| Color Option | Natural Cedar, Transparent Redwood, Mission Brown, and Dark Walnut. | Amber wood, Honey Teak, Mahogany Flame, Natural Jarrah Brown   |
| Outlook | Good for changing appearance | Suitable for enhancing the natural look |
| Protection | Good | Better |
| Longevity | 1 to 5 years | 1 to 3 years |
| Application | Easier, quicker reapplication | Complex than Penofin takes longer before reapplication |
| Cost | Cheaper | Costlier than Penofin |
Key differences Between Penofin And Australian Timber Oil

After the comparison table, let's move on to the detailed discussion here. I have discussed the different aspects of these deck stains and pointed out the differences in this part.
So, let's see what the differences are and how they can affect your decision.
The first aspect that might affect many people is the transparency and the formula of these items.
Luckily, both Penofin and Australian timber oil come under the same formula and transparency level in this scenario.
 Penofin can be a bit synthetic as stains, but both Penofin and Australian timber oil are semi-transparent and oil-based.
The semi-transparent color provides you the best of both worlds, some additional color alongside a slight peeks from the natural color of your wood. As for the oil-based formula, it protects the wood from within.
The appearance after the application is an essential deciding factor.
After all, our primary goal to apply Penofin or Australian timber oil is to get a shining look and protection.
So, in that regard, both item brings their own characteristics to the table.
Penofin focuses more on providing an artificial look through Natural Cedar, Transparent Redwood, Mission Brown, and Dark Walnut colored tints.
On the other hand, Australian timber oil is sort of the opposite here.
Though they have Amber wood, Honey Teak, Mahogany Flame, and Natural Jarrah Brown tints, they allow you to flaunt the natural color of your deck more.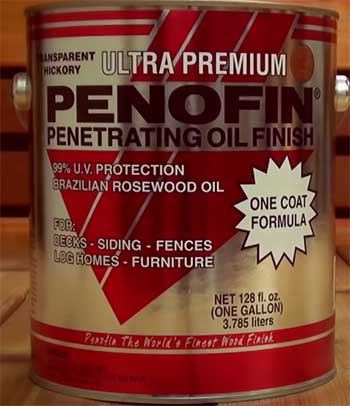 As I mentioned earlier, protecting our beloved deck is the second goal behind using these protective coatings.
And in this regard, both Penofin and Australian timber oil give each other tough competition.
With Penofin, you'll get mold and mildew resistance, waterproofing, and protection against UV lights.
That pretty much covers everything you should expect from a sealer.
The Australian timber oil also provides you excellent protection with UV light resistance, but it falls behind in terms of protection against water and related damages.
Though Australian timber oil claims to be water repellent, Penofin gets the lead in water protection.
One of the key characteristics of wood staining is its longevity. These coatings last for years, and as it takes time and effort to stain the decks, the longevity of these items is essential. In that regard, Penofin seems to get the lead here.
Of course, the weather in your area is a massive factor to determine longevity, but on average, Penofin lasts about 1 to 5 years, depending on the surface. On the other hand, Australian timber oil lasts about 1 to 3 years on average.
So, in terms of longevity, Penofin gets a solid lead.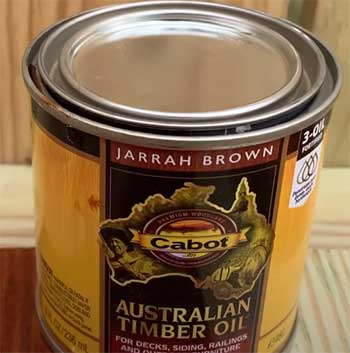 Many people prefer to stain decks by themselves; it's an important consideration.
In that regard, Penofin seems to be the easier option. It offers application by brush and by sprayer.
In the case of Australian timber oil, it's a bit more complex with the brush-only application.
The application itself is a bit delicate, too, in the case of Australian timber oil. The drying time is much faster than Penofin, around 12 hours.
On the other hand, Australian timber oil takes 24 to 48 hours.
Both Penofin and Australian timber wood are great options for providing value for money. However, Penofin is the cheaper option between these two options.
The cost difference is pretty significant here. Add the longevity of Penofin in the mix, and Penofin becomes the undisputed winner in the cost efficiency segment too.
So, Which One Will Give You The Upper Hand?
It's a little hard to compare Penofin and Australian timber oil as both are different, one is a stain, and the other is an oil with other usages. However, Penofin seems to be the clear winner here between these two, considering all the aspects.
Whether it's protection, longevity, application, or cots efficiency, Penofin gets the upper hand in all cases. Except for the more natural look of Australian timber oil, you should go for Penofin any day.
Frequently Asked Questions (FAQs)
What is better than Penofin?
As you have seen above, Penofin is definitely a commendable choice from every aspect there is. However, that doesn't mean there are other good choices in this industry. Apart from Penofin, some might find Ready Seal or Caber stain better.
Does Australian Timber Oil seal wood?
Yes, Australian timber solid seal wood. Not only does it just seal the wood, but it also does a pretty good job of sealing it. The mix of superb-grade linseed oil provides three-layer of excellent sealing. The timber oil also keeps the colors and look intake in the process.
Is timber oil better than stain?
Both items have their fair share of advantages to disadvantages. So, it's an entirely subjective matter we have in our hands. However, it comes down to the look. If you prefer a natural look, then timber oil is better. But as an overall pick considering different factors, the stain is a better choice.
Does Cabot Australian Timber Oil peel?
The answer to this question is a bit tricky. Yes, Australian timber oil peels, mainly when applied to deck and wood siding. However, it'll only happen if you over-use the timber oil. By following the proper application method, you'll be free from the risk of peeling.
Final Thought
Here we are at the end of our article. I hope the article was helpful enough to figure out the differences. By now, you should be able to decide which deck stain will be better suited for you.
Apart from the comparison here, deck stains are a more sustainable, cost-efficient, and long-lasting solution that can safeguard your deck for years to come.
So, no matter which option you choose between, Penofin vs. Australian timber oil, don't forget to stain. It'll be worth the time and effort.