When it comes to polishing and refining wood surfaces, BEHANDLA Wood treatment oil is a top choice. It can penetrate the wood efficiently and extend its lifespan.
This oil contains IKEA's proprietary and lead-free drying agent to protect against scratches and changes in humidity.
But what to use when Behandla Wood Treatment is not available? Though many alternative options are available, not each of them is the bestBehandla Wood Treatment Oil substitute.
Let's review some best alternatives to this oil.
Alternatives To Behandla Wood Treatment Oil
Quality wood oil is necessary to nourish and replenish its surface and give it an effective finish for higher protection against cracking, splitting, and warping. Here are some best alternatives to Behandla wood treatment oil.
Danish Oil is one of the most common finish oils among woodworkers. It is a highly versatile oil.
Protecting your desired wood surface from stains, scratching, and cracking is easygoing for this oil.
The wood oil has extreme durability. It can provide a stunning appearance. Retaining your wood's original color and texture is what you will appreciate about this versatile oil.
You can use this oil on various wood surfaces such as wooden tool handles, food utensils, real wood kitchen worktops, and other interior woodwork and furniture.
It is pretty simple to maintain. The satin finish it crates on wood surfaces won't go away so easily. This oil dries faster and has a waterproof formula compared to other oils.
You might be familiar with linseed oil, and your house may already have this oil. After all, it is one of the most well-admired oils globally.
It is effective in restoring the original texture and color of a particular wood surface.
Plus, you can sand out dents and scratches using this high-quality oil.
Since it is made of eco-friendly and Non-toxic ingredients, no harm will cause no wood finish.
Generally, manufacturers make this oil from flaxseed plants and process the oil in several processes.
Linseed oil is available in three forms: raw, polymerized, and boiled. Most woodworkers prefer to use polymerized linseed oil since it works quickly and has an original formula.
Tung oil is non-toxic, all-natural, and eco-friendly wood oil. Apart from enhancing the original appearance of the wood finish, it provides higher protection.
Manufacturers make this oil from the seeds of the Tung tree and process it properly to make it suitable for wood finishes.
It has a mildly water-resistant formula; some small amount of moisture or water won't cause any harm to your wood surface.
Along with that, the oil prevents wood from getting yellow over time.
Since it has a high price, most artisans don't use raw or 100% pure Tung oil. Periodically using this oil is necessary. Generally, craftsmen recommend using the Tung oil once every six months.
If you are looking for odor-free and clear oil, mineral oil is a top choice. It can provide your wood surface with a natural appearance with its clear finish.
Though the oil is petroleum-based, it is 100% safe and toxin-free. Keeping your wood or furniture condition relatively in stable condition is what it is well-known for. It creates an even and tight surface.
You don't have to worry even after exposing the wood to a warm temperature. People use mineral oil on wide ranges of woods such as butcher block countertops, wooden cutting boards, wood bowls, wood kitchen utensils, etc.
However, regularly applying the oil is necessary. It doesn't provide long-lasting results. That's why many woodworkers often don't prefer to use it on furniture.
Teak oil is made of various oil and ingredients instead of teak trees. So, why is it called teak oil?
The reason is that this oil is ideally suitable for Teak wood like Teak garden furniture and boats.
Protecting hardwood from peeling and cracking is easygoing for this oil. It can retain the original look of a particular wood surface while having superior penetration.
Moreover, the versatile oil stops woods from standing and graying over time. But avoid using it in hot and highly humid conditions.
Otherwise, it will lead to mold growth.
People generally use this oil for outdoor hardwood since it is pretty weather resistant, ensuring a decent elasticity. On top of that, its high oil content protects wood surfaces from insect infestation.
Walnut Oil is known as a multipurpose wood protectant. It has a slow drying formula that adds an eye-catchy contrast, sheen, and depth to the wood surface.
People generally admire the smooth and natural-looking finish it creates after it fully dries. Since it dries gently and slowly, keeping in a warmer environment and room temperature appears ideal for optimal results.
You can use this oil on various wood surfaces such as kitchen utensils, cutting boards, butcher blocks, bowls, etc. It can provide a long-lasting finish.
Generally, manufacturers extract this oil from the nuts of the juglans Regia tree and create a special formula including increased linoleic acid. This leads to an in-depth penetration into the wood.
Is Behandla Wood Treatment Oil Worth It?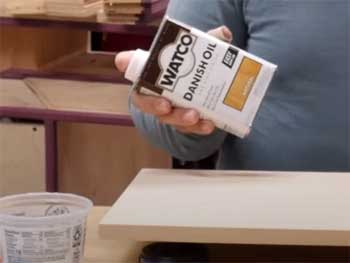 So, you have already got a good idea of the alternative to Behandla wood treatment oil.
How about learning some important points of Behandla wood treatment oil?
Behandla Wood Treatment Oil is generally made of boiled linseed oil.
Apart from protecting the wood surface, the oil goes deep into the fiber and brings back the original shine of your particular wood.
No harmful ingredients are included in this oil to make it environmentally friendly. Also, it doesn't cause any strong odor.
Overall, it is great oil suitable to apply on wide ranges of the wood surface to protect and give it an attractive appearance.
Frequently Asked Questions (FAQ)
What is Behandla wood treatment oil?
Behandla wood treatment oil is mainly boiled linseed oil, well known for creating a beautiful wood finish for different wood surfaces. It can protect wood surfaces for a prolonged time.
What is Stockyard oil?
Stockyard oil is made from Tung oil and linseed oil without any solvents and harmful substances. You can use them on untreated or pre-oiled solid wood, especially for internal wood.
What is Skydd oil?
Skydd oil is an affordable oil that is made from natural and 100% food-grade white mineral oil. People may use it on various wooden kitchen worktops.
Is Tung oil food Safe on wood?
Tung oil is generally made from nuts and is 100% food-safe when you fully let it cured. Make sure to apply several coats to get a natural finish.
Conclusion
So, which Behandla wood treatment oil substitute have you decided to pick after reading this post? You can go with any option you prefer apart from the Behandla wood treatment oil.
It usually depends on the type of wood surface you want to apply and its current condition.
Regardless of the oil you choose, regularly taking care of the wood is necessary to ensure a decent condition for a prolonged time. Otherwise, its original finish, color, and texture will degrade over time due to lack of care.
Hence, please choose an appropriate wood treatment oil and apply it properly.