Storing all your tools can be tricky. The storage itself poses a challenge and then comes the part of organizing all the tools in one place. Being a handyman, you should know how challenging tool organization can get.
A toolbox like Pelican 0450 can come in handy for you to face this challenge. While this is an excellent option whether you are an electrician or plumber, there might be some features you won't like. In that case, here we have some great alternatives to Pelican 0450 you can try out.
Alternatives To Pelican 0450 Tool Box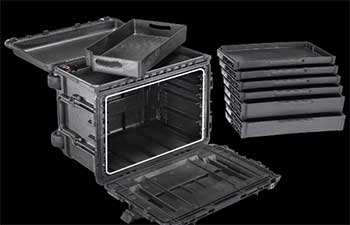 There are several brands out there that sell high-quality mobile toolboxes. If you are looking for the best alternatives to Pelican 0450, here are some options you can try. 
GEARWRENCH Drawer Steel Toolbox
STANLEY Toolbox
Stalwart Portable Toolbox
DEWALT Toolbox & Mobile Work Center
Milwaukee Rolling Toolbox
Keter Master Pro Masterloader Tool Trolley
Pelican is an established name in the casing and rugged storage industry. While many people like its price point of feature set, you might be looking for other features that Pelican 0450 offers.
In that case, I have shortly reviewed some alternatives you can try. Let's see what these alternatives offer.
GEARWRENCH Drawer Steel Toolbox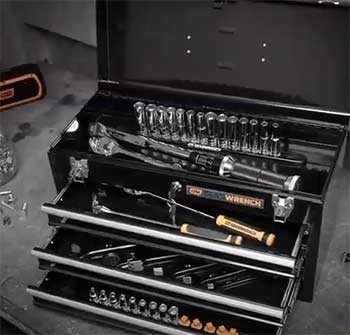 Greenwrench is one of the best tool manufacturers out there.
But one thing many people don't know about is their high-quality toolbox.
This box is made of high-quality alloy steel; you won't have to worry about durability and a long service period.
There are three drawers in total to carry all your tools. These drawers open fluently thanks to the bearing installed with the slides.
The toolbox has a black powder coating of this tool on top to prevent rust and corrosion buildup on the surface. A handle is on top of the toolbox to easily carry it around. Your tools will be completely safe inside thanks to the in-built lock of this toolbox.
Stanley toolbox is a great portable toolbox for a compact option to organize their tool. If you are after portability, this toolbox has some unique features to help with that.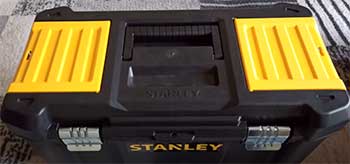 First, it has two large pull-out handles with a soft grip.
So carrying a heavy load isn't an issue. Secondly, the wheels underneath make it easy to carry around the workspace.
The toolbox itself is pretty lightweight, with a weight of one lb. The deep trays have enough space to carry all your necessary tools.
Like the previous GEARWRRENCH toolbox, this one, too, has a lock and key to safeguard your tools. This toolbox has a limited lifetime warranty to ensure the most extended service period.
Stalwart Portable Toolbox
Portability and large storage facility are not very common for toolboxes. However, this Stalwart toolbox has the perfect combination of these two qualities. Stalwart's toolbox set will provide you with a traditional toolbox, a 2-drawer chest, and a deep bottom compartment.
All in all, you should have more than enough space to store all your necessary tools. You can also buy the toolbox only separately.
The construction of this toolbox is pretty sturdy, too, thanks to the polymer and steel build. Despite the large size, you won't have to worry about mobility because of the fold-down handle and rugged wheels underneath. 
DEWALT Toolbox & Mobile Work Center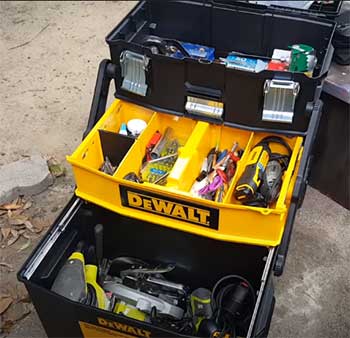 After Stalwart, this is another large toolbox that comes with fantastic portability.
This toolbox has several levels for different storage and purposes.
These levels are attached with a ball-bearing slide system for easy opening.
There is an organizing section, a tray, a toolbox, and a large storage compartment at the bottom for carrying extensive power tools.
You can probably assume the toolbox size from the storage section.
However, there is no need to worry as you can easily carry it with the ergonomic handle and heavy-duty wheels.
Milwaukee Rolling Toolbox
Compactness is a priority for many, and Milwaukee has the perfect toolbox. This toolbox is only 22″ long, making it an ideal option for carrying around. Moreover, the rei has a foldable handle and rugged wheel underneath too.
As far as the storage goes, this toolbox can carry a weight of up to 250 lbs. However, the organizing options aren't that good as no separate compartment or tray is inside.
You'll have to purchase the organizer tray separately. Apart from that, it's a great option as a toolbox.
Keter Master Pro Masterloader Tool Trolley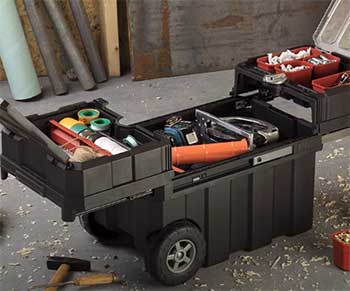 The Keter Master Pro can become a complete storage solution for your tools.
The build quality is exceptional, thanks to the resin construction.
This toolbox takes portability to the next level with its rubber wheels and extendable handle.
So, now you can carry everything you need by your side.
There are two portions of this toolbox. While the first half is for smaller tools with small compartments, the lower portion has space to carry heavier power tools. You can easily access both apart simultaneously just by sliding two portions.
Is Pelican 0450 Tool Chest Worth It?
If we look at the features, Pelican 0450 offers more than enough value for the price range. Every aspect of this tool chest is designed for user convenience.
The drawers for tool storage are removable and supported by a rail slide system. So, users can efficiently organize their tools by removing the drawers.
Also, the overall mobility and durability make it one of the best toolbox options in today's market.
Frequently Asked Questions (FAQ)
What is better than a pelican case?
Pelican has set the industry standard when it comes to manufacturing protective cases. However, there are a few options customers can check out that compete heavily with the Pelican case. One such case is UWK Loadout 822, with almost the same feature set. 
Why are Pelican cases good?
Pelican has a lot of toolboxes and chest boxes used across different industries. What makes Pelican cases so good is their conveniently placed drawers and portability. Also, the durable plastic build with aluminum side rail makes Pelican cases one of the best tool chest options.
What is better Otterbox or Pelican?
The answer to this question depends on what aspect of the brand you prioritize. Pelican, as a brand, typically has a lower price range, while Otterbox has more durability.
Also, Pelican offers more design variations with colors and sizes, so whether Otterbox or Pelican is better is a subjective question.
Are Pelican cases worth the money?
On average, Pelican cases are less expensive than most other case manufacturers. However, the quality and performance it offers for the money make it worth the money. It provides excellent protection for your valuable equipment in challenging filming conditions.
Final Thoughts
That's a wrap for today. I hope my article will be helpful for everyone looking for a Pelican 0450 substitute. As you have seen above, there are some great alternatives available if you don't like the Pelican 0450 or it's not available for you to buy.
All these alternatives are excellent quality and have different feature sets and price points. So, there should be an option for everyone handyperson out there.
As far as the Pelican 0450 goes, it's a great tool chest you can always buy.