The plastic composite flooring, Xtreme Polymer Rigid (XPR), is ideal for modern home and commercial projects. Parkay XPR flooring was developed to resemble the appearance of genuine natural wood.
XPR flooring has various benefits, which could make it a wise choice for your interior design.
But it has a few cons also and in this article, you'll get to know all of its features and disadvantages so that you can decide whether you should buy this or not. So, stick it to the end.
Features of Parkay XPR Flooring
Parkay XPR flooring has some amazing features, which I totally loved. Some of the top features are described for you here: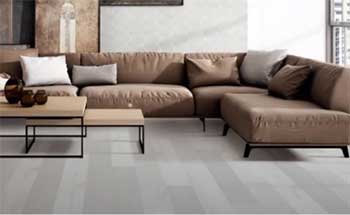 Parkay XPR flooring is resistant to the effects of water, making it a great option for kitchens, bathrooms, laundry rooms, and basements.
The core of the planks is resistant to expansion or contraction caused by moisture, and the planks are completely waterproof.
Parkay XPR flooring is made of a water-resistant substance, which makes it difficult for water to seep through. It can be installed anywhere in your home, including the bathroom and laundry room.
The flooring can also be used in a number of awkward spaces, such as on and around stairs, at wall joints, and around corners. The Parkay XPR waterproof flooring is also robust and scratch-resistant.
Parkay XPR flooring is so simple to install, and because of that, DIYers adore it. The installation of the majority of Parkay XPR products is "snap-together," which means no necessity to glue or nails.
But you have to consider a few things before installing it. Parkay XPR flooring is better to lay over a solid, perfectly dry surface like concrete. Installing Parkay flooring on floating or textile floors is not advised.
Additionally, it's crucial to ensure that your installation area is free of any trash because even a small stone can easily damage the flawless surface.
If Parkay XPR flooring is maintained properly, it can really last 20 years longer. How long your XPR flooring lasts is determined by the quality range of XPR and the manufacturing processes. When it comes to quality, these XPR materials have a standout robust trait that you shouldn't overlook.
XPR is highly durable when compared to other flooring types. The average manufacturer provides a 15-year warranty. XPR flooring has a dense core since they are made of PVC and lime powder, making them more resilient to damage from heavy items.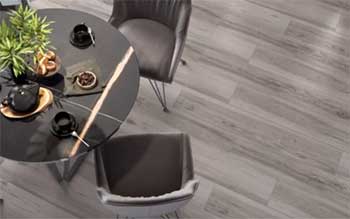 As we all know, glue or adhesives are the main sources of formaldehyde.
XPR flooring's environmental performance is determined by its primary components and manufacturing procedure.
The primary materials used in Parkay XPR flooring are polyvinyl chloride and natural lime powder, which are produced using an embossed, laminated technique without the use of glue or adhesives.
Parkay XPR flooring is free of formaldehyde, benzene, heavy metals, and other toxic compounds throughout the whole manufacturing process, from raw materials to finished products.
Parkar XPR flooring could be what you need if you don't have much time for housework. To maintain your home clean, all you need to do is sweep the floor occasionally.
Once you install it, you'll quickly discover that XPR flooring is significantly simpler to maintain than other types of flooring.
What Could've Been Better With Parkay XPR Flooring?
Difficult Subfloor Preparation
Before installation, the subfloor needs to be level, smooth, and free of dust and debris. You must put some time and effort into this process if you want the results to be excellent.
If the subfloor is not prepared correctly, any trapped particles will result in lumps and bumps on the XPR surface. Over time, this will result in significant flooring problems and may even cause XPR sections to pull and tear.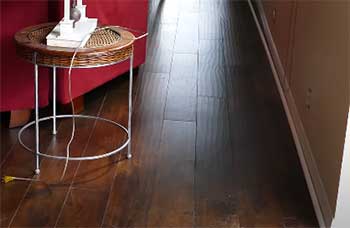 XPR flooring can overcome the majority of stains, but you should avoid letting powerful chemicals come into direct contact with the surface.
Although there are various causes for the discoloration of XPR flooring, chemical emissions from rubber are a prominent offender.
Normal causes of discoloration include prolonged exposure to UV light.
Difficult To Refinish Or Repair
Parkay XPR flooring is known for its strong durability, but sometimes it is difficult to fix once it has been broken, and no refinishing work can be done. The only choice left is to change the specific item.
In most cases, XPR tile or plank replacement is significantly simpler than XPR sheet replacement. Therefore, you should give this some thought before deciding which type of XPR flooring is appropriate for your needs.
Frequently Asked Questions (FAQ)
Is parquet vinyl flooring good?
Yes. Laminate flooring in the parquet style produces the same look as a timber floor at a lower price. It is water-resistant, requires low maintenance, and is easy to clean. It is available in a range of thicknesses and tones.
Where are Parkay floors made?
The Parkay Porcelain Costa series is made in Spain.
Do they still make Parkay floors?
If you want to do something new with your wide plank floors, parquet flooring might be something to take into account, as it has recently been making a comeback in some models of floors.
Is parquet or vinyl flooring better?
Parquet provides more ambiance, coziness, and homeliness. Even though a vinyl floor is quite strong and long-lasting, if damage does occur, the entire floor covering must be replaced. So, considering that, Parquet wins.
Final Thoughts
The best flooring for you depends on your needs, priorities, overall design, and the location of the installation. Here in the Parkay XPR flooring review, I have outlined the benefits and drawbacks of Parkay XPR flooring so you can decide if it's the best choice for your project.
However, my final words would be that the Parkay XPR flooring is a fantastic option if longevity, durability, and simplicity of installation are crucial to you.
But if you have a tight budget or want something gorgeous, you should go for other options.