Both Palliser and Flexsteel offer some of the best reclining sofas available today. However, if you look closely, there are differences between these brands in terms of design variations, size, and customization options.
Reclining sofas can be a great addition to your living room for comfort and putting your feet up after a tiring day. While purchasing reclining sofas can be overwhelming, I have tried to make it easier with a side-by-side comparison between Palliser and Flexsteel Reclining Sofas. Let's get started.
A Quick Comparison Table
| | | |
| --- | --- | --- |
| Specifications | Palliser Reclining Sofas | Flexsteel Reclining Sofas |
| Sizing option | Fewer options | More options |
| Upholstery material | Faux leather | Fabric, leather, and a mix of fabric and leather |
| Quality | Better | Good |
| Comfort | More comfortable | Decent comfort |
| Design options | Fewer options | More options |
| Customization | Yes | No |
| Features | Fewer features | More features |
| Warranty | 2 to 5 years depending on the parts | One year to a lifetime warranty |
Key Differences Between Palliser And Flexsteel Reclining Sofas
Dimension is a huge consideration if you are looking for an exact size for your living room. The issue is that both brands offer a lot of single-seaters and smaller recline sofas.
However, in terms of bigger recline sofas around 8 feet or longer, Flex steel provides far more options than Palliser.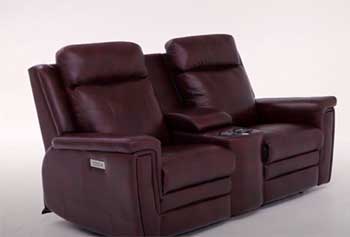 Upholstery materials not only play an essential role in making reclining sofas more appealing but also impact comfort and durability.
In terms of materials, Palliser uses only faux leather for the sofas.
It might not be as strong as real leather, but it's pretty comfortable and helps reduce costs.
On the other hand, Flexsteel offers fabrics, leather, or a mix of both as the primary material for their sofas.
Not only do these materials give you more versatility, but they also offer a better look and durability. 
Also Read:
Differences Between Seatcraft And Octane Home Theater Seating
.[/su_noe]
High quality is one feature that both brands share and feels proud about. However, if we try to nitpick, Palliser seems to get a little upper hand over Flexsteel.
Aside from the material difference I talked about, Palliser has better frames, stitching, and reclining mechanism, which helps it offer better quality than Flexsteel.
Comfort is a massive factor when you are picking your sofa. The whole point of a reclining sofa is to become more comfortable. Palliser offers better comfort with memory foam and feathers in the comfort department.
On the other hand, Flexsteel typically uses regular foam and plush materials, which are not as comfortable as Palliser reclining sofa.
This is a particular aspect many people will look for. Most customers out there plan to get a sofa that will match the overall aesthetics of the living room. In that case, having various designs from your preferred brand can be very handy.
In terms of design options, Flexsteel offers more options in the reclining sofa department, almost double what Palliser has.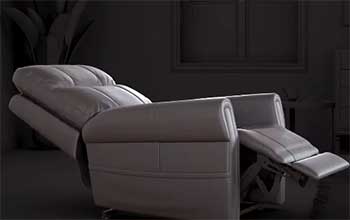 Customization can allow you to turn the design or style you have in your mind into a reality.
For example, Palliser offers more customization with cover type, upholstery, color, table, and cup holder customization in the customization department.
On the other hand, Flexsteel doesn't offer such customization for their sofas, which can be a massive turn-off for customers looking for customized sofas.
Extra features can make your sofa experience richer. We are used to different features like cup holders, USB ports, adjustable headrests, power headrests, etc., with our sofas. In terms of built-in features, Flexsteel reclining sofas are far ahead with dozens of different features.
On the other hand, Palliser only seems to offer a USB port in the features department. 
A reclining sofa is something we don't buy every day. However, considering the investment, every customer would want the sofa to last for years, and a good warranty can help you get that service.
In the warranty department, Palliser offers a 2 years warranty on the leather and 5 years on the reclining, mechanism, and cushioning. On the other hand, Flexsteel provides a better warranty on different mechanisms and frame materials ranging from one year to a lifetime.
Which Sofa Is Better For You?
At the end of the discussion, picking one brand as a clear winner is hard. As you have seen, both brands have their pros and cons from different aspects.
If you prefer quality, comfort, and customization over design and variation, Palliser is suitable for you. But if you are after more sizing options and prioritize a good design variety, you are better off with Flexsteel.
Also Read:
Differences Between Stressless And Benchmaster Recliners
.
Frequently Asked Question (FAQs)
Is Flexsteel a quality brand?
Flexsteel is a reliable and high-quality brand among homeowners for its innovation, focus on quality, and sizing options. If you are looking for a reclining sofa brand that'll last you a long time, Flexsteel sofas are a worthy investment.
Is Palliser furniture made in China?
There are a lot of furniture manufacturers that manufacture their products from China to lower the cost and sell them in the US. However, this whole China base manufacturing often creates a quality concern among customers. Fortunately, Palliser furniture is not made in China.
Where is Palliser furniture manufactured?
Every product sold under Palliser furniture is manufactured in North America. However, as a Canadian brand, there are manufacturing plants in Canada and Mexico.
Is Flexsteel or Smith Brothers better?
Flexsteel and Smith Brothers are known among their customers for their performance. It's important to mention that both brands have somewhat different customer bases. However, Smith Brothers seem a bit better than Flexsteel considering better material and build quality.
Final Thought
That's a warp for today. I hope my comparison between Palliser vs. Flexsteel reclining sofas will help you make an informed purchase decision. As you can see, both brands have their fair share of strengths and weaknesses from different aspects.
And to the core, both brands maintained top-notch quality to become so dominant in the market. So if you are feeling confused, think about what you are looking for in your reclining sofa, and choose a brand that better serves your priorities.