Looking at Seatcraft and Octane can put you into a puzzle situation as they both have quite a few similar characteristics.
But what sets them apart is a few differences, such as Octane's seat accessories have more options than the Seatcraft. Moreover, Octane has a removal storage arm, but Seatcraft lacks it.
Other than these two differences, they have some acclaimed differences which will make you understand which one to pick. But for it, you've got to stay with us till the end. Let's dive in.
A Quick Comparison Table
| | | |
| --- | --- | --- |
| Specifications | Seatcraft Seating | Octane Seating |
| Seating Categories | Home theater, tiered home theater, Big & tall home theater, Multimedia sofa, loveseats, sectionals. | Home theater, sofa, sectional, VIP cinema, movies & cinema, auditorium & public, chaise loungers. |
| Seat Accessories | USB charging, Power headrests, Power lumber, cup holder, cigar holder, LED reading light, tablet holder | Different color swivel tray table, wine glass holder, phone tablet holder, recliner pillows, removable storage arm, Cigar &cigaratte basin, removable shark arm, popcorn snack ball, wireless battery pack, riser platforms. |
| Removable Storage Arm | Not Available | Available |
| Solid Frames | Solid Hardwood Frames | Metal & Kiln dried woods |
| Performance | Pretty good | Excellent |
| Pricing | Lower | Higher |
Differences Between Seatcraft And Octane Seating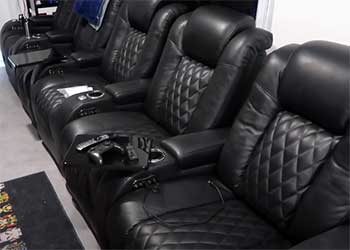 I am beginning with Seatcraft seating with a home theater, tiered home theater, big & tall home theater, multimedia sofas, loveseats & sectionals.
Seatcraft brings style and comfort in one place.
With the home theater seating, you'll enjoy hidden arm storage compartments and whatnot.
Are you not interested in purchasing bulky building risers?
The tiered seating of Seatcraft lets you watch over the row in front of you without any hindrance.
If heavy-duty capacities with high durability are your concern, go for the Big & Tall home theater of Seatcraft, and options for multimedia sofas, loveseats, and sectionals.
Whereas, if we look at Octane seating, their diversities will spin your head into 360°.For high-performance comfort, they've got a home theater setting just like Seatcraft.
Relieve your muscle fatigue and relax your body with sofa collections of Octane. That also has features like a power recline, which will let you relax while enjoying comfort.
Plus, their movie & cinema seats offering has diverse styles, sizes, upholstery, and colors. The wood and steel components give it the longevity you desire.
Having a comfy chair requires some additional features, which are seat accessories. Both of them have quite a lot of accessories, but Octane seating beats Seatcraft here with so many options. Let's check them out.
Seatcraft has a USB charging port and cup holder, which lets you charge your phone and enjoy your wine while keeping it in the cup holder.
In contrast, the power headrests and power reclining option let you adjust the seat just how you want according to your comfort.
Now let's know about Octane seat accessories. It has a different color swivel tray, popcorn snack ball, and wine glass holder, enabling you to keep your meal while enjoying the show.
With a USB charging holder, it even has a phone or tablet holder, so you don't have to hold it in hand. Plus, the wireless battery pack lets you recline your furniture without even plugging it into a wall or other outlet.
Octane has a removable shark arm, riser platforms, and whatnot! That you'll not find in any other seating accessories.
The fun part is both have a cigarette basin, so if you love to enjoy the show while smoking, look no further! Octane seating can be your game-changer.
We all have heard about storage arms, but what about a handy top storage compartment in it? Sounds funky right? But Octane seating has brought it for you. Its slim profile gives your arms a backup without occupying ample space.
Moreover, the arm has full sized black aluminum cup holder where you can keep your cans and drinks. It's even removable and dishwasher friendly too.
Unfortunately, Seatcraft lacks behind in this feature.
After hearing about features, the most common question frame pops into our mind: What about durability?
Well, both have good durability as each of them is made with excellent materials. Seatcraft is made of a solid hardwood frame. As it's made up of solid wood, the durability and stability are higher.
Whereas, Octane solid frames are made up of Metal and kiln-dried woods. Kiln wood is considered a higher quality and less expensive air-dried wood.
Seatcraft performance is pretty good as the seats have many diverse features. Though they're good seats, few have complained about the headrest being too low.
With its top-notch feature, Octane seating occupies the highest quality market. Its features target audience comfort and relaxation.
Seatcraft beats Octane seating in this field. If you're someone to whom pricing is not the issue but comfort is -Octane will steal your heart.
At the same time, Seatcraft is not that bad. But it lacks some features compared to Octane. That degrades its pricing too. If the features satisfy your preferences, then it's a win-win situation for you to have it.
Which Seat Is Better For You?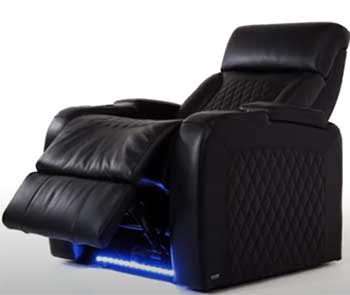 When features are pretty similar, choosing which one to pick is hard.
Yet, if you look in detail, you'll have your answer.
If you want a simple home theater with comforting seat accessories within limited pricing, Seatcraft can give it to you.
But if you want a home theater or ample area coverage like movies and cinemas with unbeatable seat accessories, Octane seating can be your savior.
In that case, the pricing will differ as Octane costs more than Seatcraft. Let your preferences speak up for you, which will be ideal for you.
Conclusion
How to pick the best one when both are pretty similar? Well, our Seatcraft and Octane seating comparison solves the riddle for you. Now you can say Octane is better in terms of Seatcraft seating.
Well, how?
That's what we've discussed in the entire article. Choose your comfort seating according to your preference!