Deciding on the best interior ­­paint for yourself could be a little hard when such amazing options are available. People find much confusion in determining either Ovation or Showcase interior paints.
The best thing to know is, Ovation is more famous and highly reviewed by people. But Showcase paint is not like that. The former is cheaper, but the latter one is a little more expensive than that.
But these are not the only significant differences you may find between these paints.
A Quick Comparison Table
| | | |
| --- | --- | --- |
| Specifications | Ovation Interior Paint | Showcase Interior Paint |
| Type Of Paint | Interior Paint and primer | Interior Paint and primer |
| Recommended Coats | 1,2 Coats | 1 Coat |
| Dry To Touch | 1-2 hours | 1-4 hours |
| Recoating Time | 2-4 hours | 2 hours |
| Rating | 4.9 | 4.4 |
| Pricing | Cheaper | Expensive |
| Warranty | Lifetime limited warranty | Lifetime limited warranty |
Key Differences Between Ovation Paint And The Showcase Paint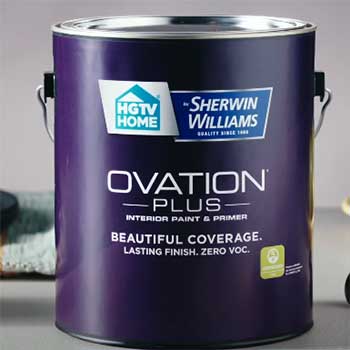 Selecting the type of either of these paints is not difficult because both are pretty much similar.
Both are used as interior plus paint and primer.
But Ovation has its definition so does the Showcase paint.
With Ovation paint, have your house or building interior painted with confidence.
Such paint applies very easily and withstands durably against scrubbings and stains.
You can have it in different colors and bring that uniqueness inside your room, guest room, living room, or anywhere else.
On the other hand, Showcase paint also ensures something similar. It is usually designed to stand against sturdy scrubbings and frequent washings that become easier.
It doesn't matter how many years are coming; your walls will have paint that will never fade away, keeping the same shiny look appreciated by others.
The number of coats required with each paint decides and shows which one of them is more durable.
With Showcase interior paint, you only need 1 coat, which is enough. When you do it, your walls will have new skin that will stay there for lasting longer than you can count.
Compared with Showcase paint, you might need up to 2 coats with the Ovation paint. It means the paint is less durable on the first try.
And to cover the remaining pieces, you will have to apply another coat so that it should look solid and stunning on the house's interior walls.
This painting feature determines how fast a specific one will get attached to the wall so that you can clean it, touch it or hang those paintings you want on the walls.
Usually, it takes 1 to 2 hours for Ovation paint to dry so that you can touch it. That's why you need two coats, as it is not that highly liquid to become solid on the first try.
But with the Showcase paint, it will take a maximum of 4 hours until it allows you to touch the wall with bare hands. Once it is dried, you will not need another coating.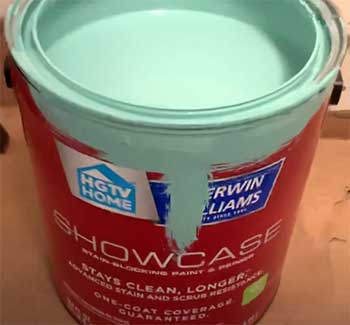 You may not go for the second coating with the Showcase paint.
But even if you go, there shall be a maximum of 2 hours before you apply the second layer of the paint.
However, with Ovation paint, this timer is vast as you may have to wait for almost 4 hours to go for the second coating.
So, go with the one you are easier to choose and work with!
Even though Ovation has a 4.9-star rating out of 5, it is not highly used by people because there are only 1959 reviews.
But the people who have used it rated it with much more appreciation than Showcase paint.
Because Showcase Paint comes only with 4.4 stars out of five, but the good thing is, more people use it as these numbers go to 2124 total reviews.
The popularity and high usage decide how a product is valued in people's eyes and how they recommend it.
As stated earlier, when you buy the Showcase paint from Lowes, it will cost you from 21 to 229 USDs which is an expensive option than Ovation.
The Ovation on Lowes will cost you around about $17-199. However, it might not prove as durable as the Showcase Paint.
There is no difference you may find in the warranty of these products. Because the same vendor produces both paints, they provide you with a lifetime limited warranty.
Because paints don't expire if they are made with quality, care, and the best formulas.
Which Interior Paint Is Better For You?
Deciding between these depends on your current budget and how you want that paint to work on the house's interior walls.
Choosing the Showcase paint might cost you a little more money, but it is durable as there is no need for a second coat of this paint.
On the other hand, selecting the Ovation interior paint may not cost you that much. Still, you may not get such colossal durability.
However, the choice would always be yours. But I would recommend going with the Showcase paint because of its less usage, more durability, and high features due to a little extra price.
Frequently Asked Questions (FAQ)
Is Showcase A Good Paint?
Defiantly the Showcase is an excellent interior paint selection for the walls where you require more durability and wear and tear resistance. Such paint provides these features for all the coming years.
Who Makes Showcase Paint?
Sherwin-Williams makes showcase Paints. The same company makes even the Ovation.
What Paint Brand Do Contractors Use?
When contractors have projects to paint houses or buildings, they choose the paint brand that does their job with quality and satisfaction. Contractors love to select the Sherwin-Williams and Benjamin Moore paints for all types of paint applications.
Is Sherwin Williams Showcase Oil Or Latex?
The Sherwin Williams Showcase paint is Latex paint. Not an oil-based paint.
Final Thoughts
Since Sherwin Williams is one of the highly recognized paint brands in the market, comparing Ovation and Showcase Paint will not be challenging. You will find more positive votes for the Showcase paint than Ovation because many people have used it.
However, it is a little expensive. But yet, it is worth the cost. So, let me know your experience with any of these paints, and tell me if there was anything different you have observed.
Anxiously waiting for your warm reply. Have a nice day!