Picking up the correct flooring has always been a tough job, especially for those who want to get an "all-in-one" package. And this is where the Monarch Plank flooring comes into play!
Durable, smooth finish, vibrant color, you name it; Monarch Plank features all the nooks and crannies you need from top-notch hardwood flooring.
For more information about it, let's dig deeper into its features, advantages, and disadvantages.
Features of Monarch Plank Flooring

There is no surprise that each flooring comes with unique specs. So, to help you know why it stands head and shoulders above the rest of the choices, you're just a step away from knowing its stand-out features:
Adds Different Wooden Types
The very first thing that may make you fall in love with it is the various wooden species it shows off. Indeed, Monarch plank features 3 individual choices to choose from, including European/French Oak, Rustic Hickory, and Walnut.
Hands down, the French Oak stands out for its vibrant color with a combination of distinctive grain. Moreover, it is way sturdier, making it durable and long-lasting.
Talking about the Hickory, it features a darkish tone to dramatic sunshine. Ranging from reddish brown to creamy colors, it's also known for its superb hardness.
And what about the "Rustic Walnut?"
Well, in order to take your place on your top-priority list, the manufacturer has added premium grain structure and super-gorgeous colors right here. And needless to say, this is by far one of the most popular hardwoods among US citizens!
Do you feel bored or annoyed by your back-dated rough floor texture? Those days have gone as the classic Monarch Plank comes in a brushed, smoother, and cleaner texture.
Along with ensuring an aesthetic look, you'll find the surface quite soft while stepping over and cleaning up the surface.
Multiple Size & Grade Options
Size really matters to most of the customers as everyone doesn't have a similar space in their house. Considering this fact, the maker features a variety of different choices out there.
From the high-quality Domaine II to the uniquely-designed Storia II, you're going to get numerous choices to match your preferences.
Each of them has its own unique sizes, for instance, Domaine II gets 3/4" x 9-1/2", while the Storia II features 9/16" x 7". A lot more different choices with different sizes are available on the official website of monarchplank.com you may look for.
Watch the complete collection from this video.
Exquisite Colors/Staining
Unlike mainstream flooring, the Monarch Plank tends to be more popular for its durability, longevity, and color combinations that begin from the darkish choices to the mild.
So, depending on the overall décor of your sweet home, you're allowed to get yourself the one that complements your house most. In fact, its reactive stains are liable to ensure a matured look to catch everyone's attention instantly!
Feeling interested to know about its finishing? Well, you'll be happy to hear that the manufacturer of Monarch Plank includes two types of finishes: urethane end and UV-protected oil.
The second component generally plays a role in penetrating the wood in terms of creating a stronger barrier. And the first component keeps protecting the obstacles in the best way possible.
That's one of the key reasons why Monarch Plank Flooring offers a vibrant, and at the same time, refined finishing.
What Could Have Been Better With Monarch Plank Flooring?
As you can see, Monarch Plank Flooring has plentiful advantages. That said, it has some drawbacks too. So let's find out what they are.
There is a common saying – "professional products require professionals' touch." So the Monarch Plank Flooring is no exception. The maker of this brand doesn't allow it to DIY-ers or newbies.
Ask why? Because it requires a knowledgeable installer or someone like that for a complete setup. In this case, calling a pro will be needed.
Need to Provide Extra Maintenance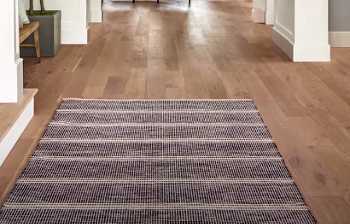 In my personal opinion, there is nothing wrong with providing extra care for the product you use.
This way, we all can keep our product more long-lasting.
But when it comes to the case of Monarch Plank Flooring, a few customers complained that a couple of models required too much care.
For instance, wet mopping is strictly prohibited for a few models. Instead, you must go for dry-mopping to clean up.
Alongside that, you shouldn't put rugs for an extended period to the doorways as they will eventually hold stubborn spots/marks over time.
Also, don't forget to trim your beloved pets' nails, reducing the possibility of unexpected scratches onto the smooth surface of plank flooring.
Frequently Asked Questions (FAQs)
Where is Monarch plank flooring made?
The stylish and popular brand "Monarch Plank" flooring is carefully hand-crafted and designed in Mesa, Arizona (a state in Western U.S).
The manufacturer claimed they have been using the finest wood (e.g. Oak, Hickory, and Walnut) along with the necessary components needed to make it stand out from the crowd!
How much is Monarch Plank flooring?
It all depends on which model/which wood type you get yourself. In general, the cost of installation varies from around $3-$22/sq. ft. In this case, the approximate cost for a 500 sq. ft. Monarch Plank flooring can be anywhere between 1500-1000 dollars or so.
What is the best type of engineered hardwood flooring?
Hardwood floorings are of so many different styles and types with different specs. According to the majority of customers' feedback, Oak is considered the best type of engineered flooring for its grain structure, tannin content, and sturdy finish.
Is Luxury Vinyl plan better than wood?
In terms of resisting moisture and ensuring durability, Luxury Vinyl stands upper compared to wood. But if I talk about smoothness and classiness, the wood may outshine the Vinyl flooring.
Final Words!
Through the Monarch Plank flooring reviews, I tried my level best to show you all the striking features it comes with. Although it has several drawbacks, you can overlook those stuff because the amount of advantages is way higher than the disadvantages!
Hopefully, it won't disappoint you if you choose any of them from the store. Get the Monarch Plank and maintain it to extend its longevity.
Meta Description: Monarch plank flooring reviews will show you what makes it a unique and popular choice among homeowners.