Have you tried out the Ruggable rug pad, or will this be the first time you think of it?
I'm super excited to talk about this fantastic product and the different alternatives that you can use. First things first, what exactly is a Ruggable rug pad?
This is an interchangeable pad that comes as a two-piece model to allow you to clean with absolute stain and water resistance easily. So, did I grip your attention? Read on!
Different Ruggable Rug Pad Substitutes You Can Use
Here are the alternatives I am about to talk about:
Nevlers Non Skid Rug Pad
NuLOOM Brody Eco-Friendly Non-Skid Rug Pad
RUGPADUSA Basics Protective Cushioning Rug Pad
MAYSHINE- Dual Layer Felt + Rubber Rug
Home Techpro Rug Pad Gripper, Non-Slip Washable Grippers
Mohawk Home Non-Slip Rug Pad Gripper
Veken Non Slip Rug Pad Gripper
At least now you have a brief idea of a Ruggable rug pad and its alternatives. Time is money, they say. So let's quickly dive into the different substitutes you can try at home and still get exceptional results.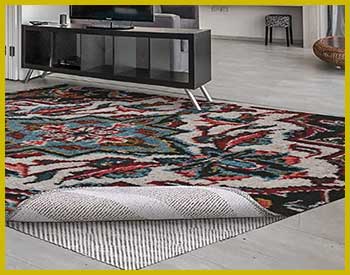 The Nevlers pad provides a tight grip to effectively handle movements or sudden pressure.
The beauty of this rug is that it can work extensively on different types of rugs.
Additionally, this rug is super easy to use. You have to trim it to a size you choose and then put it under the rug.
As if that's not enough, this anti-slip pad comes with a one-year warranty, so you don't need to be hesitant about spending a few bucks on this product. Worth a shot!
NuLOOM Brody Eco-Friendly Non-Skid Rug Pad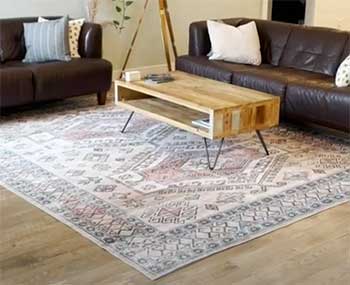 Are you looking for a pad with extra comfort?
Look no more! This Brody brings a lot to the table, that's for sure.
 For starters, it is made out of natural, synthetic fiber.
We can all agree that when we hear the term ' thread,' durability immediately pops into our minds.
So yes, this pad has longevity. Also, it works safely and ensures complete protection of floors. 
What's more, this pad has a lesser risk of slipping. You're probably asking yourself why. The Eco-Friendly rug pad ensures your rug is firmly put in place to prevent accidents—a great alternative.
RUGPADUSA Basics Protective Cushioning Rug Pad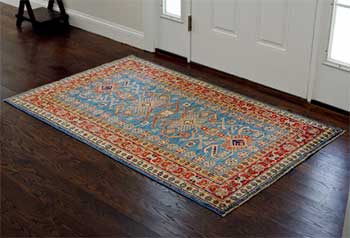 As the name suggests, the RUGPADUSA is manufactured in the USA.
This pad is undoubted one of the safest pads. Made out of rubber, it ensures complete firmness to eradicate any form of tripping or falling.
And that doesn't end there. The rubber material certifies that there is no stain and prevents any form of destruction to the floors.
Also, the Basics pad contains a thick cushion that ensures insulation is present, exceptional comfort, and soundproofing effects.
MAYSHINE- Dual Layer Felt + Rubber Rug
Now, regarding flexibility, this rug pad is definitely on the top list.
You're probably curious as to why I came to that conclusion.
The MAYSHINE is perfectly designed to suit your personal needs since it comes in different cut-sized pieces.
And the best part about this is that all you need to do is trim to get whatever shape or size you want.
Thanks to the rubber material and its excellent holding ability, there is a lesser probability of any form of slipping. Before setting up the rug, you need to ensure your floor is clean with no wetness.
Lastly, this pad has a dense cushion to provide a comfortable feeling to your feet.
Home Techpro Rug Pad Gripper, Non-Slip Washable Grippers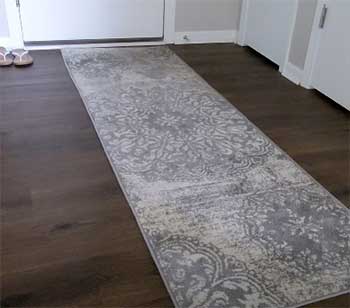 Where do I start?
The Home Techpro rug pad combines four squared pieces, covering a larger floor area.
This pad uses the VACUUM TECH to manage the pressure exerts to keep your rug firmly positioned.
Moreover, the Techpro rug pad maximizes the suction technology by ensuring great anchorage to prevent any damage to the floor.
Convenience is a factor we always consider when choosing a product; luckily, this pad ticks that box. It is super easy to clean and less time-consuming since it doesn't have to be detached from your carpet while washing.
Mohawk Home Non-Slip Rug Pad Gripper
With the rubber material on the Mohawk Home, you don't risk falling because it tightly grasps the rug and keeps floor surfaces super smooth.
Having so many different rug sizes, you can easily customize this pad to fit the size you want. All you need is a pair of scissors.
Also, the Mohawk rug pad can be used on carpets, hardwood, and other surfaces. You can be assured of proper cushioning for your foot when it comes to this pad.
Veken Non Slip Rug Pad Gripper
Veken is a safe alternative. This pad prevents falls and slides by perfectly holding the rugs. The thickness of the pad guarantees comfort by well cushioning the carpet and rug.
Veken nonslip has an open design that ensures dust doesn't accumulate under the rug, hence easy cleaning. This pad can also be customized by properly trimming to get the size and shape you prefer.
Investing In A Third Party Or Used Rug Pad
Sometimes, you may not have the budget to spend on good quality and new Ruggable Rug Pad. At that time, even if you don't quit looking for the right Rug Pad, you must consider buying an older rug pad.
There are various places in your nearby markets where they sell used but in good condition Rug Pads at a very low price.
Hence, instead of getting a new one, you can invest your money in a third-party rug pad that will save you money and become a cheaper alternative to Ruggable Rug Pad.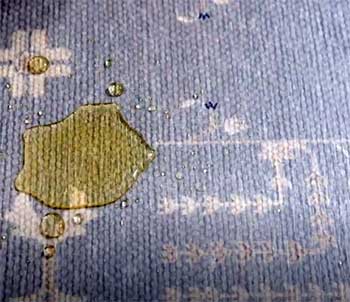 It's a brand selling impressive designs in case you need a less expensive rug pad than Ruggable.
It comes with cushions and unique spill-proof technology. You may not find an amazing offering at any other brand at the same price.
Just browse their website and look for the desired rug pad for your ultimate purchase.
Besides, the rug pads are very easily cleanable and can be cleaned on a washing machine.
These rug pads are made with non-porous, rubberized foam, which ensures an excellent level of softness and feels cushy under your feet.
The better part of this alternative is its cheaper price than the Ruggable Rug Pad.
At Rugs USA, you can have premium quality Machine Washable rugs that never disappoint.
Just in case you need those vintage-looking washable rugs, then RUGS USA is your top priority.
One can have it as a good alternative to Ruggable Rugs. The brand brings tons of options to choose from.
Another great brand considered an elegant alternative to Ruggable Rugs is known for selling one of the best rug pads in town.
A customer will always find himself at a place offering a complete set of soft, comfy, and heavy-duty rugs for an excellent affordable price.
The rug pads at Revival come with a more geometric and modern pattern, and they look gorgeous when you place them inside your rooms or in the hallways.
These are also machine washable, so there won't be any hard jobs you'd have to perform while getting a Revival Rug cleaned up.
It is somewhat similar to Revival Rugs but a good alternative to Ruggable Rug Pads.
These washable rugs will blow your mind and keep you in a place that can help you choose a rug pad with excellently appealing patterns.
Therefore, Boutique rugs are another place to explore if you are unhappy with a Ruggable Rug Pad for any reason!
Is Ruggable Rug Pad Worth It?
The two-sectioned Ruggable rug pad is super easy to clean, water-resistant, and unsusceptible to stains. Now that you know the various alternatives, the choice is yours.
Frequently Asked Questions (FAQ)
Can I use a different pad with Ruggable?
Definitely! You can use an additional classic pad, which will work just as effectively.
Can you use a Ruggable carpet without the pad?
I wouldn't advise. This is because the pad acts as a cushion and adds comfort.
What can I use instead of a rug pad?
You can put burning hot glue or silicone glue under the rug. Setting a pad beneath will also do the trick.
Can I use a carpet pad instead of a rug pad?
I wouldn't recommend using a carpet pad as an alternative since it serves different purposes from a rug pad.
Bottom Line
To enjoy the comfort and other fantastic qualities, you can opt for a Ruggable pad or Ruggable rug pad alternative. Having to choose one out of the many options can be pretty tricky. I know the feeling.
I highly recommend that you consider the characteristics that are more important to you to go for the pad that will feed your needs to satisfaction.