If you are referring to Sleepme OOLER and Cube Sleep Systems, you might be confused about their essential differences. Somewhat it's not easy to compare both products due to their varying similarities.
However, OOLER tended to be the latest addition to the sleep system than Cube.
OOLER comes larger with more stretched dimensions but can easily fit under most beds. In contrast, Cube is smaller yet needs bed adjusters to make a space under the bed.
You can see OOLER making more noise from the website than Cube while running. In addition, the OOLER is completely controlled through an app, and the Cube is controlled with a remote control.
A Brief Comparison Table
| | | |
| --- | --- | --- |
| Credentials | OOLER Sleep System | Cube Sleep System |
| Size | Larger | Smaller |
| Cleaning | Self-Cleaning Features | Required Cleaning every month |
| Noise Level | It makes little noise that can go up to ~61-66dBac | Less noise that goes with ~51-56dBa |
| Combination of accessories | It comes with a hydronic pad | It comes with a mattress pad |
| Operation | Just app control and on Panel buttons | Just a remote and on-panel buttons |
| Electricity Consumption | Higher with 100-240VAC, 50/60Hz | Lower with 90-230VAC, 50/60Hz |
| Portability | More portable with 9.5 lbs. (4.3kg) | Less portable with 10 lbs. (4.5kg) |
| Pricing | Expensive Unit | Cheaper Unit |
In-Depth Differences Between Cube And OOLER Sleep Systems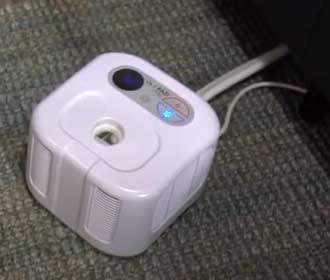 Regarding design, the OOLER sleep system is more advanced and futuristic than the Cube sleep system.
Features like complete app control, a warm awake system, more controllable fan speed, and so on make it an amazing innovation for your sleep.
Moreover, you can set up your bed temperature schedule through the app.
The compact and lightweight design makes it more portable than the Cube sleep system.
Conversely, the Cube sleep system comes with an up-to-date design. Though it is less developed than OOLER, Cube can also be a great choice. However, choose one which is a bang for your buck.
Also Read: Substitutes For BedJet Cloud Sheet.
OOLER sleep system comes with a warm awake system. It means the OOLER pad has the ability to wake you up by increasing the temperature. This system is like a replacement for your alarm clock.
Every human body reacts to temperature rising. Your body is not an exception. So, the rising temperature of the pad triggers your senses and wakes you up.
On the other hand, the Cube system does not offer you this unique feature. So, one extra point for the OOLER system. However, if you are good with your regular wake-up schedule, this feature might not be a deal breaker for you.
In terms of comfort, the OOLER sleep system is far better than the Cube system. Not only all the advanced features but also a more manageable noise system, fan speed, and temperature control takes your sleeping environment to another level.
Besides, the Cube sleep system does offer decent comfort. But, the comfort is not a match for OOLER one.
 On top of that, you have to struggle with the cleaning process every month. So, if you don't want to compromise your comfort, you know what to choose.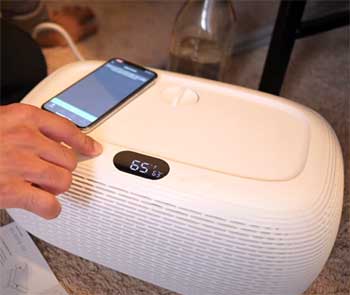 They have different sizes because the OOLER sleep system comes with 15 x 10 x 6″ (38 x 25x 15cm) dimensions.
From these dimensions, you can find this unit larger in length, which is 38CM.
Compared to that, you will find the Cube Sleep System with 9.5 x 10.5 x 7.5″ (24 x 27x 19cm) dimensions.
Here, the unit is smaller in length but larger in height.
Therefore, OOLER will make an easy place beneath your bed to provide cooling as it is not that high.
However, you might have to adjust your bed a little bit while using the Cube Sleep System underneath the bed. It's because of the Cube height.
The Cube needed to be cleaned and required low maintenance every month. But don't worry, that doesn't cost you much. At the same time, OOLER has a self-cleaning lamp that cleans the water by itself. There is no problem with that!
When you look at the specifications of both units, you can find OOLER making noise up to 66db, which is latterly more than Cube noise. Because Cube only makes a noise of up to 56db.
However, OOLER has three fans that let you determine the productivity level. You can also see the difference in noise level with different fan operations.
Combination of Accessories
OOLER comes with a hydronic pad different from the Cube's matters pad. Hydronic pad operation is to adjust the heat, whereas a Mattress is just a simple mattress pad.
Therefore, it is another difference between both sleep systems to make a comparison.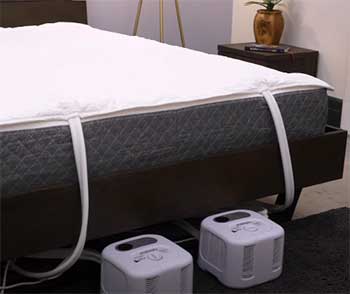 OOLER provides more comfort, ease, and versatility in using this cooling system.
It's because the system comes with app control.
Install the free app on your android or iOS device with Bluetooth connectivity and use the app from anywhere in the room with quick access to your mobile phone.
On the other hand, Cube doesn't provide you with app controlling but just remote controlling.
Therefore, you may not find such an excellent level of comfort in operating this machine.
OOLER Sleep System consumes more power with 100 to 240 volts. It could be a little addition to your monthly electricity bill.
In contrast, the Cube Sleep System is ever ready to work on 90 to 230 volts consuming less power. Therefore, it might be a reduction in your electricity bill.
OOLER is more portable with a little reduction in weight, whereas the Cube Sleep system is less portable with a bit more weight.
Therefore, depending on its weight and portability, you can decide which one will be easier to place under your bed.
All things aside, if the sleep system does not operate perfectly to cool your body, it does not mean anything. With more advanced technology, a better control system, portability, and comfort, the OOLER sleep system delivers excellent performance.
Moreover, the three fan speed, including silent and boost, gives you the ultimate control over the temperature. OOLER helps both with your sleeping and wake-up schedule.
Conversely, the Cube sleep system will not disappoint you with its performance. Considering the price point, it also offers a worthy output.
However, overall, The OOLER sleep system is a better performer to keep your body at a consistent temperature to improve your sleeping environment.
Comparing both products on pricing, the OOLER is supposed to be a little expensive as it's a newer unit and comes with more unique features.
But Cube is not that expensive as it's a later unit with classic features.
Which Sleep System Is Better For You?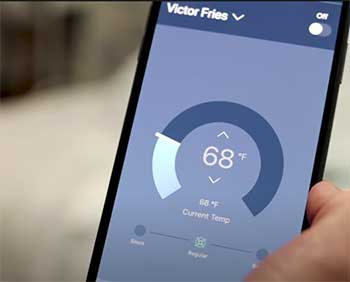 I guess it would be better if you went with the OOLER. Mobile Controlling and triple fan features make it a unique unit.
Also, there is an additional hydronic pad for more streamlined operations.
You can adjust the noise level and use it under the beds without making any adjustments.
But this unit may be a little expensive. On the other hand, the Cube is not that expensive but doesn't provide you with a hydronic pad.
This unit is less portable and does not have a mobile controlling feature. So, these comparisons will help you decide on your better sleep system.
Frequently Asked Questions (FAQ)
What Is The Difference Between The Cube And The OOLER?
One of the most significant differences between Cube and OOLER is that OOLER is controlled with the help of a mobile app, but Cube cannot. It's also slimmer and more convenient to fit under most beds.
Is OOLER Better Than Chilipad?
OOLER has a better design than Chilipad. It's also easier to fit under your bed than a Chilipad.
Is The OOLER Worth It?
Yep, the machine is worth it. It's because OOLER helps make your mattress as colder and warmer as you want. It's a value-for-money product.
Is The OOLER Sleep System Loud?
OOLER noise can go up to 66 dB. But if you operate it with its other fans, you can also see the difference in noise level. To most buyers, OOLER is not that louder.
Wrapping Up
OOLER is a way better sleep system than Cube when you need to choose one between OOLER and Cube. Both vary significantly in noise level, features, operations, and sizes.
In case you want a sleeker and easier-fitting unit under your bed, OOLER is the best option.
On top of that, OOLER is easier to operate with the help of your mobile device. Hence, you can make a quicker selection if you consider all the comparisons described in this article.