If you mill for financial gains, earning the best bang for your buck is possible when you can cut different types of logs with your sawmill. And any sawyer will attest that there is no greater feeling than having a mill in your hands.
Let's distinguish two of the greatest tools that you can start using.
Norwood has a 23HP engine, while WoodMizer has a 19HP engine. WoodMizer uses a DoubleHard blade of high quality and all-purpose, whereas Norwood operates using Ripper37, a blade that you can constantly sharpen without it wearing out.
I have so much more in store for you, so stay put!
A Quick Comparison Table
| | | |
| --- | --- | --- |
| Product Description | Norwood | WoodMizer |
| Engine | 23 HP | 19 HP |
| Blade Type | Ripper37 | DoubleHard |
| Board Width | 28 inches | 23 inches |
| Log Length | 13 inches | 17.8 inches |
| Assembly | Disassembled | Partial |
| Powerhead and Hydraulics Options | Available | Not available |
| Durability | Good | Excellent |
| Weight | Lighter | Heavier |
| Price | Lower | Higher |
Significant Differences Between Norwood And WoodMizer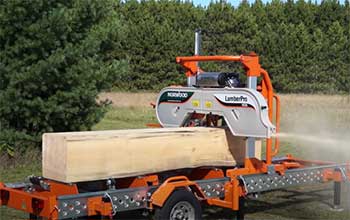 The engine type is a point to always have at the back of your mind when going for a tool.
Norwood has a 23HP motor that must be constantly serviced to ensure optimal performance even during harsh conditions.
On the other hand, WoodMizer has a 19HP engine that is perfectly configured for sawing applications and ensures fuel efficiency. The higher the horsepower, the faster the machine works, but fuel consumption is usually higher.
Norwood uses Ripper37 blades that will transform your sawing activities to an incredible extent. This blade is well-known for its durability and excellent cutting performance. You can sharpen the blade as often as you want due to the presence of regrinds.
Conversely, WoodMizer works with a DoubleHard blade that is versatile and multi-purpose, cutting softwood, medium, and hardwood. Due to its high-alloy steel material, the longevity is fulfilling.
The width of the board varies greatly depending on the sawmill at hand. So, what do I mean? Norwood has a board width of 28 inches, yet most mills work with a width of 15 inches or less.
In contrast, WoodMizer has a board width of 23 inches. Mills are designed to cut hardwood logs to achieve maximum yield efficiently.
It can be frustrating to be limited by the log length while deep in the woods as a sawyer. You want to be able to cut through different lengths quickly and easily.
Norwood has a log length of 13 inches, meaning this tool will perform impressively within that range or less.
On the contrary, WoodMizer has a bigger log length. Cutting through 17.8 inches of log seamlessly, this mill has outdone most of its kind.
During the shipping process, Norwood delivers the mill disassembled. This is a plus side on their end because you have to set it up yourself, giving you more knowledge of its operations.
When a time comes, and you have to fix an issue, it becomes easier for you.
In opposition, WoodMizer ships the mill partially assembled. You can start sawing a few hours after getting the mill since the assembly time required is minimal.
If you want to work immediately and need the installation process to be as brief as possible, this would be a mill to consider.
Power Feed and Hydraulics Options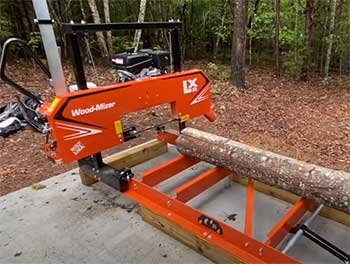 Most of us are usually intrigued by a product's customization options.
Modifying or adding an important detail is convenient on another level.
Suppose hydraulics is in your future sawmill plans; lucky you.
With Norwood, you can add this extra feature whenever you want.
Additionally, you can include the power feed down the line if you need it. Unfortunately, WoodMizer will not be your cup of tea if you want more customization options.
Made of premium steel and quality powder coat paint, there is no denying that WoodMizer rules the durability kingdom. The presence of ¼-inch thick laser rails further boosts the lifespan and strength of this equipment.
Norwood can provide you with great longevity. However, if you're looking excellent and longer lifespan, WoodMizer is hands-down the best mill.
Norwood sawmill weighs between 350 and 1400 lbs. This is the machine you want to get if you prefer a lighter feel. The upside of this particular attribute is that you can easily and swiftly move your machine.
Contrarily, WoodMizer is heavier, weighing from 660 to 3900 lbs. This tool is constructed using a large, strong bed with heavy-duty steel in place, and that's why it has a high density.
The cost has always been a game-changing factor, especially in two products that are actively competing. More features and higher quality means more money, but it's a bummer when you get lesser quality than you paid for. I've been there, and it sucks.
The cost of Norwood is around $4,567. Contrarily, WoodMizer's price is higher, varying between $5,295 and $10,295. Once you spend time with this tool, you'll understand why the high cost.
Which One Is Better: Norwood Or WoodMizer?
So, what's the answer? As much as I'd like to give a specific one, we'll have to use a different approach. Deciding the better option will be determined by your needs as a person.
Norwood is at the higher end of the scale regarding price and customization options. Nonetheless, WoodMizer is a giant step ahead in durability and fast assembly.
Frequently Asked Questions (FAQ)
Are Norwood sawmills any good?
Norwood has been in the sawmill manufacturing industry since 1993 and has proved reliable. This machine works like magic on wood-cutting projects and fancy carpentry tasks.
What is the top-rated portable sawmill?
WoodMizer LT15 is currently the highest-rated mill in the market. This tool is perfectly structured to cut even the widest of logs. The brand's proven capability and great reputation have earned it a high rank.
Who makes Norwood sawmills?
Peter Dale first created Norwood mills in 1992; he intended to purchase a sawmill, but since the prices were too high, he opted to create his own.
Are Norwood sawmills made in the USA?
Norwood mills are engineered and manufactured in Canada Norwood Industries. Worry not if you can't locate a local distributor; you can still get the equipment through their warehouse in Canada.
Bottom Line
The Norwood vs. WoodMizer discussion has been exactly how I pictured it to be; captivating! Norwood is a great pick if you're looking at affordability, lightweight, and extra features.
However, feel free to choose WoodMizer if you want outstanding durability, convenience, and versatility.
My part here is done; it's your call now. Hand the downing trees a purpose using your preferred mill; you won't regret it!