For your small or large woodcutting business, having LX25 Portable Sawmill will never be a bad option. Because such a solid machine comes with some brilliant features that justify its price.
Having personal experience, I believe this in-depth LX25 Portable Sawmill review covering both positive and negative will help you to decide.
So, make yourself comfortable, and let's help you decide why you should consider this and why not?
Features Of Wood Mizer LX25 Sawmill
Wood Mizer is a USA brand that has made this sawmill, especially for small businesses and home woodcutting needs.
Especially people living near the forests prefer to have their own sawmill. Therefore, when you look a little deeper, you will find this machine with some amazing features.
Let's make you aware of what I experienced and what you will do!
Excellent With Vast Cutting Facility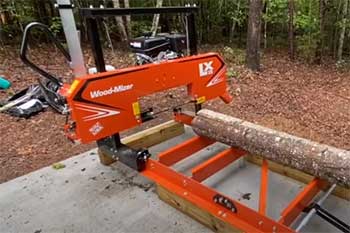 Let's first look at how efficient it could be to cut those pieces of lumber.
You won't believe it, but this entry-level wood-cutting saw works amazingly.
The features with amazing cutting capacity come from varying stats. This sawmill provides you with sawing logs of 26 diameters.
It can also cut boards to the width of 22 inches. Plus, the sawmill can cut up to 12.5 inches long pieces on the length side.
It has a thin kerf blade which is sharp and more added bedside support. You can go up to 1/16 precision with such a thin blade. The unit also comes with multiple blades paying a little extra money.
This sawmill is famous due to its carefully added powerful Kohler Engine. This engine has a 7-horsepower working, or you can also get one with 9.5Hp depending on your choices.
This engine runs on gas and provides more productivity with an exceptional four-stage Cyclonic air filter.
Moreover, this keeps your engine protected even when you have to do some toughest and dirtiest sawing jobs.
You will also find unique performing features, including the Crankshaft, cast iron cylinder, and electronic ignition.
Also, you can use a large tank to fill more gas and keep yourself away from refueling problems while working unstoppable.
Blades Are Very Easy To Adjust
A specialty is given with the machine that comes through an adjustable blade guide arm. Just use this feature as it will help you reduce the blade travel.
Plus providing support when you need to cut some narrow as well as wide materials.
You can also help the machine stay cool and comfortable when the sawmill attaches to the material to cut it.
Because you can use gravity-fed blade lubrication, which can be directly applied to the blade surface.
Adjusting Blade Position Is Quick And On Time
Adjusting the blade position for different cutting requirements is very handy. I just need to move that saw head either up or down.
Plus when it turns it counterclockwise or clockwise, I can use those 16 unique locking locations. All of these help me cut different pieces of lumber of different sizes.
Moreover, you will also get a large scale that provides you ease in sawing 3//4, 8/5, 5 by 4, and 4 by 4 lumber pieces.
Sawing lumber logs was never as easier as it is now. Because with this LX25 Portable sawmill, you will find a heavy-duty clamp.
You can use it for fastening the logs tightly for later sawing purposes.
For more durability, there comes an acme thread screw with this clamp. Moreover, rusting will never participate by using powder coat paint on the clamp.
Also, the grip and holding of this clam are comfortable because there is an additional clamp point constructed on it.
Easy Replacement Of Blades On The Machine
You will not have to make much effort when changing the blades on this sawmill. Because this job is easier than you might have thought.
There is a belted 16-inch diameter cast iron wheel on which the blades run. Just remove those outside fasteners as well as the inside clips given on the saw head.
Now, release the blade tension and go for the needed replacement. Again fix the blades in their place without losing anything!

Here is a complete review of this sawmill.
Things That Could Have Been Improved With LX25 Portable Sawmill
Undoubtedly, all the Wood Mizer LX25 Portable sawmill features are worth getting. But still, there are some improvements or things I found lacking.
The company should focus on improving these so that you may not have the same experience.
The price tag is a bit higher for small business runners or a single person who is trying to buy this quality machine for his home usage purposes.
Yes, Wood Mizer should also keep these people in mind and reduce the machine's price to a bit more affordable level.
Otherwise, many of you will be lacking in getting such a useful device for their lumber cutting work.
With one unit, you only get one blade. You can have more, but you will have to pay some extra money for that.
The issue with a single blade is that it doesn't give you some flat cuts when it gets dull. Therefore, having multiple blade options is necessary for non-stop working.
Throwing Saw Dust In The Walking Distance
Wood Mizer must have improved this option with the sawmill.
Because when the LX25 portable sawmill cuts the lumber pieces, it gathers the sawdust within your walking distance. Therefore, there is a need for improvement in this section.
Frequently Asked Questions (FAQ)
How much does the Wood-Mizer LX25 weigh?
The Wood-Mizer LX25 Weighs 665 lbs. (302 kg). It is a heavier machine!
Are portable sawmills worth it?
Yes, they are worth it because you can have them anywhere. Even if you have to complete a project miles away from your shop, it doesn't matter. A portable machine can always make itself home with you.
How long does it take to get a Wood-Mizer sawmill?
No time limit is there. Just go to the Wood-Mizer website and get your desired sawmill.
Which is better, Norwood or Wood-Mizer?
Since I have tested the Wood-Mizer, I didn't find any reason to hate the brand or the product. Therefore, I would recommend the same for you.
Final Thoughts
I am pleased to see you at this end as you have read all about the Wood Mizer LX25 Portable Sawmill reviews. I tried to explain all the knowledge I have gained using this machine at my house. And I do hope that even neglecting the downsides.
The machine will stand best for you. So, think deeper and choose wisely for your next lumber cutting projects.Blessed to know that you found this helpful. Don't forget to share then. Have a beautiful day!