Timberking and Wood-Mizer, both have a high reputation in the sawmill manufacturing industry. They make the finest equipment or sawmills for every commercial or home wood-cutting need.
People often find themselves confused while selecting a sawmill brand from these.
Wood-Mizer has more recommendations from buyers than Timberking does, even knowing that Timberking is a classic brand. However, Timberking sawmills are cheaper than Wood-Mizer when comparing heavy-duty and commercial-grade options.
A Brief Comparison Table
| | | |
| --- | --- | --- |
| Comparing Factors | Timberking | Wood-Mizer |
| About Each Saw Mill Manufacturing Brand | They came in 1929 and claimed to be America's oldest manufacturer of one-person sawmills | They came in 1982, and till now, they have been manufacturing and selling splendid wood machines for many buyers in the USA. |
| Customer's Recommendations | Standard | Slightly higher |
| Products | Sawmills of various capacities and sizes, Edgers, Sharpeners, Planer/Molders, Accessories   | Sawmills, Resaws, Edgers, Parts & Accessories, Blades & Blades Equipment, Systems & Material Handling, Pallet Equipment, and Other Wood Processing Equipment |
| Prices for Saw Mills | Cheaper options available | More sized, heavy-duty sawmills at huge prices |
| Warranty period | 30-Day No-Questions Money-Back Guarantee, 3-Year Limited Parts Warranty, and 5-Year Limited Cutting Deck Warranty. | 30- day non-questions money-back guarantee They offer you 2 years limited warranty |
| Who Makes portable sawmills? | Slightly higher with weights | Excellently portable |
| Country in Which these brands' sawmills are made | USA | USA |
In-Depth Differences Between Wood-Mizer and Timberking
About Each Saw Mill Manufacturing Brand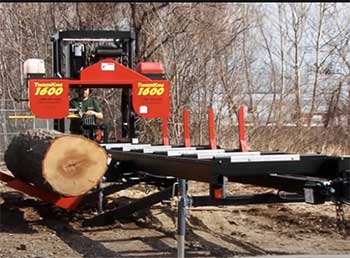 It's good that you must know about the brief history of each brand before you dig further.
It helps you understand how many years of experience either of these Saw Mill manufacturers has in the industry.
Timberking is an older brand than Wood-Mizer because it came in 1929.
They make every type of sawmill for most individuals.
But we must say that their products are often for commercial purposes rather than home-cutting needs.
Compared to Timberking, Wood-Mizer began its operations for manufacturing these cutting tools in 1982.
They came after the Timberking, but they are widely known now. The Wood-Mizer's sawmills are used vastly at various wood-cutting stores or commercial markets.
They bring sawmills for every person's requirement without concern if you are from a commercial market or need a sawmill for personal wood-cutting purposes.
Customer's Recommendations
When I dug the internet, I saw Wood-Mizer appreciated a lot over Timberking because of their products and services.
Nonetheless, Timberking is never a lousy brand. I have also seen people converting from Wood-Mizer to Timberking because they were unhappy with their choice.
But still, Wood-Mizer leads as it offers you many options for sawmills based on individual or cooperative requirements or your needs.
Each brand works a lot in providing all the tools and equipment that a sawmill keeper should have.
That's the case with Wood-Mizer and Timbering. They both offer you a variety of products. The Wood-Mizer brings portable and industrial sawmills, Edgers, logging tools, blades, Systems, and more.
On the other hand, Timberking offers a minimal selection of sawmills and other accessories, including Edger and related stuff.
Therefore, no matter which brand you go with, you can find a vast range of products while being at the Timberking and Wood-Mizer.
Suppose you compare the money you'd want to spend on either sawmill. In that case, Wood-Mizer will be expensive in case you buy commercial usage purposes sawmills.
But if you consider portable and smaller options, they might cost you less.
In contrast, the Timberking sawmills are expensive even at the starter point. But they are not as expensive as the Wood-Mizer machines when you go to the ending and more heavy-duty units.
So, we can say that Timberking sells cheaper sawmills, whereas the Wood-Mizer has an expensive little set of machines.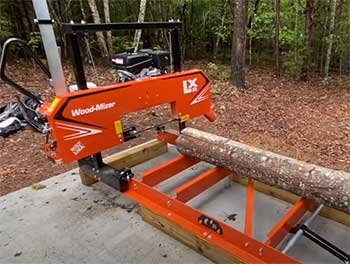 When it comes to judging both brands on warranty, Timberking leads.
This one provides you with more warranty of up to 5 years.
Also, they have a 30-day money-back and 3 years parts warranty for their sawmills, edgers, and all other products.
However, the Wood Mizer will not offer you a full 5 years warranty on their sawmills because the brand offers only 2 years warranty.
Still, they have a 30-day money-back guarantee option for their sawmill buyers.
Who Makes Portable Saw Mills?
When you compare the most miniature models of sawmills from both brands, such as the TimberKing 1220 and LX25 Portable Sawmill, Wood-Mizer products appeared to be extra portable with less weight. But Timberking machines are carrying more weight and usually fewer portable machines.
Country in Which these brands' sawmills are made
Another remarkable similarity between both brands is they are made in the USA. Therefore, you'll find these sawmills in your home country products if you are buying in the USA.
Which One Should I Choose?
Both are great brands for selling heavy-duty sawmills and machines. However, I would say, Wood-Mizer has more reputation than Timberking.
Yet, Timberking is better with a warranty, so if saw mills inspire you, you are not wrong with your investment. But if there is something else like Wood-Mizer you want to consider, you are still spending your money on a worthwhile product and brand.
Frequently Asked Questions (FAQ)
Where Are Timberking Sawmills Made?
These are made in the USA.
Are Wood-Mizer Sawmills Any Good?
They are heavy-duty, portable, full of features, and durable in the long run.
How Much Does A Timberking 1600 Cost?
It costs up to $26, 995 bucks and it's a considerable investment.
What Is The Best Type Of Saw Mill?
Usually, a bandsaw or swing blade sawmill is an excellent option to consider.
Last Words
It's hard to compare Timberking with Wood-Mizer when both brands are well-known and produce quality sawmills that last longer. However, you can consider your budget, the wood-cutting requirements, and other factors while relying on either.
I am with you if you think you need a high-end machine for performing extensive wood-cutting jobs, you should choose Timberking. But if you are looking for a portable one, Wood-Mizer will match your desires.