If you're a tool worker, the garage is like a sanctuary for you. So it is natural to want the best storage setup for their garages. NewAge Bold and Pro are the two most popular garage cabinet choices.
NewAge Pro is better built, more durable, has greater storage capacity, and is pricier. The bold cabinet has a good build, is less durable, smaller storage capacity, and is more affordable.
The garage is the workspace for most tool workers. So it is important to keep the place organized. That's where cabinets like NewAge Pro and Bold come in. But which one should you pick?
Here's a comparison to help you out.
A Quick Summary of The Comparison
| | | |
| --- | --- | --- |
| Features | NewAge Pro | NewAge Bold |
| Build and specs | Heavy, soft-close hardware enabled, comes with extra accessories | Lighter, no soft-close hardware, doesn't come with extra accessories |
| Durability and security | Thicker and more durable, better security | Less thick and less durable, good security |
| Weight capacity and storage | 24" deep, better storage capacity | 18" deep, good storage capacity |
| Price | More expensive | More affordable |
Key Differences Between NewAge Pro And NewAge Bold
Both cabinets are versatile and pretty much the poster image of durability. But all in all, both cabinet models look pretty similar from the outside.
Build and specs, durability and security, weight capacity and storage, and price are the major differences between NewAge Pro and Bold cabinet series.
Let's see how these differences work in both NewAge models.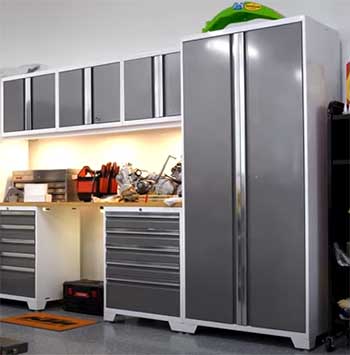 Both cabinet models are pretty close in build, but there are some subtle differences. NewAge Pro is heavier and bigger, comes with a non-adjustable base cabinet, and has a soft-close feature.
The Pro series also comes with extra accessories parts.
NewAge bold series cabinets are lighter and slightly smaller, don't have a soft-close feature, and don't come with extra parts.
You can also adjust the base cabinet.
The key attraction of the NewAge Pro series is its sheer size of it. The cabinets are bigger and made for professionals who need a lot of space.
Pro series cabinets are visibly taller than the bold series ones and of course, they're heavier too. This ties to the durability of the cabinets but more on this later.
The base cabinet is an interesting part of the NewAge Pro series cabinets. The base cabinet is a pull-out shelf and it is fixed. Sure, it has more space but you can't adjust it. If you're looking for that feature, the pro series might be a challenge for you.
A plus of the pro series cabinets is the liners and dividers for the cabinet drawers. And fortunately, the liners and dividers for tool drawers are already included with the whole package.
You won't have to buy them separately unless you want to.
Bold series cabinets have their own interesting features. These cabinets are made for smaller spaces and for people who don't need huge spaces for their tools.
These cabinets look smaller and of course, have smaller capacity. They also have holes in the back for easier wall mounting.
One pro of the bold series cabinet is the adjustable base cabinet. You can lift it up to 6". The cabinets aren't pull-out style either.
Bold series cabinets also don't come with any extra dividers or liners for the tool drawers. If you need them, you'll have to get them separately.
Durability is the one long-term feature people pay attention to. And the NewAge Pro series cabinets got this part right.
The pro cabinets are much more durable and secure compared to the bold series. They're both made from the same material, but the differences are in thickness and build designs.
What do you think of when you hear "hefty" or "unbreakable"? Whatever the answer is, it will get replaced by NewAge Pro cabinets once you get your hands on them.
These cabinets are made from 18 gauge steel frame which is almost double what other cabinets can offer. You can already imagine how durable they are.
The thickness already makes NewAge Pro series cabinets hard to compromise, but that's not all. The pro series cabinets also have some added measures for security.
The doors on these cabinets are double-walled, which means you get an extra layer of protection.
The NewAge bold series is pretty good in terms of durability and security too. But the difference is, it isn't very close to the level of protection you'll get from the pro series.
Bold series cabinets are made of 24 gauge steel, almost half the thickness you'll see in the pro series. The cabinet doors are single-walled too.
That doesn't mean the security is overall bad though. But if you keep expensive tools in your garage, it would definitely be safer to keep them in the pro series cabinet drawers.
Weight Capacity and Storage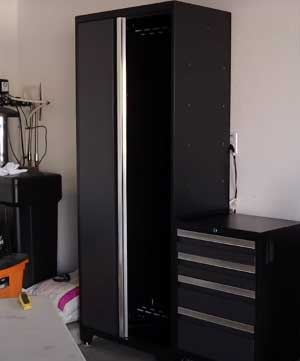 Pro series cabinets have more weight capacity, better storage, and are made for big spaces.
Bold series cabinets have a smaller weight capacity, smaller storage capacity and are better for small spaces.
NewAge Pro series cabinets are for Pro people who have lots of tools and garage space available.
The base cabinets are 24" deep and the other cabinets are around 28" deep.
That's a huge storage space. Pro series cabinets are also taller, they stand at 80".
So if you're looking for something big, the pro series can be your option.
Not just that, pro series cabinets also have better weight support capacity. They can take hold up to 1,000 lbs overall. That's a pretty big upgrade from the Bold series.
The bold series cabinets are a little behind in this department. The base cabinets run 16" deep and other cabinets run 24" deep. As for the height, you'll get 72" length. This isn't much if you have lots of tools, but it works nicely if you have a small garage.
Bold series cabinets also have a lower weight capacity. They can support up to 800 lbs overall.
This is the most visible difference between NewAge Pro and the bold series. The pro series costs almost twice compared to the bold series. But if you're getting them from Home Depot or similar places, it all depends on the sales they hold.
If you can time your purchase right, you can get any model you want at a pretty good price.
Which Garage Cabinet Should You Go For?
That depends on your preference and available space. If you're looking for long-term storage options and have the space, NewAge Pro is the best choice.
This series is bigger, sturdier, and overall more secure. The price tag is a little high but it is worth it.
If you're looking for something smaller, the bold series is your best bet. You get almost everything the Pro series can offer but on a smaller scale. They're pretty durable too so you can rely on them for long-term storage plans.
Overall, NewAge Pro series cabinets are the better choice here. But if you want something smaller or more affordable, then the Bold series is really hard to beat.
Frequently Asked Questions (FAQ)
What is the difference between bold and pro series?
Pro series cabinets are bigger, sturdier, and pricier. Bold series cabinets are smaller, less sturdy, and more affordable.
What type of cabinet is best for garage?
Aluminum or stainless steel cabinets are the best options for garage cabinets.
What is the best material for workshop cabinets?
Aluminum is the most versatile material for workshop cabinets.
Final Verdict
There really isn't any clear winner in the NewAge Pro and Bold debate. It depends on what you're looking for.
Objectively, NewAge Pro is the better choice. But if you have a smaller garage or want something that won't break the bank, the Bold series is a really good option.