When it comes to installing new cabinets in your house's garage or replacing the old ones, most of us end up at Husky or NewAge Garage Cabinets. If that is the case with you, you must know that Husky offers a bit more expensive cabinet than NewAge garage cabinets.
But more customers prefer NewAge garage cabinets due to their high portability and lower pricing. Moreover, husky also has complaints of getting dented over a short run in their garage cabinets.
A Concise Comparison Table
| | | |
| --- | --- | --- |
| Factors To Consider | Husky Garage Cabinets | NewAge Garage Cabinets |
| About Each Brand | A brand of Homedepot selling a huge collection of garage cabinets and other tools | An independent brand selling products for home improvement such as kitchen, garage cabinets, and more |
| Customer's Preference | Lower | Higher |
| Durability of cabinets | Dependent on a specific model and usage | The pro series stand for a longer period than the bold series |
| Price Comparison | Expensive | Cheaper |
| Gauge Steel Specs | 20 to 24 Gauge Stainless steel fully welded | 18 to 24 Gauge pro series stainless steel construction |
| Customization | Low level of customization | High level of customization |
| Portability | Lower with up to 2100 pounds of weight | Higher with up to 1538 pounds of weight |
Key Differences Between Husky And NewAge Garage Cabinets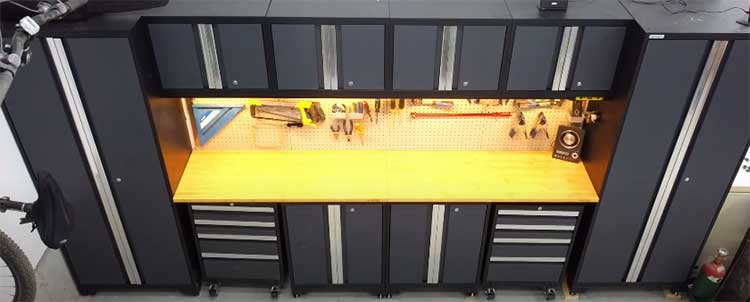 Before you dig further, let's give you a brief idea of how these brands differ from each other.
When Husky is concerned, it's a brand of HomeDepot, one of the most significant online products selling stores in the U.S.A.
Husky also sells many tools with these garage cabinets and has a massive collection of these cabinets in various sizes.
One can rely on Husky for any type, size, color, or materially constructed garage or home storage cabinets.
On the other hand, NewAge is a fully independent brand also famous in the U.S.A. They have multiple Kitchen tools, garage tools, and improvement tools.
Most people refer to the NewAge because of its decent and economical pricing. On top of that, they have two series of garage cabinets, including the bold series and pro series being highly famous among the people.
I've researched at multiple forums and checked out the reviews of both brands. The results were higher on the NewAge Garage Cabinets, and many people recommend them.
They love these cabinets pro series because of the more extended standing and less wear and tear. Also, these units are not bulky and easy to place anywhere in the house.
On the other hand, I have seen people sharing negative reviews about the Husky Garage cabinets.
They have complaints of these cabinets getting dented, low-quality construction, and high pricing compared to the NewAge garage cabinets.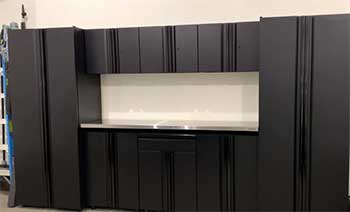 When judging which cabinet brand will offer high durability, be more concerned about what people say about Husky and NewAge.
The durability of a garage cabinet from Husky depends on a specific model and your usage.
You may get hurt if you keep shifting your house and those cabinets. This hurt results in dents, high wear and tear, and other breaking factors.
But despite this, when you consider your garage cabinets from NewAge, their pro series is highly durable and recommended by most customers. So, choose wisely which one will stand better with you!
The price also varies with either brand. Garage cabinets from Husky are expensive and cost you more than NewAge.
In that case, you should be very wise at specifying your budget for a specific brand cabinet. Choose whichever suits best your budget and needs.
Looking into both brands, both have the construction of different Gauge stainless steel. Whichever cabinet brand uses more Gauge steel will tend to be heavy-weight but will offer high durability.
In that case, the NewAge garage cabinets are made from 18 to 24 Gauge stainless steel. In contrast, the Husky Garage Cabinets are made from 20 to 24 stainless steel gauge cabinets.
The NewAge garage cabinets give you more versatility and options for customization of your cabinets with fancy lights and other stuff around.
Compared to that, the Husky garage cabinets are more traditional and made to give a classy look.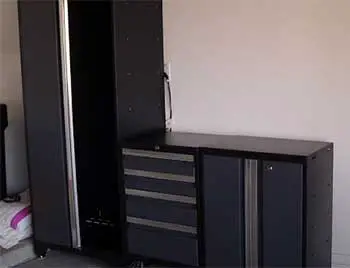 Since Husky cabinets use more gauge steel, they are heavy-weight and considerably less portable.
You will need extra help arranging these cabinets in your garage or house, and it won't be a one-day job.
In contrast, the NewAge cabinets are highly portable, using a low gauge steel construction, but that doesn't mean low quality or durability.
Which Garage Cabinets Is Better?
Both are good, but it depends on what you'd like to choose, considering your budget, the need for storage, and other factors.
Go for the husky cabinets if you want more traditional and giant-size garage cabinets.
But you will have to spend a few bucks more for that. However, going with the NewAge cabinets will give you the essence to spend less but still get the most valuable garage cabinets.
Frequently Asked Questions (FAQ)
What Cabinets Are Best For Garage?
If you are keeping cabinets in the garage, be sure to choose Stainless steel and Aluminum made cabinets. These won't rust and stan for a more extended period.
Where Are Husky Garage Cabinets Made?
Husky garage cabinets are made in the U.S.A.
What Are The Different Types Of Garage Cabinets?
Garage Cabinets are Matte, Metallic, Stainless Steel, Powder Coated, and Wood Grain. You can also get cabinets of your taste.
What Is The Average Cost For Garage Cabinets?
Getting those upper and lower garage cabinets costs up to $300 to $500. At the same time, it costs up to $150 to $300 for those countertop cabinets and the aesthetic style, looks, and length.
Wrapping Up
The selection would always be wiser whether you select the Husky and NewAge Garage Cabinets because both are great. However, the choice may vary depending on your budget and the customer's recommendations.
If you think your budget is short and want good-quality garage cabinets, the NewAge cabinets are the best option. Or who knows how those husky cabinets will perform at your house?