Folding or bi-folding door is a necessity for modern houses. In this field, NanaWall and Marvin offer a lot of doors to the customer. But, the main distinction between these two is in build quality, cost, and variety of products.
Along with these differences, they have some non-significant inequalities. In this article, I am going to point out those differences. So, without wasting time, let's have a look.
A Quick Comparison Table
| | | |
| --- | --- | --- |
| Specifications | NanaWall | Marvin |
| Type of doors | Folding, Single track sliding, Minimal sliding | Bi-fold, Commercial, Entry, Garage, Interior, Lift and slide, Multi-slide, Sliding, swinging |
| Glass combination | Yes (same panel) | No |
| Warranty | Ten years | Twenty years |
| Design option | More than 20 identical systems with 50 standard colors | Less option with only 19 colors |
| Material | Aluminum frames, anti-microbial copper handle | Fiberglass, wood, and Aluminum frames, No anti-microbial handle |
| Pricing | High | Low |
Key Differences Between NanaWall And Marvin Door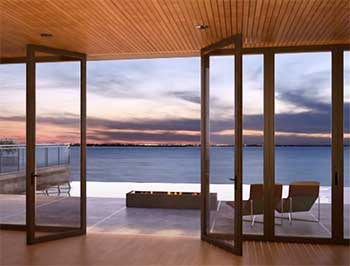 Varieties of doors give you more options according to your house design.
In terms of variety, Nanawall grants only three types of doors, while Marvin has a vast amount of sorts.
In NanaWall's lineup, the Minimal sliding glass wall is the most oversized panel. Its system size is 9′ 10″ wide and 13′ 1″ tall.
On the other hand, Marvin's most extensive lineup for a door is The Ultimate Multi-Slide Door. Its frame can open up to 56′ wide and 12′ high.
A bigger system size means better air ventilation, indoor/outdoor space, and natural light. So, if you are a fan of larger areas and nature, then Nanawall door is the right choice.
Also, Marvin produces some good doors with wide varieties. But, they have adjustment and air leak issues, which is tricky to set up.
 Nanawall can provide multiple glass combinations in the same panel with another component. Using multiple glass multitude in the same panel can increase your privacy.
For example, shiny glass on the top and matte finish glass on the bottom can be a great combo.
On the other hand, Marvin does not provide multiple glass combos in the same panel. So, if you want to increase natural daylight while preserving your privacy, then the Nanawall door is an excellent choice.
Material-wise, Marvin's door isn't far behind Nanawalls. However, Nanawall offers Aluminum frame doors with anti-microbial handles made of copper. It helps to shorten virus spread by touch.
So, the Nanawall door is an excellent choice for germophobic people.
On the other side, Marvin has no anti-microbial claims about their product. But, their frame materials have varieties like fiberglass, wood, and Aluminum. Here Nanawall did an excellent job keeping health and well-being in mind.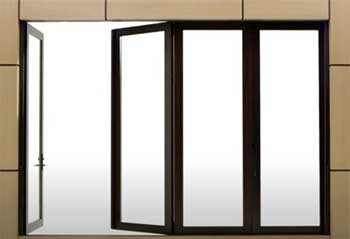 Color matching is a significant factor when it comes to home design.
The design option allows you to choose door colors according to your interior/exterior design.
In this case, Marvin has only 19 colors with fewer design choices.
But, they have the certification of AAMA 2605 for their high-performance color efficiency. It ensures the color durability of their product in harsh weather.
On the other hand, Nanawall has more than 20 identical systems with 50 standard colors variation at no additional cost. In addition, multicolor RAL is available for their product.
Nobody wants to change their doors often. So, a warranty can be a big game changer. According to the document of Marvin limited Warranty, glass components for seal failure caused by manufacturers and standard exterior/interior aluminum cladding finish get 20 years of warranty.
But, it has to be installed by Marvin's authorized service provider, and the size has to be under 60 square feet.
On the other hand, Nanawall provides ten years of warranty on rollers, glass seal failure, and all other materials except screens. But, the door has to be installed by a certified trained installer. Otherwise, you will get only 5(five) years of warranty.
So, Marvin is a clear winner and undoubtedly a better option for the customer for a stable door with a more extended service warranty.
 The game starts to change in the pricing sector. Usually, the price of Nanawall's glass wall system is $900-$1300 per foot. So, for a six-panel door, the price can get out of hand for most customers.
It can cost up to $12k-$15k for complete installation and other stuff. But it varies according to your customization and demand. Watch their accordion doors for yourself!
Besides, Marvin doors are cheaper; sliding patio doors start from $2.5k (fully installed). Moreover, they are durable with color efficiency. So, for a short budget, Marvin's door is a better option.
Which Door Is Better For You?
Let's summarize the equation. Which one is worth it?
The decision depends on two particular things. One is pricing, and the second is your personal need.
If you care about privacy, anti-microbial factor, color variety, and system size, then Nanawall can satisfy you the most.
But, if you are short on budget and want a decent door, I suggest you go for Marvin doors.
Again, the choice is according to your bias.
Frequently Asked Questions (FAQ)
What is better than bifold doors?
Sliding doors are more convenient in terms of thermal efficiency than bifold doors. Also, it offers more visibility to your outdoor area. Because of having fewer frames, you can have a better viewpoint.
How much do Nanawalls cost?
As mentioned above, Nanawalls cost $900-$1300 per foot. Also, it increases according to your personal customization.
Why are folding patio doors so expensive?
Folding patio doors are more complex to manufacture than regular doors. They also need more support to hang. Because of its size, configuration, and unique mechanism, it is more expensive. In addition, large units of glass cost more. As a result, the cost of the door increases drastically.
How much do folding glass doors cost?
Cost may vary from brand to brand. But, the typical price of folding patio doors is between $750 to $1100 per linear square foot.
Conclusion
To wrap up the Nanawall and Marvin door comparison, I think, Nanawall payoffs better doors with better features, smooth adjustment, easy installation, and less variation. But the price is an issue in most cases.
So, people with a tight budget should pick Marvin, which offers some good deals at lower prices.
Eventually, it's a wrap for today; I hope this article has helped you to understand the distinction between Nanawall and Marvin.