MP Doors and Anderson are both popular for patio doors among homeowners. However, they have key differences in material, door styles, customization, and installation option.
High-quality patio doors ease access to your area and let the light inside your house. However, patio doors come in different sizes, colors, and types and from various brands.
All these options can easily confuse a new customer. Below I have narrowed down your choice into two brands, MP Doors and Anderson, and compared them to find the best fit for you.
A Quick Comparison Table
| | | |
| --- | --- | --- |
| Specifications | MP Doors | Andersen Patio Doors |
| Material | Wood grain and PVC | Wood, Vinyl, Fiberglass, and Aluminum |
| Door styles | Hinged and Gliding Doors | Hinged Doors |
| Customization option | Fewer options | More options |
| Design | Good | Excellent |
| Variation | Less Variation | More variation |
| Quality and performance | Decent | Great |
| Installation | Local Installers | Authorized Installer or Authorized Local Contractor |
| Warranty | Lifetime Warranty | 2 years to a Lifetime Warranty |
| Cost | Less expensive | More expensive |
Key Differences Between MP Doors And Andersen Patio Doors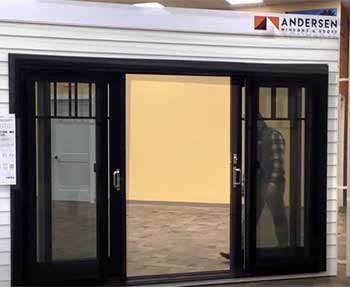 Material is one of the key considerations when it comes to patio doors.
The difference between MP doors and Anderson in terms of material will determine which option will be better suited for you.
If we look at both brands, many materials like wood, vinyl, fiberglass, and aluminum are used for patio doors. '
If we take MP doors, they stick to PVC only, which is an affordable and energy-efficient material. However, Anderson gives you various wood, vinyl, and aluminum choices.
If you want a premium option and budget isn't an issue, Anderson could be the brand you are looking for.
After the material, there is a difference in terms of door styles too. Door style might not seem very important at first, but it can completely change the outlook of your patio. The rest of your home and patio décor should determine the style you should go for.
If we look at MP doors and Anderson, we can see hinged and gliding doors sold by these brands. Both styles are very practical and widely used by homeowners.
Sliding doors' main benefit is space efficiency and easy operation, while hinged ones provide easy installation and customization.
While MP doors offer hinged and gliding door styles, Anderson only has hinged patio doors.
Customization allows homeowners to design and choose various aspects of the patio doors according to their wishes and needs. The more customization options, the better you can design and match your door's appearance with your home.
While both brands offer customization, they differ in what they offer.
First, let's talk about MP doors. With this brand, you can select sizes, finish options, glass, screen options and handle set options. On the other hand, Anderson allows its users to customize the size, interior and exterior color, hardware design and finish, grilles, trim, and glass setup.
Anderson gives the user more control over different aspects of the patio doors.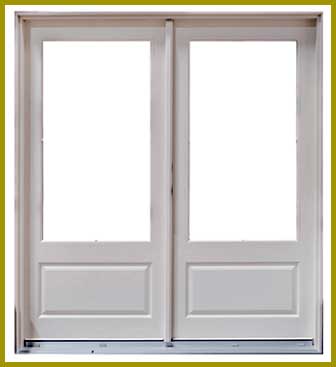 The curb appeal is a major point for any door, especially a patio door.
Patio doors aren't only about light or unobstructed views; their good design can uplift your patio look.
With beautiful design, it becomes more inviting to use the door and get a good outdoor time.
As the design is an entirely subjective choice, it's hard to say which brand offers better design.
However, users seem to like the design of Anderson doors more because of its versatility.
You can get both modern and simplistic designs with Anderson patio doors. On the other hand, MP door designs are more focused on a simpler approach.
Variations are an important factor, like customization. Variation from the brand means you have more options to match your overall décor on the patio. Also, the more variation you get, the better your chance of finding the right fit.
If we look at the number of variations available, MP doors seem to fall slightly behind. They have less design and are more focused on a simplistic approach.
On the other hand, Anderson offers more versatility with both simplistic and heavily designed patio door options.
Quality and performance are other aspects in which both brands have their differences. Firstly, both brands have an excellent reputation among most of their users.
So, there is no perfect scale to determine which brand offers better quality and performance. However, given the history and customer feedback, we can make an estimation.
Per MP patio doors, users are satisfied with the quality and performance. However, there are some complaints about their flimsy blinds and their mechanism.
On the other hand, Anderson users seem more confident and satisfied with the equality and performance overall.
No matter how good or high quality your patio doors are, they can be pointless without proper installation. Without proper installation, the door can lose energy efficiency, your home will be less safe, and you won't be able to get the best out of your patio doors overall.
In that regard, Anderson seems to offer the best installation service out there. They have certified installers across the US who will come to your house and install the doors perfectly.
If certified installers aren't available in your area, they have their authorized local installer to help with the installation. On the other hand, you have to rely on the local installer with MP doors completely.
Warranty is a good indicator of the quality of the patio doors. It also offers a good insight into the brands' confidence in their products. Patio doors aren't cheap, and people don't install them frequently.
So, a good warranty policy with a long period can help you safeguard your investment.
Both MP doors and Anderson offers great warranty policy to offer their service after the purchase. The good thing about MP doors is that they have a limited lifetime warranty policy.
However, this warranty isn't transferable. On the other hand, Anderson patio doors have a 2 to a lifetime warranty on various parts of the door. However, their warranty is transferable in case you sell your home.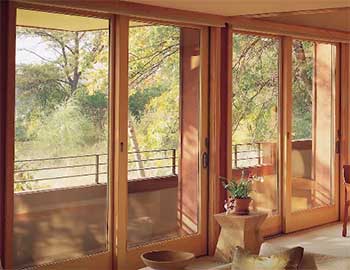 For many people, what matters the most is the price; they decide based on this single factor.
Since both MP doors and Anderson patio doors are known for their reliability, the price of their doors becomes more relevant and important for decision-making.
If we look at the price of the doors, Anderson patio doors seem to cost more than MP doors.
On the other hand, MP doors have a longtime reputation for being a trusted option for budget patio door customers.
However, Anderson's price is mostly driven by its better customization and premium materials, while PVC allows MP doors to keep the price lower.
Which Patio Door Brand Is Better For You?
As you can see above, both brands have their strengths have weaknesses in various aspects. So, the final decision comes down to what you prioritize.
Anderson seems to have more wins in individual aspects.
If you want more customization, material option, variation, installation facility, and transferable warranty, you should go for Anderson. On the other hand, if you want different door styles, affordability, and energy efficiency, MP doors are what you should look into.
Frequently Asked Questions (FAQ)
Are MP exterior doors good?
MP exterior doors are great for homeowners looking for simpler door designs. These doors are made of composite materials, which may not be that premium, but they offer performance and longevity like no other. The installation process was easy too.
Overall, MP exterior goods are built for an eased user experience.
Who makes the best sliding doors?
Sliding doors are one of the most common and popular styles trending these days. Easy access, minimum space, and a unique look make this style popular.
In today's market, several brands are doing well with sliding doors. Among them, you can check out Anderson, ProVia, and Milgard.
What kind of sliding glass door is best?
Sliding doors comes in different types of material. Among those types, which one will be the best depends on individual needs. For example, vinyl sliding doors are best for replacement and affordability.
Next, fiberglass is for a strong and low-maintenance user experience. Lastly, the aluminum doors will keep your household safe and are the strongest option.
What type of patio door is most energy-efficient?
As I mentioned above, several materials are used for patio door construction. While all of them have some level of energy efficiency, they aren't equal.
Among different materials, vinyl doesn't easily transfer or conduct heat. Vinyl patio doors are known to be the most energy-efficient option.
Final Thought
That's a wrap for today. I hope my comparison between MP doors and Andersen doors will help you if your house has a patio; you know how relaxing this space can be to enjoy the outdoors within a personal boundary.
While there are differences between MP and Anderson patio doors, both have great longevity, an unobstructed view, and tons of light. Now, all you got to do is consider the aspects I compared above and pick the best option for your patio.