MP Doors is a younger brand in the market than Pella Doors. Pella is famous for its massive product lines with various doors and window options.
But MP doors offer a minimal variety of patio doors for commercial and homeowners.
In addition, both brands have good warranties, and their fiberglass door construction is excellent. Pella seems to be expensive when compared with MP patio doors. It means Pella ranks higher than MP Doors.
A Quick Comparison Table
| | | |
| --- | --- | --- |
| Factors To Consider | MP Patio Doors | Pella Patio Doors |
| About Each Brand | Working for the past 25 years and producing fiberglass doors with limited lifetime warranties | A popular windows and doors manufacturing brand from 1925 with more than 200 showrooms and other comprehensive facilities |
| Materials Usage In Manufacturing Patio Doors | Fiberglass construction, Or composite construction | Wood, Vinyl, And Fiberglass Construction |
| Patio Door Types | Full Lite Gliding, Hinged Full Lite, Shaker Hinged. Shaker Gliding, Nuelite Impact Hinged | Sliding Patio Doors, Hinged or French Patio Doors, Multi-Slide Patio Doors, Bifold Patio Doors |
| Energy Efficiency In Doors | Lower | Higher |
| Doors Collection | Very Limited | Huge with multiple Product Lines that include: Pella® Reserve™, Pella® Architect Series®, Pella® Lifestyle Series, Pella® Impervia®, Pella® 250 Series, Encompass by Pella®, Pella® Hurricane Shield Serie |
| Finishing options | Very Limited | Multiple finishing options are available |
| Economic Factor | Way Cheaper Doors | Expensive depending on which series you are buying |
Key Comparison & Features Of MP And Pella Patio Doors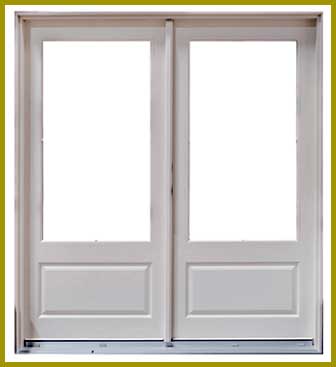 One of the significant differences between MP and Pella doors is that Pella has been a widely famous brand for years.
This company has made windows and doors for almost every homeowner or commercial installation purpose since 1925.
It's a massive company with over 200 showrooms in the USA and continuously expanding.
Compared to that, MP Doors is a younger brand that's been here for the past 25 years.
However, they claim good quality construction, better value, and lower prices than other market door brands.
You can also buy a patio door from this brand, which will ensure the quality construction you are looking for. But still, Pella is more widely recognized than MP doors.
Materials Usage In Manufacturing Patio Doors
When you browse the MP door website, you can find doors only made from fiberglass or composite. They do not make patio doors with Vinyl or wood.
But that's not going to happen when you're going to buy a patio door from Pella. This brand has diverse doors made of wood, fiberglass, and Vinyl.
The construction of these doors from these materials shows more extended durability, energy efficiency, and better value for money than most standard brands in the market.
At Pella, you can have sliding, hinged, and other unique types of doors for your particular requirements, depending on what you really need.
At the same time, MP doors offer you pretty good options with large and small doors.
These patio doors from MP come with the name of full lite gliding, hinged, etc. Go to the website and find what you really need.
Energy Efficiency In Doors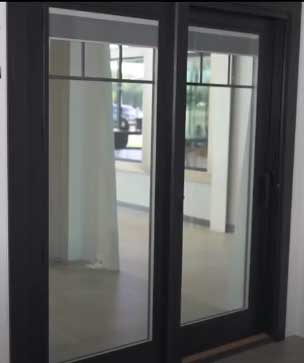 It doesn't matter if it's summer or winter because Pella doors are suitable to install every season.
These Doors provide you with better energy efficiency than MP doors.
These patio doors are solid, constructed with premium material, and injected with heavy-duty glass.
In Contrast, MP also claims to ensure higher energy efficiency in their doors.
But they are not as efficient as Pella Patio doors are.
As I have stated earlier, Pella comes with a wide variety of door collections.
This collection has several door series, such as Pella 250, Reserve, and more, with unique features to match a unique customer's demand.
On the other hand, the MP Patio doors collection is minimal. They do not provide you with any series options.
Hence, your choice will always be limited when you are at MP.
I bet that Pella doors will always win when it comes to providing a unique finishing to the doors. It is because the brand has doors in many colors and unique finishes.
In contrast, MP doors will not provide you with a comprehensive finishing collection. Depending on your most sophisticated needs, they only give doors in one or two colors.
On the economic side, MP doors are less expensive than Pella doors. But Pella provides doors according to the varying customer demands and needs.
So, you can buy a specific patio door from either brand by enlisting the ergonomic features you need in that door.
Which Brand Is Better For Patio Doors?
Both brands are good. But MP will not provide you with the Wood and Vinyl Constructed doors. Even if they are cheaper, Pella wins more reputation due to its vast product lines and door series.
In addition to that, Pella brings budget-friendly and heavy-duty doors for one's needs.
Hence, I recommend you go with Pella when buying a patio door from any of these brands.
Frequently Asked Questions (FAQ)
What Is The Best Brand For A Sliding Door?
Anderson Windows and Doors is one of the best brands for Sliding Doors.
What Kind Of Sliding Glass Door Is Best?
Vinyl Sliding, Aluminum Sliding, and Fiberglass sliding doors are great to consider. They do not rust and provide longer working.
What Type Of Patio Door Is Most Energy-Efficient?
Aluminum is one of the most energy-efficient materials used to construct Patio Doors.
Is A Composite Door Better Than A Vinyl Door?
These doors could be better on the pricing side. But Vinyl is better in durability and construction.
Conclusion
It's hard to conclude while comparing two good brands, such as MP Doors and Pella patio doors. But you can always decide which side is better if you know the main features of both brands' doors.
When you judge these brands based on the factors I've explained here, 90% chances are that you will buy a Pella Patio door. But MP is also better when you need a fiberglass or composite-constructed door.