Summer is right around the corner, and there's no better way to let the sunshine in than installing beautiful new patio doors. Marvin and Andersen are two of the top patio door brands on the market.
But with so many options to choose from, how do you decide which is right for your home?
In this guide, we'll compare Marvin and Andersen patio doors side-by-side. We'll look at their key features, pros and cons, prices, warranties, and other important factors.
Our goal is to provide an unbiased, comprehensive overview to help you make the best decision for your home.
A Brief Comparison Table
| | | |
| --- | --- | --- |
| Feature | Marvin | Andersen |
| Frame Materials | Wood, Wood-Ultrex composite, Ultrex fiberglass | Fibrex composite, Vinyl-clad wood, Aluminum-clad wood |
| Glass Options | More extensive, including triple glazing | Good but fewer specialty glass types |
| Price | $2,000 – $8,000 | $2,000 – $8,000 |
| Warranty | 20 years on most components, 2 years on wood | 20 years on all components |
| Variety of Looks | More styles from traditional to modern | Consistent look across products |
| Customization | Very extensive customization available | Limited customization options |
| Best Uses | Custom looks, all-wood construction, specialty glass | Low-maintenance, value, easier installation |
An Overview of Marvin and Andersen
First, let's take a quick look at each of these patio door brands.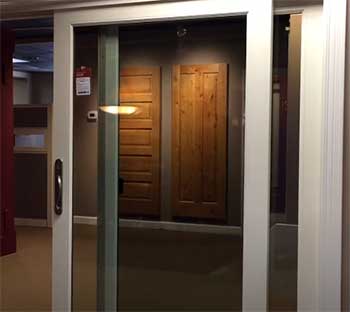 Founded in 1912, Marvin is one of the oldest and most well-respected names in windows and doors.
They offer made-to-order products designed and manufactured in Warroad, Minnesota.
Marvin is known for its vast selection of custom options.
Their patio doors come in several design collections, including Ultimate, Modern, and Contemporary.
You can truly customize every detail, from the frame color and hardware to the type of glass and screen.
Andersen Windows and Doors
Operating since 1903, Andersen is another long-standing patio door manufacturer. Their products are designed at their headquarters in Bayport, Minnesota.
Andersen is best known for its Fibrex composite material, which combines the strength and stability of wood with the low-maintenance of vinyl. Many of their patio doors feature Fibrex frames.
Andersen's line includes the 400 Series tilt-wash patio doors along with several Narroline sliding door options. They focus more on streamlined design rather than expansive customization.
Key Differences Between Marvin And Andersen Patio Doors
Patio Door Types
Marvin and Andersen both offer sliding patio doors as well as hinged French doors. Let's look at the pros and cons of each type:
Sliding Patio Doors
Sliding doors feature panels that glide horizontally past each other on a track. Key benefits include:
Space saving – No room needed for the door to swing open
Flexible access – Slide just one panel open for partial ventilation
Contemporary style – Sleek, modern look
Downsides can include:
Less security – Easier to force open than a hinged door
Weather protection – Some gapping when closed allowing air/water infiltration
Noisy – Clattering and vibrations as door slides open
French Patio Doors
French doors are hinged pairs that swing open like a traditional entry door. Benefits include:
Added security – More resistant to forced entry
Tighter seal – Hinged stiles close together for better air/water performance
Traditional look – Suit homes with old-world charm
Limitations of French patio doors include:
Reduced clearance – Require space for the doors to open outward
Limited access – Entire door must be opened for entry/exit
Hinge wear – May eventually sag compared to sliding doors
Bothstyles have their pros and cons. The right option for you depends on your home style, layout, and needs.
Frame Materials
Marvin and Andersen use different materials for their patio door frames.
Marvin
Wood – Marvin offers carved wood frames in pine as well as fine hardwoods like mahogany. Offers natural beauty but requires regular maintenance.
Wood-Ultrex Composite – This proprietary fiberglass and wood composite resists swelling and warping. Offers strength with less upkeep.
Ultrex Fiberglass – Durable, dent-resistant fiberglass frames that are highly energy efficient. Require minimal maintenance.
Andersen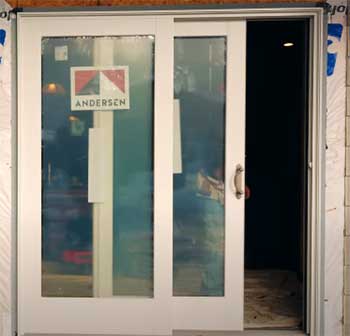 Fibrex – Andersen's signature composite blending wood fibers and a polymer resin. Durable, strong, and thermally efficient.
Vinyl-Clad Wood – Exterior is protected by a vinyl shell over the wood frame. Combines aesthetics of wood with low-maintenance.
Aluminum-Clad Wood – Features a sturdy aluminum exterior surrounding a structural wood core. Excellent performance and durability.
When choosing a frame material, consider your climate, maintenance preferences, and budget.
Wood offers unrivaled beauty but requires the most upkeep.
Composites like Fibrex and Ultrex combine the best of wood and vinyl for durability and efficiency with less maintenance.
Glass Options
The glass used in patio doors affects appearance, energy-efficiency, durability, and security. Here are some key options from Marvin and Andersen.
Appearance
Low-E glass – Lets in light while blocking UV rays to prevent fading. Available from both brands.
Reflective glass – Mirrored look for increased privacy. Marvin offers bronze, grey, clear, and solar reflective.
Textured glass – Obscured glass patterns. Andersen's "Narrow Reed" glass is popular.
Triple glazing – Three panes for a sleek contemporary look. Available from Marvin.
Tinted glass – Dark tinted glass to filter brightness. Offered by both companies.
Efficiency
Double pane – Two panes of glass with an air gap for thermal insulation. Available from both brands.
Triple pane – Three panes of glass for even higher efficiency. An upgrade option with Marvin.
Low-E coatings – Microscopically thin metal coatings to reflect heat. Used by both companies.
Argon/Krypton gas – Inert gases between panes for better insulation. Offered by both.
Thermal spacers – Slows heat/cold transfer at the edges. Used by Marvin and Andersen.
Durability & Security
Laminated glass – Interlayer bonds panes together for strength. Available from both brands.
Tempered glass – Heat-treated for added impact resistance and safety. Offered by both companies.
Hardware Styles
Marvin and Andersen offer numerous hardware finishes from traditional to modern:
Brushed Chrome – Sleek, contemporary look. Available from both brands.
Oil Rubbed Bronze – Rich, warm-hued bronze. Offered by both.
Satin Nickel – Subtle sheen, works with many home styles. Option from both companies.
Flat Black – Bold, ultra-modern statement. Offered by Marvin.
Antique Brass – Old-world, ornate charm. Available from Andersen.
Matte Black – Understated for a contemporary vibe. Option from both brands.
Marvin also offers custom hardware options in Polished Chrome, Polished Brass, and Satin Brass.
Consider finishes that will match your interior decor and other metal fixtures in your home. Oil rubbed bronze and matte black work well in modern, artsy spaces while polished chrome suits contemporary homes.
Warranties
The warranty provides important protections in case defects develop down the road.
Marvin – Offers a 20-year warranty on glass, aluminum cladding, and manufacturing defects. Wood components have a 2-year warranty.
Andersen – Provides a 20-year limited warranty covering the glass unit, Fibrex and vinyl components, and manufacturing defects.
Both brands offer strong coverage to protect your investment. Be sure to read the fine print for full warranty details. Professional installation may also increase your protections.
Prices
As premium patio door brands, both Marvin and Andersen are fairly expensive but with good return on investment.
Marvin Sliding Doors
Wood – $2,000 to $5,000
Wood-Ultrex Composite – $3,000 to $7,000
Fiberglass – $3,000 to $8,000
Andersen Sliding Doors
Fibrex – $2,000 to $5,000
Vinyl-Clad Wood – $4,500 to $8,000
French Door Pricing
Expect to pay $1,500 to $2,500 more for hinged French door pairs compared to sliding doors in the same material.
While the upfront cost is high, properly installed Marvin or Andersen doors should last for decades with minimal upkeep required. The energy savings from efficient glass and tight construction can also offset costs over the long run.
Common Pros
Despite differences, Marvin and Andersen patio doors share several desirable benefits: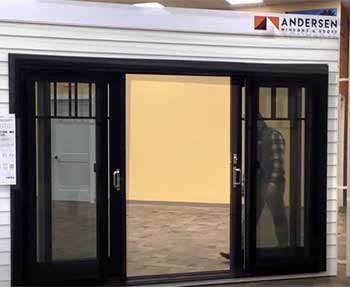 Durability – Door panels, frames, and hardware built to handle years of regular use.
Energy-efficiency – Multi-pane glass with Low-E, argon gas, and thermal breaks reduce energy costs.
Light & Views – Expansive glass with narrow framing maximizes outward visibility.
Noise Reduction – Thick glass, tight seals, and composite frames decrease outdoor sounds.
Easy Operation – Rollers and hardware allow panels to glide smoothly open and closed.
Weather Resistance – Tight seals and engineered draining keep out drafts and moisture.
Customization – Wide options for glass, finishes, hardware, and accessories.
Warranties – Strong 20-year coverage provides peace of mind.
For those seeking premium patio doors combining beauty, function, and long service life, Marvin and Andersen are both excellent choices.
Key Differences
While Marvin and Andersen share the benefits above, they differ in a few key ways:
Variety of looks – Marvin offers more aesthetic options from contemporary to historic. Andersen has a more consistent look across products.
Wood options – Marvin still makes all-wood doors, unlike Andersen's composite frames. But wood requires the most maintenance.
Advanced glass – Marvin has the edge on glass options like triple-pane and reflective glass not offered by Andersen.
Price – Comparable models are generally less expensive from Andersen than Marvin.
Customization – No contest here, Marvin allows for virtually endless customization possibilities. Andersen offers much fewer combinations.
Warranties – Marvin's wood component warranty lags behind Andersen's across-the-board 20 years.
Best Uses – For ultimate customization, Marvin pulls ahead. For lower maintenance and cost, Andersen has advantages.
The winner for you depends on your priorities – maintenance needs, budget, design style, energy-efficiency goals, and customization requirements.
Frequently Asked Questions (FAQ)
Is Marvin better than Andersen?
There's no definitive "better" brand between Marvin and Andersen. Marvin offers greater customization and more variety. Andersen provides competitive quality and performance at slightly lower prices. For low-maintenance composites, Andersen excels, while Marvin is tops for all-wood and custom looks.
Which are better, Marvin or Andersen windows?
Like their patio doors, Andersen and Marvin windows are both excellent but have minor differences. Andersen windows feature composite Fibrex frames on many models. Marvin still offers all-wood windows along with wood-clad options. Marvin has more custom window types like round tops, while Andersen sticks to more standard windows with fewer frills. For classic wood windows, Marvin is better, while Andersen is a good choice for low-maintenance composites.
Does Marvin make good quality doors?
Yes, Marvin makes exceptional quality patio doors and entry doors. As a premium brand, they use top-notch materials like kiln-dried wood, aluminum-clad frames, and argon-filled Low-E glass. Marvin doors are built to last for decades and come with strong warranties. The quality matches the premium prices.
Why are Renewal by Andersen doors so expensive?
As Andersen's high-end replacement brand, Renewal by Andersen charges luxury prices for their windows and patio doors. Their prices are 40-50% higher than Andersen's main line. The premium is for exclusive features like Fibrex frames reinforced with oak, superior glass packages, high-end hardware, and all professional installation. If budget is a concern, Andersen's original 400 Series provides similar quality for thousands less.
The Bottom Line
When comparing Marvin vs Andersen, there's no universally best option. Both are great brands offering similar benefits. Key differences come down to maintenance needs, budget, design styles, and how much customization you want.
For a personalized look and feel with the most choices, Marvin excels. If lower cost and upkeep are priorities, Andersen hits the sweet spot.
Whichever you choose, investing in Marvin or Andersen patio doors is sure to increase the comfort and enjoyment of your home for many years to come. Providing loads of natural light and seamless indoor-outdoor living, few home upgrades deliver as much bang for your buck as new sliding or French doors.
We hope this detailed guide helps you decide which of these window and door giants is the right fit your home.