The Most significant difference between MP doors and Jeld Wen patio doors is that the latter brand gives you more choices than the former one. Jeld Wen has more warranty, color options, styling, and materials construction.
But the MP Doors are made only of Fiberglass and available in limited options with limited colors.
Still, MP provides different glass options with your doors, handles, and other accessories. You may not find such a thing with the Patio Doors listed on their website. H
ence, both are great, but still, there are things to discuss.
The Comprehensive Comparison Table
| | | |
| --- | --- | --- |
| Specifications | MP Patio Doors | Jeld-Wen Patio Doors |
| Options Available | Full Lite Gliding, Hinged Full Lite, Hinged 3/4 Lite, Shaker Hinged 2/3 Lite, Shaker Gliding 2/3 Lite, Nuelite Impact Hinged   | Auraline® Composite, Brickmould Vinyl, Builders™ Vinyl (V-2500), Custom Wood, F-2500™, Flat Casing Vinyl, IWP® Aurora® Fiberglass, Premium™ Vinyl (V-4500), Siteline® Clad-Wood, W-2500™ Clad-Wood, W-5500™ Clad-Wood |
| Materials Used In Construction | Made of only Fiberglass | Clad-Wood, Composite, Fiberglass, Vinyl, Wood |
| Energy Efficiency | Standard | Higher |
| Durability | Standard | Higher |
| Warranty | They have 20 years warranty for these patio doors | 25 years of warranty for fiberglass doors 10 years of warranty on other material-constructed doors |
| Color Options | Less | More |
| Installation and Cleaning | Easier | Easier |
In-Depth Differences Between MP And Jeld Wen Patio Doors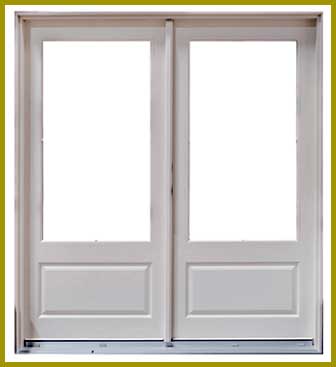 Selecting a specific door for a particular type of installation becomes difficult when you have only a few available options.
That's the case when you look for a patio door from the MP brand.
They have limited doors to choose from compared to the JELD-WEN.
Because Jeld Wen not only serves you with some similar options but some additional ones as well.
You can find different styles of products here from an impressive range of materials. These styles include Swinging, Multi Sliding, Single Sliding, and Folding Doors.
The MP only offers you double sliding and folding options in Patio Doors. In this case, one can quickly determine which side is better.
Materials Used In Construction
MP patio doors are only made with quality Fiberglass, and they claim that they are better in durability and energy efficiency when installed in homes or buildings. They do not use any other material to produce these patio doors.
At the same time, Jen Weld strikes higher by making such doors with various materials. They use composite, wood, Vinyl, and the same Fiberglass as the MP.
Therefore, at this brand, you can find a door made with a unique type of material. It will depend on what you want to install in the house and which material-made doors you want.
MP claims to be 6 times better in energy efficiency when compared with wooden constructed doors. That's true because Fiberglass can provide you with such energy efficiency.
However, since the Jeld-Wen also uses fiberglass construction for making doors, they are also energy efficient.
On top of that, the readings and material rating prove that Jeld Wen patio doors made of Fiberglass are more energy efficient than MP patio doors.
Here, we can conclude that Jeld-Wen doors are more durable than MP doors. The reason is the usage of some high-end materials is even better than Fiberglass.
The different type of wood grading usage makes these doors extra strong. Therefore, depending on which material-made door you choose, the durability will vary accordingly. Still, Jeld-Wen will always be serving more than MP doors.
The better the warranty, the more trusted that brand is. In that case, the Jeld Wen doors have 25 years of warranty for their fiberglass doors. And it also gives 10 years of warranty for the patio doors made of other materials.
On the other hand, the MP doors are only made with Fiberglass, and they come with a warranty period of just 20 years. Still, such a warranty period is worth considering.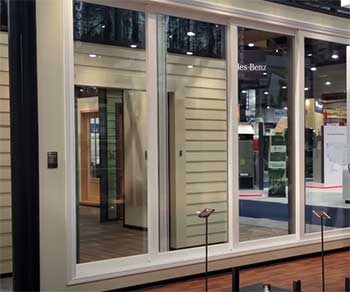 Looking from Jeld Wen Patio Doors, you can always choose from a comprehensive collection of colors.
One can choose these doors in more subtle colors depending on the paint or any wallpaper installation in the house.
However, you can paint these doors afterward without any problem.
But initially, the Patio Doors from MP don't come with a good collection of colors.
You only have a few options to choose from when you browse their online catalog. Hence, it would be easier for you to choose what you like the most.
Installation and Cleaning
You won't have problems installing and cleaning either of these brands' doors. They come with a comprehensive installation manual, or your local door fixer knows everything about that.
Besides, daily cleaning is also easier to apply on these doors after a long while without any problems.
Which Brand's Patio Doors are Best To Choose?
Choose whatever inspires you the most. But if you'd take my recommendations, I'd recommend you to go for the Jeld Wen Brand. They come with more warranty and have more finishing, styling, and materials used in producing these doors.
On top of that, their customer service is better, and you can find any type of door from here. MP is also not bad, yet it's own limitations for a specific buyer.
Frequently Asked Questions (FAQ)
What Is The Best Brand For Sliding Patio Doors?
Anderson Windows is one of the best brands for Sliding Patio Doors.
What Kind Of Sliding Glass Door Is Best?
Aluminum, Fiberglass, and Vinyl Sliding glass doors are the best for any home or building.
Are Jeld-Wen Fiberglass Doors Good Quality?
Yes, they are premium-made doors durable to stand for a more extended period and come with an exceptional warranty.
Can Mp Doors Be Painted?
Yes, you can paint the MP doors once you have purchased them.
Closing Remarks
The best choice between MP doors and Jeld-Wen doors depends on what you are buying. If you think you only need fiberglass doors, MP is a good brand for you. But even in fiberglass doors, Jeld Wen is better than MP.
However, if you think you will get Vinyl, wood, or other materials made doors, Jeld Wen has all these options. Therefore, which brand you choose for your next-door installation depends on you!