Are you considering getting a Montana tractor? Though some new models are versatile to handle various jobs, most of these tractors have dozens of common problems.
Many users complained their Montano tractors have a wheel seal leak, hydraulic leaks, loader bolts back out, etc. You may experience ongoing problems within a few months of usage.
 Before buying a tractor from this brand, you should know all the important things. Let's learn more about Montana Tractor Problems.  
Issues With Montana Tractors
Montana Tractors have some noticeable disadvantages that many users complained about. Here are the most common issues with Montana tractors.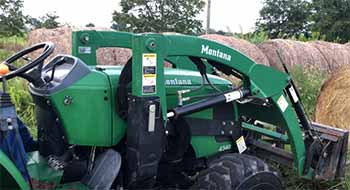 The clutch plate of Montana tractors is thinner than other brands' tractors. It fails to engage appropriately.
Gradual wear reduces the material thickness.
As a result, the pressure will reduce too. Its pressure plate will also move downward against the cush-drive due to lack of thickness.
If the clutch place becomes too thin over time, it will result in disengagement. So, no power will be transmitted to the tractors. Hence, you can't run the vehicle unless you install new clutches.
This increases your overall maintenance cost. Plus, you may fail to use it during an emergency.
Wheel seal leaks are more common in Montana Tractors. Though contamination or improper cleaning can cause this problem, users complained about this issue even after regular cleaning.
This will result in dripping oil issues if the seal leaks too much. It will cause a bad stoppage.
Besides, a continuous wheel seal leak reduces oil pressure significantly. You may need to bear a massive cost if you do not address the problem quickly.
When this problem arises, you will hear noise coming from the wheels. Also, visible damage will appear too.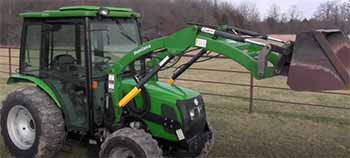 Loader productivity is highly connected to its bolts.
Unfortunately, shock, vibration, and dynamic loads can cause the bolts to back out.
Loader bolts of Montana tractors often back out because of too much pressure on the bolt.
Many users believe this problem mainly occurs due to poorly fitting parts or inadequate clamp load. You must regularly inspect the loader frame bolts to ensure they have the correct torque level.
Otherwise, spontaneous loosening will occur, leading to the back out of loader bolts.
Another common issue with Montana tractors is hydraulic leaks. Failure to address the problem on time can lead to quick loss or damage to various components. Plus, hydraulic leaks make the tractor less efficient to operate.
This problem may occur due to poor manufacturing quality parts of the Montana tractors. But dust, dirt, and contaminated debris can cause this issue.
Additionally, excessive internal leakage is another reason for this problem.
A Poorly Routed Refrigerant Line for A/C
Montana uses a poorly routed refrigerant line for their air conditioner condenser. This often leads to several failures of the AC unit. The AC system doesn't work effectively.
It often fails to remove heat from the internal area and ensure a comfortable temperature.
Their heating and air conditioning performance are not as good as other brands' tractors. Hence, you may feel too hot or cool even after turning on the AC system.
Additionally, they consume around 20% to 30% of fuel. This increases your overall fuel cost.
Bucket Dumps Extremely Slow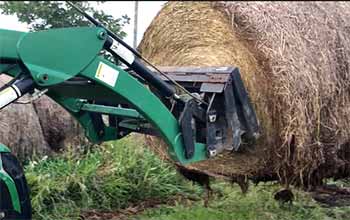 Compared to other tractors, bucket dumps of Montana tractors are too slow.
They are not as functional as you want them to be.
Moving soil or other waste will be a little time-consuming.
Plus, it gives you less scope to reach the side or middle of the tractors due to limited height.
However, the bucket dump comes with a screening to see everything clearly while moving soil or waste to another spot. This makes the unit convenient to use.
It would have been better if there was a well-thought design for buck dump for simple usage. 
Many users complained that the shuttle shift of Montana tractors goes out at 100 to 150 hours. Sometimes, the shit may not work temporarily for several minutes or hours after changing its direction backward or forward.
Also, you may face hard shifting in some cases. You will need a professional service to make the shuttle shift functional again.
However, this problem can be caused by dirty or false oil or lower oil levels. This will increase the overall maintenance cost.
Though plastic fuel tanks are heavier and cause more fuel to burn, they are more likely to leak excess fuel. Additionally, they are not PZEV-certified.
Plastic fuel tanks are likely to evaporate fuel even if you don't use your Montana tractor. If it is exposed directly to the sunlight, its construction quality will degrade over time.
Many users complained Montana tractors have poor-quality seats. The mounted seat fell apart within a short period. Also, you may see cracking issues too.
However, food particles, dirt, and sand affect the seat's durability. If any sharp objects make contact with the seat, it can lead to heavy damage.
Montana is not in the business for a long time. Plus, there are a limited number of suppliers for parts replacement. So, you may often struggle to find the particular parts.
In some cases, you may find alternative parts. But they will not be fully compatible with the Montana tractor. This may also compromise the tractor's performance.
Is Montana Tractor Worth It?
Though Montana Tractors have several noticeable issues, they also come with some standard yet uncommon features.
Montana Tractors come with a Mitsubishi 4-cylinder diesel engine. It can show reliable performance with consistent power. Plus, the engine requires minimal maintenance.
Montana Tractors have an affordable price with great value. They can even handle heavy-duty jobs effortlessly. In addition, you will not experience any lack of power.
These user-friendly tractors have a simple design. You can easily cope with its functions within a few hours of usage. It does not have any complex mechanical system.
Tractors from Montana have compact and lightweight construction. This makes the maintenance task easier. Plus, it offers better maneuverability and adaptability. They also consume less fuel.
Being aware of all those problems might discourage a lot of people. But you should also know that these problems are common to almost every tractor brand.
Here are 3 types of these common issues and how to deal with them!
Frequently Asked Questions (FAQs)
Are Montana Tractors Good?
Montana Tractors have a high-quality engine. They come in a compact and lightweight construction. However, several parts of this tractor may wear out within a short lifespan. If not handled carefully, you may need to repair them due to heavy usage regularly.
Are Montana Tractors still being made?
Earlier, Kukje Machinery of South Korea used to manufacture Montana Tractors. But once LS entered the US market, it became the leading supplier of Montana Tractors.LG Cable still makes many parts of these tractors.  
Who owns Montana Tractor Company?
JB Hunt Trucking used to own the Montana Tractor Company. But the company went out of business by the end of 2010 due to unpaid freight bills from the bankruptcy.
How Much Does A Montana Tractor Weigh?
The average weight of a Montana Tractor can be anywhere from 4000 to 6000 pounds depending upon its type and size.
Final Thought
Montana Tractors have both positive and negative aspects. Before choosing a tractor from this brand, considering all essential factors is necessary.
Since they are low-tech tractors, you will not be satisfied with them.
It will be an additional hassle if you use advanced tractors. Hopefully, Montana mentioned above tractor problems have helped you learn essential information about the brand and its products.