Well, choosing a tractor is no joke let's compare Steiner 450 and Ventrac 4500 to make it easier for you. 
Ventrac 4500 comes with 4 variants, whereas you can choose from 3 variants of Steiner 450 tractor. Again, Steiner 450 has Kubota engines, but the Ventrac 4500 series has Vanguard, Kawasaki, and Kubota engines in their tractors. 
Let's find some other differences. 
A Quick Comparison Table 
Here is a quick comparison between Steiner 450 and Ventrac 4500 tractors: 
| | | |
| --- | --- | --- |
| Aspects | Steiner 450 | Ventrac 4500 |
| Tractor Type | Four-Season Lightweight Tractor | Compact Pro-Grade Tractor |
| Available Variants | 3 Available Variants | 4 Available Variants |
| Engine Type | Kubota & Vanguard Engines | Kubota, Vanguard, & Kawasaki Engines |
| Cooling System | Air and Liquid Cooling | Air and Liquid Cooling |
| Features & Benefits | Inferior to Ventrac 4500 | Superior to Steiner 450 |
| Warranty | 2 Year Limited Warranty | 2 Year Limited Commercial Warranty |
| Price | Around $26,995 | Around $22,725 – $37,900 |
In-Depth Comparisons Between Steiner 450 And Ventrac 4500 
Here I will show you some comprehensive key differences between both tractors. You can decide which one will be best for you. 
Steiner 450 is a four-season tractor that can take on any task you throw at it throughout the year.
With uncompromising power and incredible versatility, this tractor has every feature to become your go-to tool. 
14 attachments are compatible with this tractor, and they will allow you to take on all types of projects in every season. 
On the other hand, Ventrac 4500 is a compact tractor with superior features. You can perform tasks more efficiently and better than other tractors and hand laborers. With an extensive level of attachments, you can face any projects all year round. 
Most importantly, this tractor provides a pro-level performance to professionals and homeowners with many superior features. 
You will find multiple variants for both tractors. Steiner 450 offers 3 variants. They are 75-75025 with 25 HP, 75-75032 with 32.5 HP, and 75-75037 with 37 HP. 
On the contrary, Ventrac 4500 comes in 4 variants. A 4500K with 31 HP, 4500P with 31 HP, 4500Z with 32.5 HP, and 4500Y with 25 HP. 
So, we can see that Ventrac 4500 has more tractor variants than Steiner 450. But, Steiner 450 provides the highest 37 HP engine. You can choose from more variants from the latter option but will get a more powerful engine HP from the former one.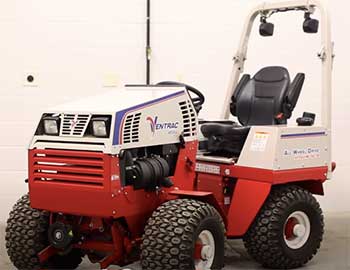 Both tractors and their variants use various engine motors. Steiner 450 tractor uses 3 types of engines with its three variants. 
The 75-75025 variant comes with an 898 cc Kubota D903 engine, which is run by Diesel. It has three cylinders with 7 gallons fuel capacity. 
Steiner 450 75-75032 variant comes with a 962 cc Kubota WG972 engine, run by Gasoline. This 3 cylinders engine also has a 7-gallon fuel capacity. 
With a 993 cc Vanguard M61 engine, the 75-75037 variant is the highest power tractor of this model. You can fill up to 7 gallons of Gasoline in this 2-cylinder engine.  
Similarly, Ventrac 4500 tractor's 4 variants offer four different engines. You will get a Vanguard M54 896 cc engine with a 4500K variant. It has 2 cylinders and is powered by gas. 4500P has a Kawasaki engine with 824 cc displacement. It's also a 2-cylinder engine and is run by gas. 
Ventrac 4500Z variant has a 962 cc Kubota WG72-GL engine with 3 cylinders and run by gas. Lastly, 4500Y comes with an 898 cc Kubota D902 3 cylinder Diesel run engine. You will get a 6-gallon fuel capacity with all Ventrac 450 variants. 
Engine cooling system is a vital feature for a best like tractors. An efficient cooling system will keep the engine's health checked and helps them perform better.
Steiner 450 75-75025 and 75-75032 variants offer Liquid Cooling systems. We know it is a better cooling system than an Air Cooling system. However, Steiner 450 75-75037 comes with an Air Cooling system. 
On the other hand, Ventrac 4500K has an Air Cooling system, and 4500P, 4500Z, and 4500Y have Liquid Cooling systems. 
You can reduce the engine heat fast and more effectively with a liquid cooling system. So, you must choose one that has it. 
With a Steiner 450 tractor and its three configurable commercial engine options, you can perform any challenging projects efficiently and quickly; you will get 30-degree slope head-on when you attach dual wheels. 
Four-wheel drive, wide-stance oscillating frame, and hydraulic weight transfer make this machine versatile and ready for any task. 
On the contrary, Ventrac 4500 offers increased safety on slopes while giving you a 30-degree slope with dual wheels, a 25-degree slope with wheel extension, and a 20-degree slope with standard wheels. 
With a Ventrac mount system and an array of attachments, you can use this tractor in all types of weather, including extreme snow. All-wheel drive makes this tractor versatile and offers traction control. 
In addition, you can effortlessly control your tractor with a computer-controlled onboard diagnostic system. Watch this video to learn more about Ventrac 4500.
A better warranty term will keep your tractor under protection for a more extended period. Besides, you will get better after-sale services if your tractor's warranty is up to the mark. 
Steiner 450 offers a 2 Year Limited Warranty to the original purchaser on the tractor, its attachments, and accessories. But you will have to purchase them from an Authorized Steiner Dealer to avail warranty. 
In contrast to Steiner, Ventrac 4500 tractor comes with a 2 Year Limited Commercial Warranty for the tractor, attachments, and accessories. 
The price of both tractors varies on their models. You will have to spend around USD 26,995 for all three variants of the Steiner 450 tractor. 
On the other hand, a Ventrac 4500K will cost $22,725, 4500P will cost $26,090, 4500Y will cost around $35,000, and 4500Z will cost about $37,900. 
Which Tractor Will Be Best For You? 
After an intensive discussion, it's pretty clear that the Ventrac 4500 tractor is a better option than a Steiner 450 tractor. So, my suggestion would be to purchase Ventrac 4500. 
You can choose from more engine options and capacity. Besides, this tractor offers more benefits and superior features than Steiner 450. 
According to many users, Steiner 450 has less ergonomic comfort and a higher jerking rate. 
Frequently Asked Question (FAQ) 
Are Steiner and Ventrac the same company?
Steiner and Ventrac belong to the same owners. In 1996, the owners renamed the firm Venture Products. After that, they created the Ventrac brand to produce next-generation compact tractors. 
How much does a Steiner 450 weigh?
Steiner 450 is a lightweight all-purpose tractor. It weighs between 1575 lbs. and 1665 lbs. depending on the model. 
How many horsepower is a Ventrac?
Ventrac 4500 tractor has various horsepower engines for different models. For example, Ventrac 4500Z has a 32.5 HP Kubota engine. 
How long is a Ventrac 4500?
Ventrac 4500 is a heavy-duty and professional-grade tractor. It is 81 and a half inches long. 
Final Thoughts 
Purchasing a tractor involves many factors and decision-making. You have to look at all the necessary features, which can be tiring. But with my Steiner 450 vs. Ventrac 4500 review, you won't have to worry about them as it tells you the best option.  
So, it's time to do your part. Bring this beauty and beast home and perform whatever task you have all year long.