Vinyl flooring is slowly becoming a popular trend amongst homeowners. Whether it's for remodeling or simply building a new home, quality flooring is something you will want to have.
While going through different flooring options, you will come across Mohawk flooring and LifeProof flooring.
You will need to know how they compare to choose between one of these options. And that's why I bring you a detailed comparison of the two flooring options.
Just go through them to learn about their unique features, and you should get an idea of which one to pick.
Let's get going then.
A Quick Comparison Table
| | | |
| --- | --- | --- |
| Specifications | Mohawk Flooring | LifeProof Flooring |
| Thickness | 4.5mm | 6.5-8mm |
| Health factors | Nothing to mention | Floor score certification |
| Made in | USA | China |
| Cost | Reasonable | Expensive |
| Wear layer | 20mil | 6-12mil |
Key Differences Between LifeProof And Mohawk Flooring

The Thickness Of The Vinyl Planks
The first difference you get to see in these flooring choices is the thickness of the planks.
One of them is a bit thicker than the other. So, whenever you need flooring with more thickness, you go with that one.
Typically, with Mohawk flooring, the thickness is around 4.5mm for most of their choices.
LifeProof flooring, the thickness goes somewhere from 6.5mm to 8mm.
LifeProof flooring is a bit thicker than Mohawk flooring. So, if you want something thicker for your home, then go for LifeProof flooring.
Health Factor Certification
If you care about the environment or whether a flooring choice is safe, there are several certifications you can check out.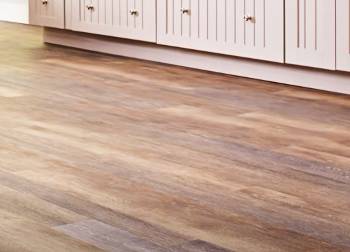 Now, for the two options, we are discussing today, you get a certification on one but not the other.
In the Mohawk flooring choices, they don't mention any health safety certification at all.
Whereas, with most of the LifeProof flooring choices, there is a floor score certification.
This certification means the flooring can retain indoor air quality and provide great value. It's suitable for hard surface materials and adhesives.
Regarding the health factor, I would say, LifeProof flooring is a bit safer as they have clear certification to prove the quality.
I mean, this may not matter to everyone, but some people do emphasize this factor. Whether the product is made in USA or China, or elsewhere can dictate the choice a lot of the time.
However, this is no clear winner, and it's just personal preferences.
Between the two choices I have here for you, Mohawk flooring is made in the USA. Whereas, LifeProof flooring comes from China.
So, if you are skeptical about going with Chinese products, Mohawk is your obvious choice.
A good thing about choosing these products is that they also have a difference in the pricing. You can consider the lower price factor, especially when completing the flooring within a budget.
You have to pay 2.85 dollars per square foot to get your hands on the Mohawk flooring. With LifeProof flooring, the prices are a bit higher than that. You have to pay around 2.99 dollars per square foot.
As you can see, the difference in the pricing isn't that big. But still, for a larger project, you will surely notice the difference affecting your budget.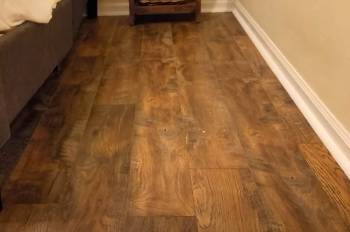 Regarding vinyl flooring, the wear layer is a crucial factor to consider.
A thicker wear layer means better durability, scratch, and stain resistance on the vinyl floors.
And the choices I am discussing here greatly differ in that factor.
Mohawk flooring offers you a pretty thick wear layer of 20 millimeters. The wear layer on LifeProof flooring is quite thin, around 6 to 12 millimeters.
So, Mohawk flooring will be the perfect pick for people looking to get the best protection and resistance on their vinyl floors.
Which One Is A Better Pick For You?
I will be very honest with you here, and there is no clear winner when you choose between Mohawk and LifeProof. They both are quite good in quality and how they perform.
If you want thicker planks, then LifeProof is a better flooring choice. But Mohawk should be your go-to option when it comes to saving money or getting better resistance and durability.
They have lower prices per square foot and a thicker wear layer in comparison.
Frequently Asked Question (FAQ)
Does Mohawk make LifeProof?
Yes, Mohawk flooring is the manufacturer of LifeProof carpet. However, they manufacture them in China instead of the USA.
What brand is comparable to LifeProof flooring?
If you compare a flooring brand with LifeProof, I would say NuCore can easily go head-to-head against them.
Are Mohawk flooring good?
Mohawk flooring is generally pretty good, especially when looking for something easy to maintain and of satisfactory quality.
How long will LifeProof floors last?
Well, within the warranty period, you can expect LifeProof flooring last for at least five to ten years. They can last longer if you are going through proper maintenance and keeping them in optimal condition.
Conclusion
To conclude, choosing the floor is a pretty important decision you must take as a homeowner. Because it's not something that you can easily replace or remodel.
So, you have to make a wise decision there. As for Mohawk flooring vs. LifeProof flooring, none of them disappoint you.
But from the comparison, you can see where the flooring choices excel individually. Just consider those factors and choose the one that best meets your needs.