When you are trying to get the proper flooring for your rental property, you must go through quite a lot. Finding the perfect balance between durability, appearance, and affordability is challenging.
Choosing between Grip strip flooring vs. Interlocking is also something that can make your life a bit difficult.
That's why I will take you through an in-depth comparison of the two different flooring types here. Once you check out the whole thing, you will know which one is suitable for your particular needs.
So, let's get going into it right away.
A Quick Comparison Between Two Flooring Types
| | | |
| --- | --- | --- |
| Specifications | Grip Strip Flooring | Interlocking |
| Installation method | Adhesive | Snap joint |
| Water protection | Water-resistant | Waterproof |
| Costing | Less expensive | More expensive |
| Ease of installation | Quite easy | Very easy |
| Hassle | A bit messy | Hassle-free |
Critical Differences Between Grip Strip Flooring And Interlocking
The main difference you get to see between the two flooring types is in their installation method. In the grip strip flooring, you will have to use an adhesive that the manufacturer provides in the package.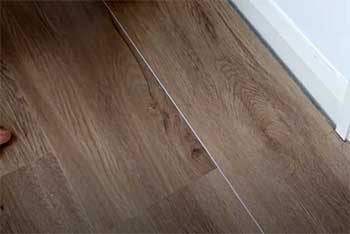 You have to use glue to join the vinyl planks.
As for Interlocking, there is a joint snap system for attaching the planks. It uses a tongue and groove joint.
You have to use that joints and get the planks together. And then you can set them up for your flooring.
When it's about choosing a method, it's mostly personal preference. You have to consider whether you want to deal with the adhesives.
Because a lot of people want to avoid working with adhesive at times, but if you don't mind, you can still go with grip strip flooring.
Coming to the protection from water, you get to see a variety in the two choices. Both have protection against water damage on the planks.
The difference is in the type of water protection.
In grip strip flooring, you get to see water resistance. This means that grip strip flooring can stop the water from penetrating the floor.
But it can prevent that from happening to some extent and not all the way.
Compared to that, Interlocking is a much better option in terms of water protection. You can find plenty of interlocking flooring that comes with waterproofing.
It means there is no way that water can penetrate through the flooring and reach the insides of the floor.
So, if you are worried about water protection, then Interlocking can be a better option for you. However, you have to find particular interlocking flooring because not all the interlocking flooring planks have waterproofing on them.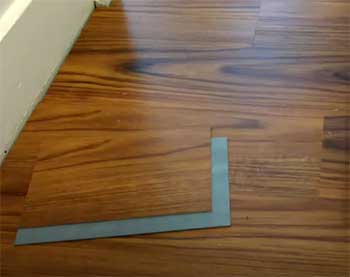 The good thing about all this is that both the flooring systems are the easiest to install.
However, between these two choices, it's difficult to say which is easier.
Because a lot of the time, the installation depends on the manufacturer's instructions.
Starting with the grip strip flooring, it uses the conventional method of adhesives for installation.
The only thing is that you have to get the job done before the adhesives start to dry out. So, it's important to maintain and follow the timing in this flooring method.
For interlocking flooring, the process is much simpler. You must use the tongue and groove joints and attach the planks accordingly.
Then, you set up the planks on your flooring to complete the whole thing. You don't need to worry about anything drying or running out. There is no time limit to keep up with.
Either way, you shouldn't have too much trouble installing the flooring. Both are suitable for DIYers, so you won't have to think about the labor cost for none of them.
Still, comparatively, I would say Interlocking is a little bit easier. Here is an installation video for you.
Well, there is very little difference in the cost of each of the flooring types. Unit-wise, the pricing seems very little for sure.
But the difference can feel significant if you are working in a larger area.
Typically, grip strip flooring is a bit cheaper compared to interlocking planks. However, the cost doesn't seem much considering them per square foot.
But when you consider the total size of your home or apartment, a single dollar difference can add up to a lot.
So, if you want to save up some money, then grip strip flooring should always be your choice.
By now, you should already know which process involves more hassle. It's undoubtedly the grip strip flooring. The reason for that is the use of adhesives.
Whenever you deal with adhesives in the flooring process, you will have some degree of trouble with it.
Whereas, with interlocking planks, you don't have to deal with any substance. So, I would say, Interlocking is a hassle-free way of flooring, while grip strip involves a little bit of hassle.
Which One Is A Better Pick For Your Home?
If I had to pick one or the other, I would most of the time go for interlock flooring. There is less hassle with the planks, and they are effortless to install. Also, if you are getting the right ones, you might end up with waterproofing on the flooring.
However, to save money, or if you are doing the flooring on a budget, then grip strip flooring is a better option. They are less expensive, so you can cover your whole house without spending much money.
Frequently Asked Question (FAQ)
Does grip strip flooring need underlayment?
No, you don't necessarily need underlayment for grip strip flooring. Especially if you are getting the Allure grip strip flooring, you won't have to worry about getting underlayment.
What is the difference between Click Lock and interlocking vinyl flooring?
The difference between click lock and Interlocking is in the snap placement. The interlocking profile on a click lock flooring is around the edge of the planks.
What is the best locking system for vinyl flooring?
Click lock seems to be the best locking system for vinyl flooring.
Are peel and stick flooring good?
Regarding durability or longevity, I would say there are better options than peel and stick flooring. But peel and stick are good choices if you are considering the ease of installation or cost of the flooring.
Conclusion
To wrap it up, grip strip flooring vs. Interlocking is all about choosing the option for your need. If you are going for a tight budget, then grip strip flooring suits you. But if you don't worry about money and want the best convenience, then Interlocking is a great option.
Especially as a DIYer, you will find it less troublesome than grip strip flooring.