Therma-Tru doors are way more expensive than MMI doors but considerably rated higher than the compared brand. These doors from Therma Tru have been here for years and have gained a lot of attention from most house owners.
Their construction and build are superior, with a lifetime limited warranty, and these doors come in various series.
On the other hand, MMI doors are cheaper doors that come at a low price. But they have more numbers of unique styles, and they are being constructed in 3 materials. Was it interesting? Keep reading to find more differences!
A Brief Comparison Table
| | | |
| --- | --- | --- |
| Factors To Consider | MMI Doors | Therma-Tru Doors |
| About Each Brand | Working for 60 years, MMI door is a subsidiary of JELD-WEN doors. | It's been here since 1962 which is one of the top-line companies for making doors |
| Quality Of Doors | Good | Excellent |
| Price Comparison | Cheaper Doors | Expensive Doors |
| Materials Used In Construction | Hardboard Fiberglass Stainless Steel | Stainless Steel Fiberglass |
| Doors Classification | Exterior Doors, Interior Doors | Classic Craft®, Artíssa Collection™, Visionary Collection™, Founders Collection™, Fiber-Classic®, Mahogany Collection™, Oak Collection™, Smooth-Star®, Pulse, Profiles™, Traditions |
| Decorative Glass Collection | More Decorative Designs | Less Decorative Designs |
| Glass Type | Blanca, Chinchilla, Frosted – Spotlights, Micro-Granite, Rain, Vapor | Clear, Decorative, None, Privacy & Textured |
| Warranty | Limited lifetime warranty and 10 years warranty on glass lite | Lifetime limited warranty |
Significant Differences Between The MMI And Therma-Tru Doors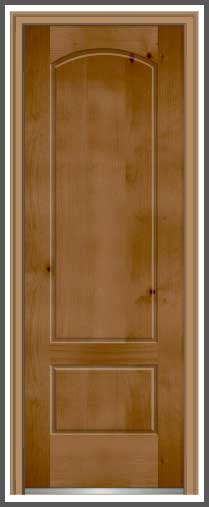 Before we go deeper, let's get an idea about each door brand.
Both are good at constructing great-quality doors for interior and exterior installations.
But which one is superior in fame to the other?
Therma Tru is rated a top-of-the-line fiberglass door constructing and selling brand in the USA.
Though the company was founded in Ohio, they have made many customers happier over the years.
Their Smooth Star Fiberglass door series is better and 10 times more resilient against all the rusting and dents.
They have other series of doors, but a lot of door installers recommend the brand.
On the other side, MMI is working as a Subsidiary of JELD-WEN, another excellent door and windows manufacturing brand in the USA.
The company has been here for more than 60 years and is rated among one of the best brands in the country. When looking for cheaper options, MMI doors are better to consider.
Since both brands use Fiberglass and stainless-steel construction, we can say that both have great-quality doors.
These doors stand with excellent durability in most stormy weather and higher humidity.
But judging their doors from the customer rating, many recommend Therma Tru over MMI doors.
It means the first brand doors have excellent quality. But MMI also doesn't stay behind.
The price of a door from either brand helps you decide which side to go to. Here, the Therma Tru doors are a little expensive and sometimes even out of the budget.
On the other hand, you'll find the MMI doors less expensive or cheaper doors. Therefore, you can set your desired budget and consider which brand will be best for you.
Materials Used In Construction
The MMI Doors are built with Fiberglass, Stainless steel, and Hardboard materials. Each of these materials has its own specifications and durability.
However, the Therma Tru doors offer fewer material construction options, including Stainless Steel and Fiberglass. But whatever you'll get will be of superior quality and craftsmanship.
MMI Doors classify their doors into interior and exterior to choose from a wide variety of options. One can find several types of doors here, single Hung, double-hung, Mini Blind Glass, No Glass, and more.
On the other hand, the Therma Tru classifies these doors into various series. Among these series, some are highly rated by many door buyers and installers in the market.
Decorative Glass Collection
When you want to choose from a comprehensive Decorative Glass Collection, give yourself a chance to look at MMI doors.
Because even though the Therma-Tru doors also have unique decorative glass designs, they still don't meet the wide variety we get at MMI doors. In this way, it helps you choose the best design or style for yourself.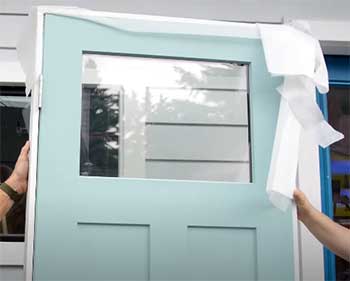 MMI doors offer you more types of glass insertion into these doors than Therma-True.
But that doesn't mean you cannot match your specific desires at Therma-Tru.
The MMI Doors are good with rain texture, vapor, Blanca, and more.
At the same time, the Therma True comes with Cleared, Privacy, Textured, and other unique glass types.
Both brands also vary differently in terms of warranties. MMI Doors stand good to provide you with a limited lifetime warranty. But it's not as satisfactory and legit as the warranty from Therma-Tru doors.
Please refer to their official websites to know more about their product warranty periods.
Which Brand's Doors are Better?
Both brands' doors are good to consider if you are making a replacement or installing them for the very first time.
However, I would recommend you install or replace the MMI Doors if you are going to sell your house sooner.
But if you don't want to sell that property or have just bought it, I recommend you to go for the Therma-Tru Doors.
These doors are better in construction, quality, rating, and durability. But they are also a little expensive.
Frequently Asked Questions (FAQ)
What Is The Best Brand Of Entry Doors?
Pella, Jeld-Wen, and Provia are the best entry door brands in the market.
Who Makes MMI Door?
MMI door is a subsidiary of Jeld-Wen Inc. However, the brand also makes its own products to meet customer demands faster.
What Is The Quality Of Therma-Tru Doors?
Therma-Tru Doors offer exceptional performance because they are made with Fiberglass and stainless steel. There will be no denting, rusting, or other defects to these doors.
What Is The Best Replacement Front Door?
A Door made of steel is the best choice if you want supreme durability. Have it as your front door and let it stand for several years ahead.
Last Words
Based on the facts stated above, it's worth comparing the MMI Door and Therma-Tru Door. But both have their own specifications.
Usually, MMI gives you more variety, color selection, material selection, and glass type selection of unique textures. But these doors are not rated highly against durability.
Compared to that, Therma-Tru is a famous brand in the door-making industry. Their doors are extremely duty but expensive on the same side.
Therefore, you must be wise in selecting which door brand will make a difference in your house or building!