Both MMI and JELD-WEN are great door manufacturing brands in the USA. JELD-WEN is known for its extensive services with multiple door series.
At the same time, MMI doors are excellent in providing the exterior, interior, and commercial door collections with a vast range of decorative glass collections.
However, there is nothing much to compare between both brands. Because, recently, the JELD-WEN has acquired the MMI doors. In that case, both companies are the same, and a customer expects the same quality and features.
But is it true? Let's find out!
A Quick Comparison Table
| | | |
| --- | --- | --- |
| Factors To Consider | MMI Exterior Doors | JELD-WEN Exterior Doors |
| About Each Brand | A USA Doors manufacturing company working for more than 60 years but now acquired by the JELD-WEN | JELD-WEN has been one of the leading door manufacturers in the USA since 1960 and has a comprehensive range of doors and windows |
| Types of Doors By Configuration | Door with Sidelite Left, Door with Sidelite Right, Door with Two Sidelites, Double Door, Single Door | Farmhouse Style Collection, Modern Style Collection, Updated Traditional Style Collection, Coastal Style Collection |
| Doors By Material | Fiberglass, Stainless Steel, Primed Hardboard | Fiberglass, Wood, Stainless Steel |
| Glass Options | Clear Glass, Decorative Glass, Grilles Between Glass, Mini Blind, No Glass, Simulated Divided Lites, Textured / Privacy Glass | Standard Decorative, Semi-Custom, Decorative, Custom Decorative, Clear, Privacy |
| Warranty | Fiberglass doors come with 5 years warranty, Steel doors come with 10 years warranty | Lifetime warranty for the fiberglass, 5 years warranty for wood doors, 10 years warranty for steel doors |
| Durability | Standard | Higher |
| Which is more recommended By people? | Low Recommended | Highly Recommended |
Detailed Differences Between MMI And JELD-WEN Exterior Doors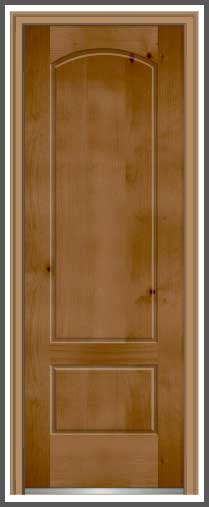 JELD-WEN is among the most famous brands in the market for selling top-quality doors and windows.
They have been working since 1960, and their doors and windows can be found in many homes, buildings, and other residential properties.
JELD-WEN is a prominent brand that has doors and windows for every person out there.
The doors and windows are divided into unique series that include the budgeted and expensive products for every individual.
On the other hand, MMI is also considered an excellent brand for buying doors for interior and exterior door installation needs.
They are also in the market for more than 60 years.
But now, JELD-WEN has acquired this brand, and they are working under the same manufacturing facilities.
MMI doors have different sizes, glass panel options, configurations, and materials. Their warranties also vary with the material used in their construction.
Types of Doors By Configuration
Both brands of doors come with different configurations. When you look at the MMI doors, they are divided into single and double doors with sidelight right and other options.
Compared to the MMI doors, they are divided into coastal style collection, modern style collection, farmhouse style collection, and similar pieces.
But both brands match the varying needs of many customers looking for quality door installations for homes and buildings.
Both brands differ slightly in the usage of materials for door manufacturing. Considering JELD-WEN doors are manufactured with fiberglass, stainless steel, and wood.
In contrast, the MMI doors are made with fiberglass, stainless steel, and rigid board wood. On top of that, the materials used in constructing MMI doors come in a comprehensive collection.
When you look at their website, they have multiple fiberglasses and stainless steel options. But there is nothing to compare because both brands are pretty similar in the quality of construction.
MMI Doors have a comprehensive collection of glass options. When you need to buy a unique colored or textured glass, MMI will always be helpful.
However, JELD-WEN doesn't bring a wide range of glass options as the MMI Doors. Still, both are the same companies so we can buy anything interchangeably.
Thus, choose your glass option and buy from JELD-WEN or MMI Doors.
The fact is still there that both companies are the same these days. But when you compare them to their durability, JELD-WEN is often considered higher with durability than MMI doors.
Hence you can decide which will last longer with you by comparing them on this factor.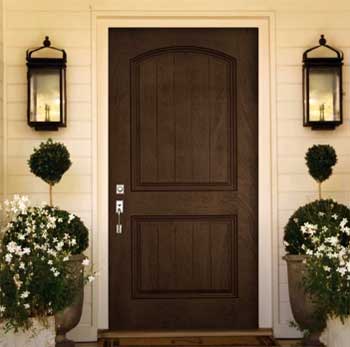 Even though both brands have emerged, they still differ slightly in warranties.
JELD-WEN often gives you a better warranty for fiberglass and other materials for door construction.
Their Smooth pro and Architectural Collection come with high-end warranties but are considerably more expensive than all other doors series from JELD-WEN.
On the other hand, the MMI doors also have a different warranty for different types of material construction.
But Stainless steel is better warranted in the MMI Exterior doors collection.
Which Do People Recommend More?
Since JELD-WEN has been here for years, it has more recognition among people than MMI Doors. However, you won't lose yourself on either side because both are the same things now.
Which Exterior Door Is Best To Consider?
There will be no problems selecting brands for installing doors inside your house or buildings.
Because both brands are the same, they have collaborated for a long time.
So, choose your type of door, look for the material, consider the glass option, and whatever is necessary. Buying any door from any of these brands will not harm you.
Frequently Asked Questions (FAQ)
Does JELD-WEN Own MMI?
Yes, JELD-WEN is officially the new owner of MMI doors.
What Is The Best Brand Of Entry Doors?
You can choose from JELD-WEN, Provia, and Pella brands for installing the best entry doors.
Is JELD-WEN A Good Exterior Door?
JELD-WEN is a great door brand for the price because it offers excellent durability, quality, construction, and other compelling features.
Which Door Type Is Most Durable?
Fiberglass exterior doors are the most durable type to install in homes and buildings.
Final Thoughts
You have to be optimistic while comparing the MMI Doors and JELD-WEN Exterior Doors. Because now, both are the different names of the same things.
However, the production methods are different, the material used is different, and glass options are different.
Still, some recommend JELD-WEN over MMI Doors because JELD-WEN produces some best entry line exterior doors collections. Their products are highly rated, and they have a good image in the market.
So, in my calculation, JELD-WEN would still be a better brand if you consider buying interior or exterior doors for the home.