Today's primary focus will be on the contrasting features of incredible cabinets that will make your heart happy.
Merillat cabinet has an edge profile finishing system that provides a beautiful look, whereas KraftMaid has a DuraKraft Plus finishing that increases durability. All KraftMaid cabinets have a lifetime limited warranty.
However, some Merillat grades have a 25-year limited warranty.
Intrigued much? Then stay right where you are!
A Brief Comparison Table
| | | |
| --- | --- | --- |
| Product Specifications | Merillat | KraftMaid |
| Finishing System | Edge profile sanding | DuraKraft Plus |
| Grade | Merillat Masterpiece, Merillat Classic | Custom, Semi-custom, Stock |
| Finish Options | Stained, Glazed, Painted, Vintage. Thermofoil, Distressed | Painted, Colormatch, Translucent, Weathered, Aged, Stains |
| Design and Build | 3/8 inch particle bond sides, Plastic corner braces | ¾ inch hanging rail, I-beam structure |
| Quality | Pretty good | Excellent |
| Durability | Great | Excellent |
| Price | Slightly lower | Higher |
| Warranty Conditions | Lifetime limited, 25-year | Lifetime limited |
Key Differences Between Merillat And KraftMaid Cabinets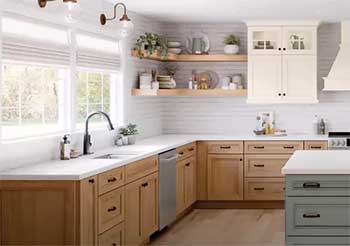 The key difference between the cabinets is the finishing system.
Merillat has an edge profile sanding technique that usually gives an aged look by applying over-sanding to the corners.
A burnishing coat is then put on those areas.
On the other hand, KraftMaid works differently.
This brand uses a DuraKraft Plus system that creates the most durable and appealing finishing structure.
This procedure comprises four different stages: wood picking, sanding, color application, and putting a topcoat for protection purposes.
Merillat comes in two types: Masterpiece and Classic. The latter has lesser door styles and finishing options, and they turn normal spaces into sleek-looking, functional spaces using your flair.
Masterpiece has more door styles and finishes that combine a great style and impeccable features to leave your kitchen looking unbelievably beautiful.
In opposition, KraftMaid has three options: custom, semi-custom, and stock. Custom can fit any style with no limit, the stock is cheaper with lesser custom options, and semi-custom is a blend of the two.
The final look is a very significant stage in product development. Another way to look at it is the finish options. Merillat has stained, glazed, thermofoil, distressed, painted, and vintage finish options.
Oppositely, KraftMaid has painted, color-match, translucent, stains, weathered, and aged finishing options. Guess what's left to do? Make that choice and get yourself the last cabinet you'll ever need.
Merillat is constructed using 3/8-inch particle board sides that are very easy to clean and need little maintenance.
Moreover, they don't dent easily and are most efficient for assembling furniture using screws. The present plastic corner braces help ensure the sturdiness of the countertop.
On the contrary, KraftMaid is built using a 3/4-inch hanging rail that can be used to hang kitchen towels and an I-Beam setup to create powerful stability.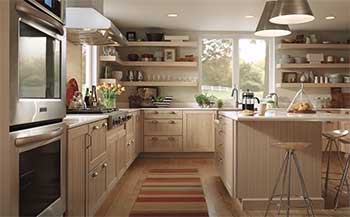 If you are a quality person, prepare to be impressed.
KraftMaid is here to provide you with the impeccable quality that you are seeking.
Have you been trying to figure out how to load those oddly-looking dishes?
This considerate brand of cabinetry contains deep drawers to make that happen.
Also, the shelves can be easily adjusted to fit your needs at any time.
Merillat closely follows, giving you a pretty good quality. With over 70 years in action, this cabinet offers you a quiet drawer operation and automatically closing door hinges.
Don't you enjoy putting your money where it's worth?
Because I do! KraftMaid can serve you for long periods. The included face frames eliminate scratches, and the solid wood makes the cabinet serve you for generations.
Merillat is not far behind. It contains hardened steel front frames that give you great durability and value for money.
Now, onto the factor you've been yearning for; cost. Are you scared of spending a lot only to get an inferior product?
Or do you have a lot on your plate now and want to save as much as possible? KraftMaid costs are a bit higher due to the upgrades and innovations. Contrarily, Merillat is more cost-friendly.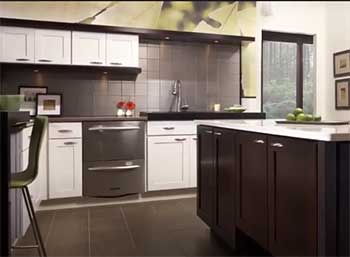 The warranty terms for the cabinets slightly differ.
Merillat provides a limited lifetime warranty and a 25-year limited warranty for its cabinets.
In contrast, KraftMaid only gives a limited lifetime warranty to its customers, whereby the products are deemed free of defects for as long as you own them.
Both brands are safe since you'll enjoy their products in peace, knowing that they have your back covered in case of anything.
Which Cabinet Should You Go For, Merillat Or KraftMaid?
With the comprehensive analysis I put forth, that question is much easier. You can now pick one of the two without blinking, so you're welcome!
Merillat is a choice to set your eyes on regarding affordability, variety of finishing options, and good quality. You should only think about KraftMaid if you want excellent quality, durability, and exceptional features.
Frequently Asked Questions (FAQ)
Is Merillat the same as KraftMaid?
Yes, they have many similarities, but they are two independent brands.
Is Merillat made by KraftMaid?
This is one question I get a lot. Masco Corporation is the sole manufacturer of different brands of home amenities like KraftMaid and Merillat. In other words, the two cabinet brands are made by the same company.
Which brand is best for cabinets?
In my experience and thorough research, KraftMaid makes the best cabinets. Talk about its premium features that are out of the ordinary, excellent durability, remarkable quality, and various customization options.
Are Merillat cabinets solid wood?
Merillat cabinets are manufactured using solid hardwood, for instance: maple, cherry, and oak, among others, all of which provide a top-notch construction and boost the overall performance.
Final Words
I can go on and on, but you already have a vivid idea of Merillat and KraftMaid cabinets differentiation. The usual confusion that they are the same brand has melted down, right?
Merillat is a great option if you want a more affordable cabinet that has fairly good quality. KraftMaid is hands down excellent in quality and longevity.
Get the cabinet that will give you the kitchen of your dreams!