Cabinets are great and probably the most demanded kind of furniture out there. This is because they can be dedicated to storing anything you want.
It can be medicine, jars, condiments, or spices there's literally no limit to it! Mantra and KraftMaid have great cabinets to save your day.
Both are great options, but they are not equally the same so before you buy one, best to do a little research. Leave it to us and just go through this article.
A Quick Comparison Table
| | | |
| --- | --- | --- |
| Specifications | Mantra Cabinets | KraftMaid Cabinet |
| Closing type | Soft-closing doors and drawers | Soft-closing doors and drawers |
| Hinges | 6-way adjustable hinges | 6-way adjustable hinges |
| Price | More affordable | Costly |
| Drawers | 5/8" solid wood dovetail drawers | 3/4" solid wood dovetail drawers |
| Popularity | Less popular | More Popular |
| Shelves | 3/4" plywood adjustable shelves | 3/4" fully adjustable shelves |
Key Differences Between Mantra and KraftMaid Cabinets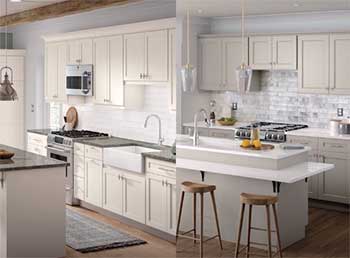 No one wants a noisy cabinet that will create an unpleasant sound every time the drawers and doors are opened or closed.
Both these companies made sure that their cabinets have soft-closing doors and drawers.
Mantra cabinets offer cabinets that are soft-closing and under-mount with full-extension drawer guides for your convenience.
KraftMaid uses whisper touch technology for their cabinet hinges to open and close quietly and softly. To control the closing gently, they have used ball-bearing drawer slides with integrated buffers.
The technology used by Kraiftmaid is more advanced and durable.
Mantra's one isn't bad, but surely has room for improvement when compared.
Yet again another feature they've met eye to eye with, both companies sell cabinets with 6-way adjustable hinges.
These hinges are paired with the same user-friendly/convenient closing type (as mentioned above) in the case of both companies.
Being up to date with the latest technology is very important since it is common for hinges to wear out and eventually lead to the entire cabinet falling out.
The cost of a product is a deal maker at the end of the day and in this case, we can see that one costs more than the other. Mantra is more affordable.
Not only is this a matter of preference anymore, but also a question of how much you are willing to spend.
It's no surprise that KraftMaid is costly since they have built such a great reputation in the market. Even if it is expensive, this is certain that the price is worth the purchase since their cabinets are top-notch.
Mantra too is slowly evolving well, the prices they have placed are accurate with respect to quality and performance. As a matter of fact, Mantra kitchen cabinetry is highly recommended for any budget-minded homeowner.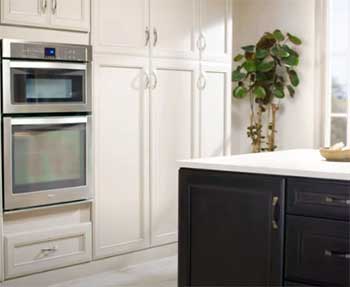 They've both ensured solid wood dovetail drawers, which is great!
However, the difference in thickness varies between them.
The drawers on a Mantra cabinet are 5/8" solid wood and on KraftMaid they are 3/4".
You might think the thicker the wood the better the product, but this comes down to your preference.
A cabinet with low thickness will still serve you well and reliably depending on the materials it has been manufactured with. In this case, you're safe to choose either based on your preference.
So, if you need your drawers to be a bit thicker then you should go for Mantra, if not then KraftMaid.
KraftMaid is ahead in the marketing game than Mantra. But that does not mean Mantra does not have promising cabinets, they are just known less in the market.
Due to KraftMaid's high reach, they have a better reputation and are believed to be quite elite in comparison. However, Mantra has served excellently as well in the cabinet industry, so a lack of enough recognition is no reason to overlook their cabinets.
Reliability is earned through reputation here, true. However, with a few more nudges here and there Mantra will surely be ahead of its game since it already provides great service.
Mantra has fine-finished beautiful shelves that are 3/4" plywood adjustable. The shelves are made to function with ease and are quite sturdy and reliable.
With KraftMaid, you can position the shelves to fit any storage required. The 3/4" fully adjustable shelves come with a full-depth configuration which provides 25% more space for storage usage compared to half-depth shelves.
Frequently Asked Questions (FAQ)
Which brand is best for cabinet?
There are a vast number of companies out there that will provide you with cabinets.
Whether it's for custom or semi-custom, preassembled or ready-to-assemble (RTA), the brand IKEA has the best reputation.
What are the highest quality cabinets?
It's true that a cabinet is chosen based on performance, looks, and quality but there is more to it than that. To focus on such matters has become a much more generic approach in modern times since people have more requirements.
Some of the best quality cabinets to save you from your worries are MasterBrand Cabinets, American Woodmark Corp., and finally Masco Corp.
What are mantra cabinets made out of?
Mantra promises to exceed your expectations with the integrity of its products. To do so, they've ensured their cabinets are made with the popular all-plywood construction and soft close which comes standard with every cabinet they provide.
Which kitchen cabinets are most durable?
The most durable kitchen cabinets are the ones that have been manufactured from solid hardwood. These are the standard for fine kitchen cabinets, they are not cheap or expensive, they are affordable.
Conclusion
Mantra and KraftMaid cabinets' comparison has shown a narrow spectrum of differences in terms of a study.
Mantra is still making its appearance more prominent and seeing how well they're doing; you can buy their cabinets for the long run and expect satisfactory performance.
KraftMaid is something easier to come across and a purchase you cannot go wrong with. Both companies seem to be quite similar and based on your preference, either is a good choice here.