Are you stuck between Mathew Brothers and Harvey windows? Then this article will help you to find out which will be the best option for you.
Mathew Brothers is the oldest American brand making windows in the traditional process for the last 160 years compared to Harvey. Besides, you'll get a Limited Lifetime Warranty, but Harvey offers 10 Years Warranty for wood windows.
I will show a detailed comparison between these two window manufacturer brands. With all the necessary information at hand, it will be easier for you to make the right decision.
So, let's dive deeper.
A Quick Comparison Table
Here is a quick comparison table between Mathews Brothers and Harvey windows:
| | | |
| --- | --- | --- |
| Aspects | Mathew Brothers | Harvey |
| Product Lines | 2 Windows Lines | 3 Windows Lines |
| Materials | Wood, Vinyl, Composite | Vinyl and Wood |
| Special Feature | Non-Corrosive And Color-Matched Hardware | Durable Diecast Metals Hardware |
| Available Colors | 9 Available Colors | 12 Available Colors |
| Quality & Durability | Inferior to Harvey | Superior To Mathew Brothers |
| Warranty | Limited Lifetime Warranty | Limited Lifetime For Vinyl; 10 Years For Majestic Wood |
| Price | Cheaper Than Harvey | Expensive Than Mathew Brothers |
In-Depth Differences Between Mathew Brothers And Harvey Windows
Now it's time to indulge yourself in more details about these brands. You need a clear and comprehensive comparison between both manufacturers to make the right choice.
Here are some key differences between the two window brands: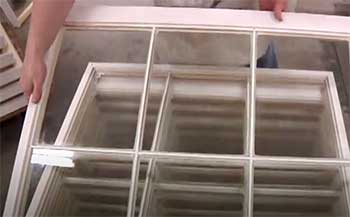 Knowing about the windows line is essential. Because the more line a brand has, the more diverse is their design.
So, with many window line options, you can select one that fits your house.
Mathew Brothers have only two Windows lines under their belt. Rather than creating many lines, they focus on making good quality traditional windows.
However, you can choose between Spencer Walcott and Sanford Hills.
On the other hand, Harvey has three window line options in its portfolio. You can choose from Vinyl Windows, Majestic Wood Windows, and Pro Installation Time Saver Windows.
So, Harvey has a plus point against Mathew Brothers in product lines.
We all know the importance of materials for a window. By looking at its material and quality, you can tell how durable and robust a window will be.
As far as material is concerned, we know Mathew Brothers is a very old brand. It has been using traditional wood and vinyl for making windows.
But now, they also use various composite materials for their windows frame.
On the contrary, Harvey produces high-quality windows using Vinyl and various Wood. Besides, they use Energy Star glasses with their windows.
The good thing about Harvey windows is that you can fully customize your windows according to your style and color option.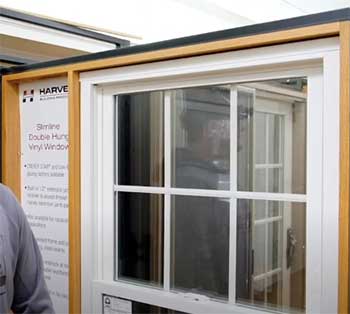 Although Mathew Brothers is an old brand, do not mistake by thinking they are any less of a brand.
Instead, the Mathew Brothers' windows are full of various features.
So are Harvey windows. Let's see what you'll get from each of them.
All Mathew Brothers windows come with non-corrosive and color-matched hardware. Cam-action locks on these windows bring sashes closer and create a tighter lock.
Besides, you will get equal glass size on wood frames.
The integral interlock meeting rail provides excellent security. On top of all that, you will have low-profile tilt latches and Duralite technology for reduced condensation.
Now, looking at Harvey, you will find these windows designed to provide quality and comfort simultaneously. All its hardware is made from durable diecast metals.
They will make your windows secure and longer-lasting.
With Harvey windows, you can protect your home from ultraviolet. Plus, you can prevent outside heat. The solar heat gain coefficient is between 0 and 1.
It means Harvey windows can efficiently block solar heat. As a result, all these windows are energy efficient.
Some people would want to have more exterior color options for their windows. Honestly, it will give you the freedom to choose a color according to our house's exterior.
Mathew Brothers offer 9 standard colors for their windows. Pearl, Adobe, Black, Bronze, Dark Brown, Earth Brown, Spruce Green, barn Red, and Gray. Additionally, you can select custom colors for your windows.
In contrast to Mathew Brothers, Harvey windows offer more exterior and interior color options for windows.
You can choose from White, Almond, Dark Bronze, Black, Universal Brown, Bronze, Cranberry, Wedgewood, Ivory, Forest Green, Pine, and Prefinished White.
Both Mathew Brothers and Harvey windows are famous for their high quality and performance. But Harvey windows are superior to Mathew Brothers.
Mathew Brothers produce windows using many traditional features that are solid and durable. But Harvey windows offer many contemporary features for added comfort, and you'll get a modern air infiltration system, Visible Transmittance, U-Factor, etc.
All these features make Harvey windows energy efficient and help them perform better. Plus, being energy efficient, you will have to spend less energy on climate control in your home.
We already know Mathew Brothers offers a Limited Lifetime Manufacturer's Warranty for all their windows. But you cannot transfer this warranty to another person.
On the contrary, Harvey windows are backed by best-in-class windows. You will get a Lifetime Warranty with Vinyl Windows and 10 years warranty with Majestic Wood Windows.
You might want to look at windows' prices and compare them with one another before deciding. You will have to spend $535 to $1325 for vinyl windows. In addition, a Harvey Majestic Wood window will cost between $850 and $2775.
On the other hand, Mathew Brother windows are subsequently cheaper than Harvey Windows.
Which Window Brand Is Best For You?
I've given you all the necessary facts regarding these two windows. Now, it's your turn to choose one that best fits you. However, if you ask me, I suggest you purchase Harvey Windows.
You will have to spend more money on it, but you'll get the best product. Harvey windows come with more exterior and interior color options.
All the modern features and technologies make these windows superior to its counterpart.
On top of that, with the best-in-class warranty, you know Harvey windows are designed to last.
Frequently Asked Question (FAQ)
How long do windows last?
Good quality windows last longer. Windows like Mathew Brothers and Harvey easily last 15 years to 30 years. If a window lasts shorter than this period, you cannot say it's a good window.
How long have Harvey windows been around?
Harvey is a famous windows manufacturer that makes high-quality windows from various materials. They've been operating for more than 60 years and created a position among customers.
Where are Mathews Brothers windows made?
Mathew Brothers are probably the oldest windows manufacturer in the US and have made windows for more than 160 years. Their manufacturing plant is located in Belfast, Maine.
Are Walcott windows good?
Walcott is a product line from Mathew Brother's windows. Walcott series produces a higher grade of vinyl windows. High-quality materials and state-of-the-art facilities are used to make Walcott windows.
Final Thoughts
Mathew Brothers make high-quality windows with a traditional system and modern equipment. Conversely, Harvey makes superior windows using all the modern technologies and features we need in our house.
I'm sure my Mathews Brothers windows vs. Harvey review has given you enough insights. You won't make a mistake now as you know which window brand will be the best choice.