If you're in the market for new windows, two big names you're likely to encounter are Mathews Brothers and Andersen. Both companies have been around for over a century and have built up reputations for quality and craftsmanship.
But which one is right for your home and budget?
In this comprehensive guide, we'll compare the pros and cons of Mathews Brothers and Andersen windows so you can make an informed decision. We'll look at factors like materials, warranties, cost, styles, and more.
By the end, you'll have all the details you need to choose the ideal windows for your needs.
A Brief Comparison Table
| | | |
| --- | --- | --- |
| Feature | Mathews Brothers | Andersen |
| Materials | Pine, oak, maple, other woods | Wood, Fibrex, vinyl, fiberglass |
| Styles | Double hung, casement, custom shapes | 40+ styles including double hung, casement, awning, and more |
| Glass Options | Insulated, Low-E, laminated, tempered | High-Performance Low-E4, laminated, Impact-resistant |
| Screens | Basic fiberglass mesh | TruScene micromesh, Flexiframe |
| Hardware & Trims | Traditional, historic profiles | Modern and traditional options |
| Performance | Good, meets industry standards | Excellent, innovative engineering |
| Warranties | 10 years on glass, 5 years on exteriors | 20 years on glass, 10-20 years on materials |
| Cost | $600 – $2000 per window | $250 – $2200 per window |
| Aesthetic | Traditional, all-wood designs | Variety from traditional to modern |
| Manufacturing | Custom made to order | Combination of custom and batch production |
Key Differences Between Mathews Brothers And Andersen Windows
Now that we've laid the groundwork, let's do a detailed comparison of these two brands.
Window Materials
One of the biggest differences between Mathews Brothers and Andersen is the variety of materials they offer.
Mathews Brothers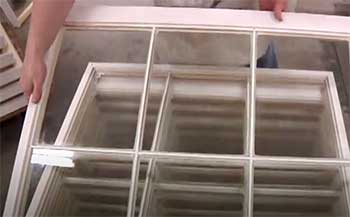 Mathews Brothers focuses exclusively on wood windows made from pine, oak, maple, and other durable softwoods and hardwoods.
Wood is naturally insulating and beautiful. It can also be customized with different textures, colors, and trims.
Mathews Brothers wood windows feature mortise and tenon joinery for strength.
However, wood windows do require more maintenance than other materials. The wood exterior will need to be painted or stained regularly to protect it from weathering. And the interior may need sealing to prevent air leaks.
Andersen Windows
Andersen offers windows in four different materials:
Wood – Their premium A-Series line includes natural wood interiors and exteriors with mortise and tenon joinery. Exteriors are protected by a fiberglass exterior cladding.
Fibrex – This Andersen innovation combines plastic and wood fibers for strength and thermal efficiency. The low-maintenance material won't crack, warp, or swell.
Vinyl – Andersen's 100 Series and 200 Series lines feature durable, welded vinyl frames that never need painting. Vinyl is affordable but not as strong or insulating as wood or Fibrex.
Fiberglass – Their fiberglass windows boast glass-reinforced polymers for superior strength and energy-efficiency. More scratch-resistant than vinyl.
This wide range of materials allows you to find Andersen windows to suit your budget and needs. Vinyl is the most affordable and low-maintenance choice, while wood provides top-tier aesthetics, performance, and customizability.
Window Styles
When it comes to product selection, Andersen wins again in terms of variety. They offer over 40 window styles compared to Mathews Brothers' more limited options that focus on classics like double hungs and casements.
Mathews Brothers Styles
Double hung – Traditional style with two sashes that slide up and down for ventilation. Available in historic profiles like Craftsman.
Casement – Side-hinged windows that crank open outward for full ventilation. Also available in historic designs.
Custom shapes – Half rounds, circles, arches, and more for special architectural projects.
Fixed picture windows – Classic stationary windows to let in light.
Bay and bow windows – Combine multiple window units for custom shapes that extend floor space.
Storm windows – Combine with primary windows for added weatherproofing. Can match historic profiles.
Since each Mathews Brothers window is custom-built, you can request modified dimensions or muntin patterns to match existing windows or designs.
Andersen Styles
With their extensive manufacturing capabilities, Andersen is able to produce a huge selection of styles: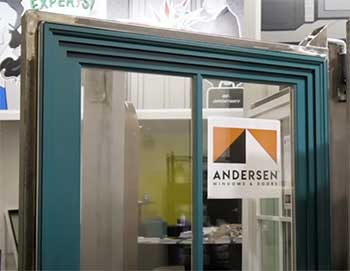 All the styles offered by Mathews Brothers
Tilt-wash double hung
Awning
Hopper
Gliding
Specialty shapes like polygons and triangles
Sliding doors
Sidelights and transoms
Pitched roof windows
Skylights
Bay, bow, and garden windows
Patio doors
No matter what style your project calls for, Andersen likely has an option available. They also manufacture window walls and curtain walls for large commercial projects.
Glass Options
The type of glass used in the window unit also affects appearance, durability, energy-efficiency, and security.
Mathews Brothers Glass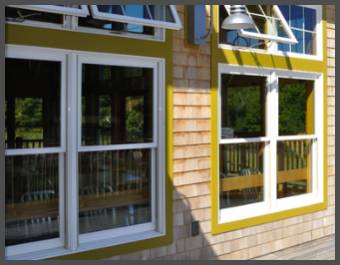 Insulated glass – Standard double pane construction with inner spacer for thermal insulation. Argon or krypton gas can be added for increased efficiency.
Low-E glass – Coated with a microscopic metal layer to block UV rays while letting light through. Reduces solar heat gain.
Laminated glass – Interlayer bonds glass sheets together for added strength and security.
Tempered glass – Heat-treated for increased toughness and safety. Required in some hazardous locations.
Obscure glass – Etched, frosted, or tinted glass for privacy.
Triple pane – Three panes of glass with two air spaces for optimal insulation. Available at an upcharge.
Mathews Brothers offers solid glass options, but the selection is not as broad as Andersen's selections.
Andersen Glass
Andersen takes advantage of their advanced manufacturing capabilities to engineer high-performance glass units with coatings and inert gas fills. Options include:
High-Performance Low-E4® SmartSunTM glass – Their latest generation of Low-E coatings filter UV rays while allowing visible light through. It's up to 63% more efficient than ordinary Low-E glass.
High-Performance Low-E4® Sun glass – Blocks more sunlight to prevent fading but still transparent.
High-Performance Low-E4® PassiveSun glass – Maximizes solar heat gain in colder climates.
Low-E coated tempered and laminated glass – For increased durability and energy savings.
Triple-pane – Available for superior insulation.
Impact-resistant laminated glass – Contains a resilient interlayer to withstand damage.
Sound reducing laminated glass – Reduces outside noise.
Patterned & obscured glass – For decorative and privacy needs.
HeatLock® technology – Innovative glazing spacer improves seal durability.
VeriLock® security sensors – Detect if glass has been compromised.
With these advanced glazing options, Andersen windows can provide superior protection from weather, noise, damage, and UV rays.
Screens
Screens are included with most windows to allow air circulation while keeping out insects when the window is open.
Mathews Brothers Screens
Mathews Brothers screens are made with aluminum framing and fiberglass mesh. They use quality materials, but the screens themselves are fairly basic.
There are no major innovations or advanced screen features. Screens can be configured to fit each custom window design.
Andersen Screens
Andersen screens are also aluminum-framed but they utilize TruScene® insect screens. This microfine stainless steel mesh keeps out tiny insects while letting in more fresh air and daylight.
For a cleaner look, Andersen's Flexiframe screens attach to the exterior of the window via a flexible vinyl housing instead of the traditional interior tracks. This allows easy removal for cleaning.
Hardware, Trim, and Finish Options
The hardware, trim profiles, and finishes you select impact the aesthetics, functionality, and maintenance needs of your windows.
Mathews Brothers Hardware & Trims
Traditional sash locks and lifts – Mathews Brothers uses time-tested, quality hardware like sash locks, finger lifts, and casement crank handles.
Historic trim profiles – Windows can be made to match historic home profiles like Craftsman, Colonial, and Victorian. Custom profiles also available.
Wood interior trim – Interior trim made from stain grade wood like oak or maple. Finished to match the interior wood window jambs.
Exterior trim – Available in PVC, pine, cedar, and other woods. Usually unfinished so owners can match their home's paint scheme.
Color and finishing – Exteriors can be factory painted or stained. For interiors choose a stained finish or unstained wood to paint onsite.
The focus is on traditional styles and historically accurate profiles. Custom finishes available.
Andersen Hardware & Trims
Andersen offers modern hardware upgrades as well as traditional style options:
Cam locks and matching finger lifts – Sleek, low-profile anodized finishes in colors like satin nickel, bronze, and black. Compatible with Smart Home systems.
Original solid brass hardware – Traditional hardware with quality brass components finished in polished brass, satin nickel, and antiqued.
Nesting crank handles – Casement window handles fold in when not in use. Available in 11 finishes.
DualTechTM locks – Innovative locks engage both the frame and sash for superior strength. Exclusive to Andersen.
Self-aligning sash – Auto lock position allows sashes to self-center when closing. Makes operation smooth and tight.
Perma-Shield® exteriors – Never needs painting; available on wood-clad, Fibrex, and vinyl windows.
Interior wood species – Choose from 11 stain-grade woods like maple, cherry, oak, pine, and more.
Interior finishes – Select from over 50 factory-applied interior stain options or get unfinished wood to finish onsite.
Andersen offers more variety for personalization, especially a wider array of modern hardware styles and finishes. More durable low-maintenance exteriors are also available.
Weatherization & Durability
Windows need to stand up to sun, rain, wind, and temperature extremes while protecting your home's interior. Let's see how these brands compare for real-world performance and longevity.
Mathews Brothers Performance
All Mathews Brothers windows feature quality construction with solid wood sashes, mortise and tenon joinery, insulated glass, and traditional hardware.
Their windows meet or exceed industry standards for air and water infiltration, wind loads, insulating value, and other metrics. Overall, Mathews Brothers windows offer good performance on par with other wood window manufacturers.
Exactly how air-tight or energy efficient a particular window is depends on the specific glass package and options selected. More expensive upgrades like triple glazing and reinforced frames will enhance performance.
Wood windows do require more maintenance than other materials. Expect to paint or refinish exteriors every 5-10 years and occasionally reseal interior joints. Proper care promotes longevity.
Andersen Performance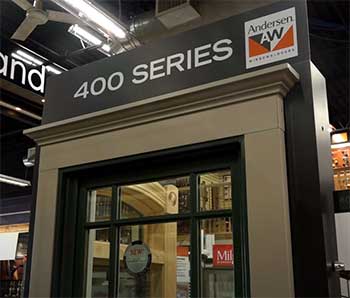 Andersen is an industry leader in engineering highly weather-resistant and energy efficient windows.
Features like dual seals, composite materials, thermally broken frames, and advanced glass keep interior spaces comfortable in the harshest conditions.
Andersen was actually the first window company to market sealed double pane windows all the way back in 1932.
Several Andersen innovations also improve durability and longevity:
Fibrex material – Twice as strong as vinyl. Won't rot, crack, or warp like wood.
Perma-Shield exteriors – Never need painting or staining. Backed by a 20-year warranty.
VeriLock sensors – Alert homeowners if glass is compromised for immediate repair.
Impact-resistant glass – Windborne debris protection certified to meet tough Florida building codes.
HeatLock spacer – Unique spacer system reduces seal failure.
Silicone sealant – Adds flexibility and longevity to glazing seals.
Andersen windows are rigorously tested to meet or beat published performance values for air infiltration, water resistance, wind loads, UV filtering, longevity, and other metrics. Their innovative engineering allows for exceptional weather-tightness and energy savings.
Warranties and Certifications
When investing in new windows, you want assurances that they'll perform as expected for years to come. Let's compare the warranties offered.
Mathews Brothers Warranties
Mathews Brothers windows come with the following limited warranties:
10 years on insulating glass units. Covers seal failure and internal fogging.
5 years on exterior cladding and paint/stain finishes.
2 years on window operation and hardware.
The warranties are comparable to similar custom wood window manufacturers. Knowing Mathews Brothers' long history gives confidence they'll honor their warranty commitments.
Many Mathews Brothers windows are certified for use in historic restorations. They can also advise on designs that qualify for historic tax credits.
Andersen Warranties
Backed by over a century of manufacturing experience, Andersen offers some of the strongest warranties in the business:
20 years on glass components. Includes seal failure, internal fogging, and external film failure.
10 years on manufacturing materials and workmanship. Covers defects in master frame components.
20 years on Fibrex and vinyl components.
20 years on Perma-Shield exteriors.
Additionally, their A-Series wood windows feature a 50 year limited warranty on wood rot coverage.
Many Andersen window series are also Energy Star certified for energy efficiency. Their E-Series line has received Passive House Institute certification for superiority in air-tightness.
Andersen's industry-leading warranties give added consumer protection and peace of mind.
Cost Comparison
Let's discuss the all-important factor of cost. In general, expect wood windows to have a higher upfront price than vinyl or fiberglass. But they make up for it with beauty, durability, and performance perks.
Mathews Brothers Pricing
As a custom shop, Mathews Brothers does not list general pricing online. Quotes are specific to each project's requirements. Keep in mind their windows are made to order from start to finish in the United States.
Expect to pay anywhere from $600 – $2,000 per window depending on the size, type, and options chosen like premium hardware, exotic wood species, custom shapes, divided lites, specialty glass, installation, etc.
Large, architecturally detailed windows with triple glazing will fall at the highest end of the spectrum. Simple, standard double-hung windows will be more affordable.
Bottom line, expect a moderate to high investment, but you're paying for quality, durability, and aesthetics.
Andersen Pricing
With their diverse product lines, Andersen offers windows across a range of price points: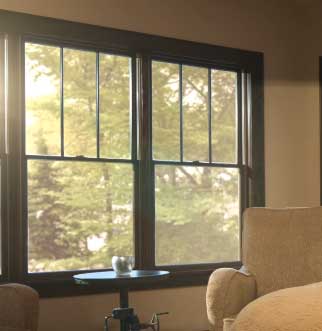 100 Series – Budget-friendly vinyl windows from $250-600 per window installed.
A-Series – The premium wood-clad line from $800-1,600 per window installed.
200 Series, 400 Series – Mid-range options from $400-1,000 per window.
E-Series – Advanced technology from $950-2,200 per window.
Like Mathews Brothers, exact Andersen pricing depends on the specifications chosen.
More complex designs, larger sizes, and upscale options will increase costs.
Overall, Andersen offers more affordable options for basic replacements while still providing high-end wood-clad windows for luxury projects. This range gives flexibility.
Visual Appearance
Beyond tangible specs and performance metrics, your windows also need to look good! This subjective category depends on your personal tastes and the style of your home.
Mathews Brothers Aesthetic
Since Mathews Brothers specializes in traditional designs, their windows excel at showcasing the natural beauty of wood with warmth and character. The focus is on replicating historic profiles common in older homes.
Expect details like visible mortise and tenon joinery, classic divided lites, and craftsman-style hardware. Mathews Brothers windows have an authentic, quality feel perfect for vintage architecture.
Andersen Aesthetic
With a huge catalog of styles, Andersen windows can fit homes from Victorian to modern and everything in between. Different lines have their own flair:
A-Series – Natural wood interiors and rich details create a classic, upscale look.
200 Series – Sleek and unobtrusive for contemporary homes but more affordable than the A-Series.
E-Series – Ultra slim frames maximize glass area for a modern, industrial vibe.
100 Series – Traditional shapes and woodgrain textures on a vinyl frame at a friendly price.
Andersen offers classic elegance as well as contemporary design. Visual appeal comes down to personal preference, but overall Andersen provides gorgeous options for any home style.
FAQ About Mathews Brothers and Andersen Windows
Are Mathews Brothers windows good quality?
Yes, Mathews Brothers windows are known for excellent quality and craftsmanship. As one of the oldest wood window manufacturers in the U.S., they have perfect ed their techniques over the past century. Their windows feature sturdy, solid wood construction with mortise and tenon joinery. Mathews Brothers pours care into each custom window they make, and it shows in the durability and longevity of their products. While premium in cost, you get what you pay for – windows made to last using quality materials and American craftsmanship.
How much are Mathews Brothers windows?
Mathews Brothers does not provide general pricing since each window is made to order. Costs vary based on the specifications chosen. Simple double hung windows may start around $600 per window, while large styles with divided lites, specialty glass, and other upgrades may cost $2,000 or more per window. Expect to pay at least $800 – $1,200 per average sized window installed. Bigger and more detailed windows will fall on the higher end. While Mathews Brothers commands a premium price, the product quality, customization, and durability justify the cost.
Where are Mathews Brothers windows made?
Mathews Brothers windows are proudly made in the United States at their manufacturing facility in Vestal, New York. They use locally sourced lumber and other domestic materials. Being able to closely oversee production in their own factory allows Mathews Brothers to deliver the high quality and customization they are known for. From start to finish, every window receives meticulous craftsmanship and care.
What is the oldest window company?
The oldest window company still operating in the U.S. today is Mathews Brothers, founded in 1917. Other historic brands still around include Andersen Windows (est. 1903), Marvin Windows (est. 1912), and Pella (est. 1925). Several heritage brands have century-long legacies producing quality windows that stand the test of time. Companies like Mathews Brothers helped shape traditional architectural styles we still see today. While newer brands have come onto the scene, you can trust companies with 100+ years of experience like Mathews Brothers and Andersen to manufacture windows built to last.
Closing Remarks
Overall, when comparing Mathews Brothers and Andersen, either brand is an excellent option known for quality and craftsmanship. Andersen offers more affordability, variety, and innovative features.
But Mathews Brothers provides unbeatable custom wood designs full of character and handmade workmanship. Think about your budget, design needs, and project goals to decide which is the better fit.
With proper care, windows from either respected brand will become a beautiful and functional part of your home for generations.