When it comes to choosing new exterior doors for your home, two big names stand out: Therma-Tru and Mastercraft. But which brand offers the better quality and value for your home?
In this comprehensive guide, we'll compare the pros, cons, features, and reviews of Therma-Tru and Mastercraft doors to help you decide which is the right choice for your exterior door replacement or new construction project.
A Brief Comparison Table
| | | |
| --- | --- | --- |
| Feature | Therma-Tru | Mastercraft |
| Materials | Fiberglass, steel, wood | Steel, fiberglass, wood |
| Insulation | Highly energy efficient, R-value up to 12 | Good, R-value 5-8 |
| Durability | Very durable, rot/warp resistant | Decent durability |
| Warranties | Lifetime limited on fiberglass and frame | 10-25 years |
| Price | $$$, premium brand | $, budget-friendly |
| Styles | 50+ styles, contemporary to classic | Limited traditional styles |
| Customization | Wide range of upgrades available | Minimal custom options |
| Energy Efficiency | Meet ENERGY STAR standards | Varying degrees of efficiency |
| Security Features | Multi-point locks, sensors | Basic locks |
| Reputation | Industry leader, top brand | Lesser known brand |
Overview of Therma-Tru Doors
Founded in 1962, Therma-Tru is one of the most popular and well-known brands for entry doors on the market today. They offer a wide selection of low-maintenance fiberglass and steel doors in styles ranging from classic to modern.
Pros of Therma-Tru Doors: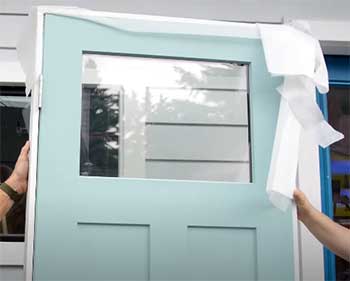 Durability – Therma-Tru doors are constructed from long-lasting and dent-resistant fiberglass or galvanized steel. Most models feature a rot-resistant composite frame and the fiberglass skins help prevent warping and cracking.
Energy efficiency – Their doors provide excellent thermal insulation with an R-value up to 12. This can help lower energy costs by reducing drafts. Most models meet ENERGY STAR certification standards.
Appearance – From classic woodgrain textures to modern smooth finishes, Therma-Tru offers attractive doors in over 50 exterior design styles. The fiberglass is paintable if desired.
Security features – Many Therma-Tru doors come with reinforced panels, multi-point locking systems, security sensors, and impact-resistant glass to improve security.
Warranty – Therma-Tru provides a limited lifetime warranty on the door slab and composite frame, as well as a 10-year glass warranty.
Potential Cons of Therma-Tru Doors:
Higher upfront cost – Being a premium brand, Therma-Tru doors are on the pricier side for exterior doors. But the quality and durability make up for it.
Limited customization – There are set sizes and design choices. Fully custom doors are not an option.
Occasional quality issues – Some consumers report getting doors with minor flaws or damage. But Therma-Tru generally has good customer service for returns/replacements.
Overview of Mastercraft Doors
Founded in 1998, Mastercraft doors are manufactured by Excel Windows and Doors which makes both entry doors and windows. They offer steel, fiberglass, and wood doors aimed at the mid-priced market segment.
Pros of Mastercraft Doors: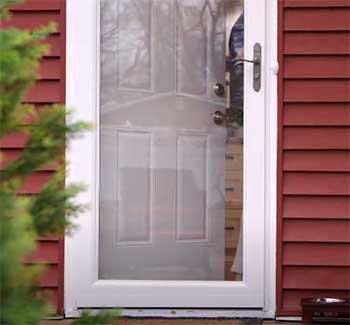 Affordable prices – Mastercraft exterior doors are very competitively priced, making them budget-friendly options for remodeling projects. Even their higher-end models cost noticeably less than leading brands.
Range of materials – Choose from basic steel, more attractive woodgrain textured steel, fiberglass, and even real FSC-certified oak. This allows flexibility to find the right material for your needs and budget.
Quick delivery – The doors are mass-produced and ship via express freight from centrally located warehouses. This enables fast turnaround.
Streamlined styles – The doors come in simple, clean lines and standard sizing that works well for many homes. No need to pay for custom frills.
Good warranties – Mastercraft offers 10 years on steel doors, 25 years on wood doors, and lifetime limited on fiberglass.
Potential Cons of Mastercraft Doors:
Less curb appeal – The basic rectangular door designs are not as aesthetically distinctive as other brands. If you want a statement door, these are not it.
Not the highest quality – While durable enough for most climates and uses, Mastercraft doors may not hold up as well long term compared to premium brands.
Limited weatherproofing – Energy efficiency, insulation, and weather seals are good but not as robust as Therma-Tru. These work best in milder climates.
Spotty customer service – Some buyers report long delays and unresponsive communication when issues arise. Not as positive customer experiences.
Therma-Tru And Mastercraft: In-Depth Product Comparisons
Now that we've covered the general pros and cons of Therma-Tru and Mastercraft, let's take a more detailed look at how specific door models from each brand stack up against each other.
We'll compare entry doors in different material categories to help you determine the best choice.
Fiberglass Entry Doors
For fiberglass exterior doors, two great options to consider are:
Therma-Tru Pulse:
Constructed with Fiber-Classic or Smooth-Star fiberglass skins with a polyurethane foam core
Features durable EnduraFrame composite frame
Energy efficient with a high R-value up to 12
Available in Mahogany, Oak, and Smooth fiberglass finishes
Prices range from $800 – $1,500
Mastercraft Ardmore:
Made of durable fiberglass over an insulated core
Polyurethane weatherstripping for moisture protection
Primed and ready for paint or stain finish
Available in a Craftsman style in sizes up to 36" x 96"
Typically priced between $500 – $800
When it comes to fiberglass, Therma-Tru Pulse has the edge. The material and construction quality is noticeably better. It also comes pre-finished so you don't have to paint or stain. Energy efficiency is far superior as well. The higher cost of Therma-Tru buys you a significantly better fiberglass door with great thermal performance.
Steel Entry Doors
For steel entry doors, two models to look at include:
Therma-Tru Benchmark Steel:
Hot-dipped galvanized steel with polyurethane foam core
Glass is tempered with Warm Edge Super Spacer
Adjustable sill provides excellent weathertight seal
Integrated security sensors and multi-point lock
Available with insulated glass; R-value up to 6
Wide range of decorative doorlites and sidelites
Prices from $700 – $1,200
Mastercraft Steel Stax:
Steel skins over an insulated core
Magnetic weatherstripping provides a good seal
Wide selection of glass designs and sidelites
Primed white ready for paint
R-value of 5 to 8 depending on glass
Typical cost of $400 – $900
For steel doors, the Therma-Tru Benchmark model is the winner again for its higher quality steel construction and integrated security features. Its adjustable sill and multi-point locking system create a super tight weatherproof seal.
Mastercraft Steel Stax doors are decent for the money but the lower price means compromising on energy efficiency, finishes, security, and longevity compared to premium Therma-Tru steel doors. Pay a little more upfront and you'll be rewarded with better performance and less maintenance down the road.
Real Wood Entry Doors
Solid wood doors impart a classic elegance. Here are two top options for each brand:
Therma-Tru Classic-Craft Canvas Collection:
Constructed of premium clear pine, oak, or mahogany
Traditional mortise and tenon joinery with water-based finish
Insulated glass with Warm Edge Super Spacer improves energy efficiency
Brass multi-point locking hardware for security
Custom staining, paints, glass, and hardware available
Typical cost between $1,500 – $4,000
Mastercraft Oak Park:
Kiln-dried North American red oak veneer over insulated core
Available pre-finished or ready for paint/stain
Tempered Low-E glass for efficiency; sidelites available
Composite sill resists swelling and warping
Traditional styles ideal for Craftsman homes
Range from $1,000 – $2,500
With real wood doors, Mastercraft makes a good case for itself. The Oak Park doors provide charming woodgrain texture at a more affordable price point compared to premium Therma-Tru wood models.
Although Therma-Tru still edges out with better weatherproofing and construction quality, Mastercraft wood doors are more competitively priced while still providing pleasing aesthetics and decent durability. For budget-friendly real wood doors, Mastercraft Oak Park is worth considering.
Additional Comparisons Between Brands
Beyond simply products, there are a few other factors that may sway your choice between Therma-Tru and Mastercraft: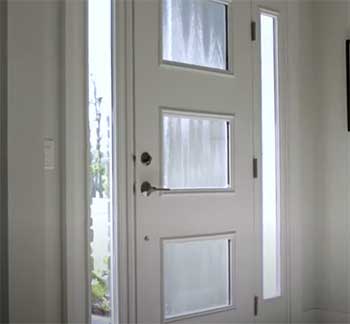 Warranties – Therma-Tru generally provides slightly longer and better warranties, like their lifetime limited warranty on fiberglass and composite frame materials. But Mastercraft still delivers satisfactory coverage such as their 25-year wood door warranty.
Styles and designs – Therma-Tru wins out here with over 50 door styles that include modern, contemporary, traditional, and rustic designs. They have far more aesthetic variety than Mastercraft's more cookie-cutter traditional profiles.
Energy efficiency – Therma-Tru invests heavily in thermal insulation technology and their doors achieve Energy Star certification more consistently than Mastercraft. Go with Therma-Tru if maximizing energy performance is important.
Smart features – Therma-Tru doors can integrate helpful tech features like security sensors, electronic locks, and lighting. Mastercraft options are pretty basic without electronics.
Customization – Mastercraft doors only come in standard sizing and few style choices. For more personalized doors, Therma-Tru lets you upgrade glass, hardware, sidelites and finishes.
Reputation – Both brands have been around for decades, but Therma-Tru is generally seen as the leading and most prestigious exterior door brand. Their reputation gives people added confidence.
Which Should You Choose?
Based on this in-depth brand comparison, here are some quick recommendations on when to select Therma-Tru or Mastercraft for your next exterior door purchase:
For fiberglass doors, go with Therma-Tru. Their material quality and construction is far better.
For basic, affordable steel doors, Mastercraft is the budget-wise option.
For higher-end steel with more features, Therma-Tru is worth the extra cost.
For cheaper real wood doors, Mastercraft makes sense. But for premium wood, invest in Therma-Tru.
If you want unique styles and customization, Therma-Tru is the clear choice.
For technology-enhanced smart doors, Therma-Tru is the leader.
If maximizing energy efficiency is important, lean toward Therma-Tru.
For reputable warranties and customer service, Therma-Tru edges out Mastercraft.
While Mastercraft doors can make sense cost-wise for some needs, Therma-Tru is generally the winner when you compare factors like quality, performance, durability, style, and prestige. The adage "you get what you pay for" is very true when comparing these exterior door brands.
Investing in Therma-Tru will pay off with doors that maintain their beauty while withstanding the elements.
Frequently Asked Questions (FAQ)
Still trying to decide between Therma-Tru vs. Mastercraft? Here are answers to some common questions homeowners have:
What brand is the best for exterior doors?
Based on product quality, positive reviews, and reputation, Therma-Tru is considered the top national brand for exterior doors. Their high-end materials and construction result in durable, energy efficient doors that add beauty to your home.
Does Therma-Tru make good doors?
Yes, Therma-Tru is known for making some of the best-performing and most attractive doors on the market across materials like fiberglass, steel, and wood. Their quality has made them an industry leader.
What is the best exterior door for insulation?
For maximum energy efficiency, a fiberglass Therma-Tru door with a high R-value of 10 or above is your best bet. Fiberglass provides excellent insulation and Therma-Tru's robust weatherstripping and composite frames enhance thermal performance.
Is Therma-Tru a good brand?
Therma-Tru is widely considered one of the top brands for exterior doors due to their product quality, energy efficiency, broad style selection, and reputation. While expensive, their doors provide excellent long-term durability and performance for most homeowners.
The Bottom Line
When comparing Therma-Tru vs. Mastercraft doors, Therma-Tru consistently comes out on top for fiberglass and steel construction. Mastercraft makes a decent budget-friendly alternative for basic real wood doors.
Focus on Therma-Tru if you want the best fiberglass insulation, high-end finishes, customized designs, and durability to last decades. While pricier upfront, investing in a quality Therma-Tru door for your home is worthwhile.