Kitchen Cabinetry is a one-time investment for your forever home. Hence, the cabinetry's structure, timeless design, flexibility, and performance should be a big concern.
However, many brands offer great cabinets; Kitchen Craft and kraftMaid are two of the most familiar ones. But they have differences in cabinetry system, wood, design style, cost, and quality.
Therefore, keep reading this article till the end to realize the in-depth differences. Without further ado, let's get started.
A Quick Comparison Table
| | | |
| --- | --- | --- |
| Features | Kitchen Craft | KraftMaid |
| Types of cabinetry | Semi-custom | Custom or shop-built, Semi-custom, Stock or production |
| Wood | Alder, Maple, Oak/rift Oak, Cherry | Birch, Hickory, Alder, Maple, Oak, Cherry |
| Design style | Contemporary, Transitional, Traditional | Contemporary and dynamic, Luxe transitional, Classically traditional, Light and timeless, Natural and warm |
| Performance and Quality | Good | Excellent |
| Price | Less expensive | More expensive |
Key Differences Between Kitchen Craft Cabinets And KraftMaid Cabinets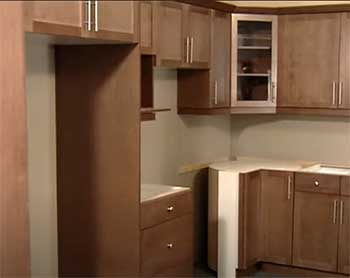 Kitchen cabinets allow you to enlarge your kitchen space for more dishes and other appliances.
As it is a huge proportion of your kitchen budget, you need to be concerned about choosing the right cabinets regarding your kitchen fit and look.
However, Kitchen Craft offers you only semi-custom cabinetry.
But KraftMaid comes with three types of cabinetry systems. The first one is custom or shop build. This type of cabinetry has no style or fit limitations.
Moreover, you can choose any color or design in agreement with your taste. Also, both of the brands offer semi-custom cabinetry. Basically, it is partly stock and partly custom. The delivery time of the semi-custom cabinetry is a minimum of 6-10 weeks.
And the third one is stock or production cabinetry. Stock cabinets may be preferable if you are in a hurry with your kitchen renovation because they need less time to deliver.
But the number of styles, accessories, finishes, and customization become limited.
Picking the right wood for your cabinetry decides its durability. Also, other facts are connected with the cabinet's sustainability, but the wood quality is one of the significant ones.
Though Kitchen Craft and KraftMaid both have similarities in wood variants, KraftMaid has more to offer. Adler, maple, oak, and cherry are the common woods for both brands.
Still, hickory is one of the strongest and heaviest woods used for KraftMaid's cabinets. This wood has natural streaks to enhance your cabinet's beauty.
In addition, Birchwood is one of their wood options. With high shock resistance and straight, wavy or curly grains, it has a unique look to offer.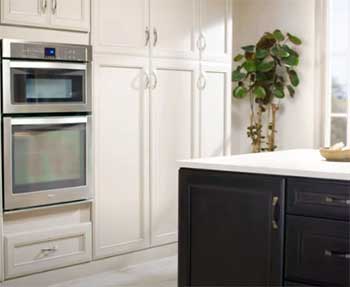 There is a distinction in the number of design styles between Kitchen Craft and KraftMaid.
With five aesthetic design styles, KraftMaid makes your kitchen cabinets more decorated than ever.
You can have functional storage solutions with KraftMaid's light and timeless design style.
A natural and warm design style is preferred for more burnished, vintage, and amazing finishes.
On the other hand, Kitchen Craft provides you with three design styles for your cabinets. With less design style, you have limited options to customize.
In addition, these three types are also included in the KraftMaid design style with an upgrade. So, you know what to choose for a more enhanced and decorated look.
Flexibility and sustainability are prominent factors when it comes to kitchen cabinets. So, investing in cabinets must be envisaged by their performance and quality.
However, both KraftMaid and Kitchen Craft have good-quality cabinets. Still, KraftMaid provides more sustainable cabinets with high-end materials, elegant finishing, and accessories. So, if performance and quality are your priority, go for Kraftmaid.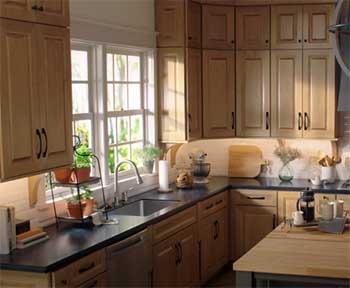 Kitchen cabinets are not a small investment.
When investing thousands of dollars, you need to understand which brand is giving you more value for money.
Kitchen Craft and KraftMaid have an average value difference.
A full set of KraftMaid Cabinets will charge you around $7000 to $30000 depending on your material choice, installation, and size.
 Conversely, Kitchen Craft cabinets are much cheaper in price. Their price range starts at $100 per linear foot. Despite being expensive, KraftMaid offers you more Functionality and customization.
Which Kitchen Cabinet Is Better For You?
As you can see, both brands have a lot to offer at different price points. With a higher price tag, KraftMaid provides you with more cabinet types, design styles, wood variants, and better performance.
Conversely, Kitchen Craft offers relatively fewer benefits with a lower price tag. So, now you compare your priorities with what each brand brings and pick what is best suited for your kitchen cabinets.
Frequently Asked Questions (FAQ)
Who makes the highest quality kitchen cabinets?
KraftMaid is an overall winner. Providing high-quality Materials, countless options, and a limited lifetime warranty ensures long-lasting products with a great outlook. Also, it is one of the major companies for kitchen cabinets.
Are KraftMaid cabinets considered high-end?
Because of high-quality materials, amazing finishing, and aesthetic look, KraftMaid cabinets become high quality. Regarding its price point, KraftMaid produces more excellent cabinets for its customers than other brands.
Where are Kitchen Craft cabinets made?
Kitchen Craft is a Canadian company. They have been manufacturing their product in Manitoba, Canada, for more than 48 years.
Also, Kitchen Craft started its journey in 1972 as a kitchen and bathroom cabinet manufacturer. Now they are one of the most renowned companies in the cabinet marketplace.
Are KraftMaid cabinets real wood?
KraftMaid uses birch, hickory, alder, maple, cherry, and oak wood for their cabinets. Moreover, all four sides of their cabinet drawers are made with 3 / 4" solid wood.
These woods ensures great quality cabinets with insane sustainability. In addition, Limited lifetime warranty coverage makes you more confident about their products.
Conclusion
That's a wrap for today. I hope my comparison between Kitchen Craft cabinets and KraftMaid Cabinets will help you to take the right decision about buying their products.
As I mentioned earlier, Cabinets are a one-time investment and an essential part of kitchen appliances. So now as you know the differences, you can easily pick whatever is suitable for your kitchen interior aesthetics.