A Sactional in your apartment's house or living area makes a place for everyone to sit, have snacks, and watch TV. Some people like to sleep there and have long conversations.
In that case, Lovesac brings the top quality sactionals for everyone out there. These are heavy-duty built, highly comfortable, and ensure your complete relaxation when you are using them in your house.
However, the only problem customers may find with the Lovesac Sactionals is their high price. Sometimes, you fall for a sactional from this brand, but the budget might not suit your pocket.
That's why it's good to know about some worthy companions that can be considered at the place of Lovesac. In this guide, I'll let you know all the better alternatives to Lovesac Sactional.
Top Substitutes To Lovesac Sactional
With the aesthetic color collection, high-end material usage, and making them highly comfortable, it's hard to find a competitor to Lovesac furniture.
These sactionals come with more than one cover for easy changing and cleaning.
Such covers ensure high protection beneath sofas and stuff. Besides, you can also add some additional accessories with a complete Sactional from this brand.
Yet, the price of a single setup may not be under your expectations. And that's why I'd love to share some good alternatives to this brand for the same product that will provide you the quality but at a very reasonable price. Have a look, please.
Floyd Sactional and Sofas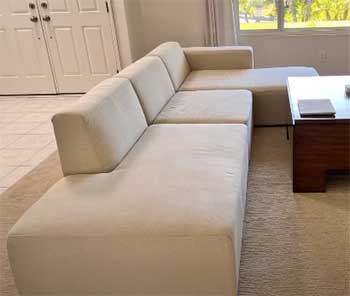 One of the top alternatives to consider at the place of Lovesac Sactionals and Sofas is the Floyd brand's sofas and Sactionals.
This brand has multiple sofas and furniture items to choose from.
More people find their sofas appealing not because they are made that way but because their prices are certainly under your budget.
The comfort is there, but there is again a problem.
These sactionals might not ensure the quality or level of satisfaction as the Lovesac does. Yet, if you need something good under a reasonable budget, Floyd is a great brand to consider.
You might be hearing about the Home Reserves for the first time. It's also a brand that makes and sells sofas, couches, Sactionals, modular sofas, and more.
You can find this place a one-stop shop for all comfy furniture items.
But the best thing in comparison to the Lovesac is the prices.
Yes, Home Reserves give you quality options at a very meager price that would be high in the Lovesac Sactionals case.
Their sactionals cost you almost $1200 bucks, but that's not the same with the Lovesac because you already know the higher price tag of more than $4000.
In addition, Home Reserves make it a worthwhile purchase because of the numerous features they provide in their sofas, sactionals, and other items.
These include Comfort Deck Seating, Easy UPS Delivery, Changeable Layouts, Built-in Storage Compartments, Pet Care Fabric Options, and more.
Burrow Modular Sactionals
Burrow sofas and sactionals are cheaper than the Floyd and comparatively better in quality. You can also take them as a good alternative to Lovesac Sofas or Sactionals.
The Burrow Sactionals ensure greater comfort at a very low price for the price-to-performance ratio.
Their Sactionals and sofas are quality built and made to last. However, you may not find many designs or form factors for having a unique burrow brand sofa.
That's the problem when you compare a high-end brand like Lovesac with Burrow.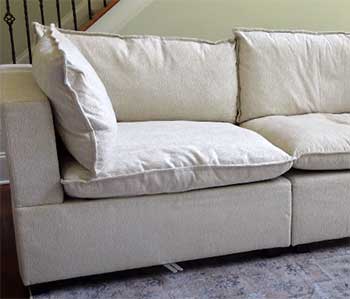 Let's arrange your furniture better with this budget-friendly Kova Sactional.
It is again a good alternative to Lovesac and retains quality at a lower price.
You can arrange these Sactionals in any configuration that best suits your lifestyle.
When you get a Sactional from this brand, it will not only increase the beauty of your house or apartment but also bring satisfaction when you sit on it.
Have the Sactionals from ottomans and consoles to armless and corners. These products are designed and included to give you the needed space.
With a 4.5 star rating at Wayfair, Wade Logan is another high-quality brand selling modern design sofas and Sactionals.
They have products for everyone because their budget is very mild. Enjoy the higher level of affordability and versatility when you choose your Sactional from this brand.
The best thing that comes as a substitute for Lovesac is the prices of their products. They are comparatively low, but don't let go of the level of comfort you desire.
Here, one can enjoy the sleek styles of furniture and décor with more glossy silhouettes that bring boldly inspired looks to your homes or apartments.
7th Avenue Sofas and Sactionals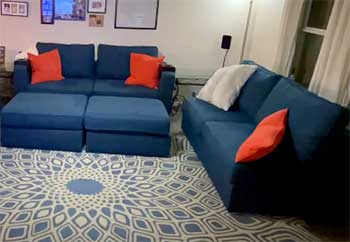 In order to consider a good alternative to Lovesac, you shouldn't only look for the options at a minimum price.
Instead, you must keep the quality of those Sactionals or sofas in your mind too.
In that case, 7th Avenue is an excellent brand to consider.
Reveal the strains and stresses of your life by having a well-made Sactional from 7th Avenue inside your house, office, or wherever you live.
You will get excellent water-repellent and stain-resistant fabrics with a Sactional or sofa from this brand.
These help the Sactional stand against the toughest challenges or situations. The best thing is the price which is very low with this brand than Lovesac Sactionals.
All form 4-Seat Corner Sactional
Allform gives you a wide range of customization options that you can choose from. It is counted among those top-quality brands selling durable and well-made furniture items like Sactionals, Sofas, Chairs, and more.
Compared to Lovesac, the price is reasonable, but some people still find the brand a little expensive.
However, even if Allform is not that reasonable, it gives you a high choice of nine-performance fabrics, additional pillows, cushions, etc.
The brand takes examples from your real life as what you really need and provides you with excellent quality modular Sactional couches.
It doesn't matter what you are looking for; being a great alternative to Lovesac, the brand will meet your desires, and you can consider their 4-seat corner Sactional option if you want to install a Sactional in the house at a lower price.
Latitude Run From Wayfair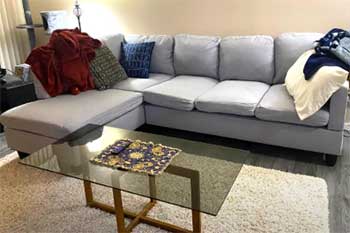 Whether you need office furniture, single furniture items, chairs, sofas, Sactionals, or anything, Latitude run is there to help you with everything.
They bring a vast collection of many furniture items that you can find at many stores like Wayfair, Amazon, and others.
When you look at this brand from the economical point of view, it is reasonably cheaper than Lovesac's sactionals.
It includes many products for your living room furniture, especially the Sactionals you need as an alternative to the Lovesac.
So, one can find the desired furniture item from this brand even at a lower price than Lovesac.
Roeder 6 Piece Upholstered Sactional from Mercury Row
This masterpiece is available in a total of 6 designs and colors that make it easier for you to get a sactional at a lower price but with demanded quality.
Mercury Row offers modern and undeniably cool designs that match your desires. You can have these 6 pieces upholstered in Sactional from this brand and fix it inside your space.
It is finally time to decorate your space with a new mercury row sactional set that will save you on the pricing side. That's the reason I've added this as another great alternative to the Lovesac Sactionals.
Is Lovesac Sactional Any Good Or Worth It?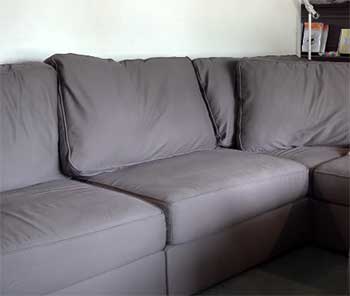 Even after knowing about all the brands or products I've explained above, one will hardly match the qualities and comfort of Lovesac Sactionals.
Lovesac is a well know brand with higher customer ratings and reviews.
These provide you with countless rearrangeable options and easily changeable cautions.
There are more than 200+ options available they provide with their Sactionals.
In addition, the best thing they provide is a lifetime limited warranty over their Sactionals or products.
However, more people find this brand a little out of approach because their Sactionals are extremely expensive and even out of reach sometimes.
Frequently Asked Questions (FAQ)
Is There Anything Comparable To Lovesac?
If you are looking for anything highly comparable to Lovesac, the Ultimate Sack is the fine option. It is quickly becoming one of the top alternatives to the Lovesac. However, Lovesac still beats many brands in the market because of its large, comfortable, and high-quality furniture items.
What Is Comparable To A Lovesac Sactional?
Against the quality of Sactionals, you won't find anything or any Sactional highly comparable to the brand. However, if you need a cheaper option, many brands like Floyd, Home Reserve, or Burrow are available.
Is There A Cheaper Alternative To Lovesac?
Yes, there are many cheaper alternatives to Lovesac, including Kova Sactionals, Burrow, Floyd, and more. Therefore, you can find the best one you need.
Is Lovesac Couch Worth The Money?
With the heavy-duty construction, excellent warranty, and many other benefits, the Lovesac couches are indeed worth the money.
Final Thoughts
Lovesac is indeed a valuable brand to find your desired furniture items whether you need a sofa, sactional or more. The product's lifetime warranty makes it a value-for-money purchase for every individual.
However, if you think you cannot beat the price of this brand, I've enlisted many alternatives to the Lovesac. In this way, you can choose what you find the best.
But if you find a problem, let me know, as I am here to help you!