Toddlers are always full of energy. Usually, their energy outlet is the couch and that's why people look for play couches. Nugget couch and Kozy couch are two top play couches.
They're pretty similar too, but not really. Build, design and washability are the biggest differentiating factors between them.
Children don't want to be bored and grown people need their furniture intact. That's where the Kozy and Nugget couches come in. Both are good, but what if you had to pick only one?
Here's a side-by-side comparison to help you decide.
A Quick Summary of Comparison
| | | |
| --- | --- | --- |
| Feature | Kozy Couch | Nugget Couch |
| Build | Less soft and durable | Softer and more durable |
| Design and color | Multiple sizes, fewer color options | One size, more color options |
| Washability | Air dry, can shrink | Air dry, doesn't shrink |
And that's the gist of it, keep reading for the detailed breakdown!
Kozy Couch And Nugget Couch: Key Difference And Comparison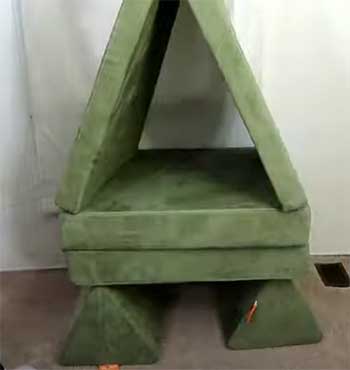 Sure, both are play couches but that doesn't mean they're photocopies of each other.
Cozy couch and Nugget couch both are high quality, have pretty good selection ranges, and have a good reputation backing them up.
That's why picking one of them is kind of hard. But don't worry, it isn't impossible.
There are definitely some differences between them and they're pretty big too.
Build, design and colors, washability – these are the most notable ones.
Let's see how these differentiating factors turn out in both the Kozy couch and the Nugget couch.
Well, this is the most visible difference between the couches get. Both play couches are made of strong materials, but there's an inch difference.
Kozy couch foams are less soft and the covers are slightly less durable. Nugget couch on the other hand goes all in.
The Kozy couch looks like the Nugget couch but the difference is in the material. The foam used in the Kozy couch is slightly stiffer.
You might not even notice at first. Once you "break it" in, you'll see that the cushions aren't the right amount soft or stiff.
That makes the Kozy couch slightly heavier than the Nugget couch. It is no biggie but your toddler may feel the weight a little more when they're rearranging the cushions.
The Nugget couch on the other hand is the opposite. The foams used in that structure are just the right amount of soft for both kids and adults.
The toddlers won't be sore after a full energetic play session and if you're using the cushions, you won't have a sore back either.
The nugget couch is also lighter so the kids can drag it around easily. They can get their play shapes without any help and can put the structure away as easily too.
But the biggest highlight of the nugget couch is its durability. The cover, triangles, and cushions are extremely durable. You won't have to worry about them tearing unless you're intentionally trying to tear them off.
A nugget couch also does better with the furry friend of your house. Sure there will be some claw damage but it will be less than the Kozy couch.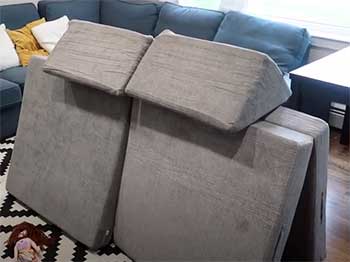 This is where it gets interesting.
Both couches are very similar in structure (that's why there is a comparison in the first place), but there are design differences.
Kozy couch comes in two sizes for convenience but the color options are limited.
The nugget couch is one size only but the color options are more expansive.
Kozy couch has two sizes- the single unit and the full unit. A single unit comes with one cushion (foldable in the middle) and one triangle.
This is a great option if you don't have space but want a corner for your kid. The double size comes with two cushions and two triangles.
The interesting part of the Kozy couch design is the triangles. The triangles are straight-angled, which means you can set them upright against the wall. This is very convenient for saving space.
As for colors, the Kozy couch doesn't have many options. They started with a grey and a shade of pink. But later Kozy couch added mint, sunflower, denim, sand, and black to their range.
The Nugget couch comes in only one size- two cushions and two triangles. As you can guess, this is for bigger areas so you'll have to prepare like that.
Good thing is, they're easy to fold back up so there won't be much hassle wrapping them up.
The triangles of the Nugget couch aren't straight-angled. That means you can't use them right against your wall. But you can definitely fold them up if you need more empty space.
But the best part of Nugget couch's design is probably the colors. Nugget couch has around 15 colors available and some of them are collabs with interesting characters.
There is a Sesame Street pattern which is super fun and cute. So yes, Nugget couch is miles ahead in terms of color options.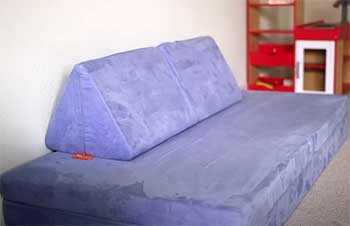 This is a long-term problem no one really thinks about.
Most foams (and covers) shrink after one wash, even if the shrinkage isn't noticeable.
The Kozy couch is one of them while the Nugget couch retains its shape even after washing.
Kozy couch foams are less soft, as you know now.
Everything needs to be air dried so that can take up a lot of space.
But the worst part is the shrinkage. The foams shrink down a little after every wash. It isn't very noticeable but hey, it is still shrinkage.
The plus point is the covers, they can be machine washed and they don't shrink as much. That creates another problem- you might end up with covers that are slightly bigger than the structures.
Nugget couch doesn't have this problem. It also needs air drying so you'll need an open space. But after they're washed and dried, the cushions will stay the same size.
No shrinkage to worry about. This is one of the main reasons why people go for Nugget couch.
Which Couch Should You Go For?
You can already guess how hard it is going to be. Both couches are amazing and are good for children.
That's why picking one of them is hard. But hey, it isn't impossible. You just have to decide what you prefer and go with the option that checks your preferred box.
If you're looking for a budget-friendly option or are in a space crunch, go with the Kozy couch. They ship fast, have a pretty good color range and you can expand the couch later.
If you can manage a little splurging and want something bigger, the OG Nugget couch is a borderline unbeatable option. They have lots of color options, the cushion won't shrink and you can use it for adults too.
Overall, Nugget couch is the better option here. But if you want something budget-friendly or space-saving, the Kozy couch is as good as it gets.
Frequently Asked Questions (FAQ)
Here are a bunch of questions people usually ask about Nugget couches, Kozy couches, and play couches in general.
What is better than the Nugget?
That's subjective, really. But there are multiple competitions for Nugget like Joey, Friggy, Kozy, and Foamnasium.
Does Costco have a version of the Nugget?
Not at the moment, no.
Why are Nugget couches so popular?
There are lots of reasons why the couch is so hyped. It is durable, versatile, and expandable. Plus there are lots of color options to choose from.
Is there a Nugget dupe?
Yes, there are multiple alternatives to the Nugget couch. The closest options are Joey, Friggy, Kozy, and Foamnasium.
Final Verdict
Play couches are one of the best things you can get if you have kids at home. The whole Kozy couch and Nugget debate will keep dragging on, but the choice is ultimately yours. 
The Nugget couch is the overall better choice here. But if you want something smaller, feel free to go with the Kozy couch.