How often do you use your lawn mower to cut your garden grasses? When it is the growing period, they need more frequent mowing. 
Choosing a decent quality lawnmower is necessary to make the most out of it and cut the lawn precisely.
But a debate arises about which one to choose between liquid-cooled vs. air-cooled lawn mowers. Both options have advantages and drawbacks. Here we will discuss some important details about these two types of lawnmowers. 
Let's dive in!
Quick Comparison Between Air And Liquid Cooled Lawn Mower
Check out this short table to get a short overview of both types of lawnmowers. 
| | | |
| --- | --- | --- |
| Specifications | Liquid Cooled Lawn Mower | Air Cooled Lawn Mower |
| Manufacturing approach | Hard to manufacture | Easy to manufacture |
| Efficiency | More efficient | Less efficient |
| Temperature Regulation | Better | Average |
| Durability | More durability | Average durability |
| Maintenance | Difficult to maintain | Simple to maintain |
| Noise | Almost quiet | A little noisy |
| Price | Expensive option | More affordable option |
| Availability | Not easily available | More commonly available |
In-depth Differences Between Liquid And Air Cooled Lawn Mower

It is crucial to learn some important details about both lawnmowers as they vary from each other in different aspects. Check out their main differences.
It is important to get into how a machine is designed and manufactured. Compared to air Cooled Lawn Mower, liquid Cooled Lawnmowers are trickier to manufacture due to their distinctive design.
You must ensure a proper air circulation system in a water-cooled mower. So, designing this type of lawn machine takes more time and sophisticated plans to implement precisely for the most efficiency.
Machine efficiency is important when you want to get the best result. Though both types of machines can show reliable performance, liquid-cooled lawn mowers.
The reason is that the water version can hold its HP better even while operating in too hot weather. On the contrary, an air-cooled lawnmower may have reduced efficiency during excessive heat since all moving parts become highly hot.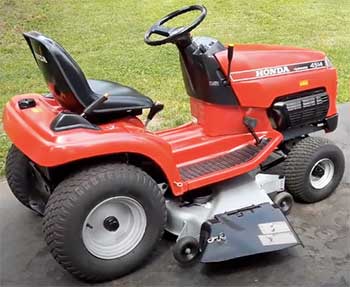 Since most of us buy lawnmowers for a long-term investment, we want them to last the longest time.
Unfortunately, a lawnmower has a limited lifespan regardless of the mower you choose.
An air Cooled Lawnmower can take around 8-10 years based on how often you use it and how properly you take it.
On the other hand, a Liquid Cooled Lawnmower will last approximately 10-15 years if you do the maintenance and cleaning tasks appropriately after every use.
Like other machines, lawnmowers have a particular heat tolerance level. When it becomes excessive, it affects all the moving parts, causing its performance to slow down.
Compared to air-cooled lawn mowers, liquid-cooled lawn mowers are better since they can better regulate the temperature.
This will uplift the performance of the water-cooled engine by ensuring proper power and perfect fuel economy.
As a conscious gardener, you want to take care of your lawnmower regularly. It will improve its performance and keep various parts in good condition.
Liquid Cooled Lawn Mowers require a little more maintenance than an air-cooled lawn mowers. For example, it is crucial to keep the radiator clean to prevent poor coolant circulation and overheating issues.
However, regular maintenance is always necessary for types of lawn mowers. To prepare for the winter offseason, it is a good rule of thumb to properly clean and lubricate different important moving parts during the summer and spring.
Generally, a lawnmower produces 90 dB to 110 dB sound. But most modern lawnmowers make a healthy noise level to ensure convenient operation use them. 
Compared to an air-cooled lawn mower, a liquid-cooled lawnmower creates less noise because the engine supplies water to the block and head that prevent moving parts from being closer to each other.
How much money are you ready to pay to own a lawn mower? The average lawn mower price can be anywhere from $200 to $2000.
Rear engine type lower mowers are highly expensive, while electric push mowers are incredibly inexpensive.
If you are looking at a mid-range option, Gas Self Propelled is worth considering.
Since the engine and moving parts of a liquid-cooled lawnmower are pretty costly, the machine's total cost is also higher.
For instance, The Honda Lawnmower Tractor 4514 Hydrostatic 2 cyl Liquid Cooled has a price of $850.
In contrast, air-cooled lawn mowers are pretty affordable. For example, the KOSHIN EBC-35C hand-push lawnmower price is around $350. 
If you can't purchase your preferred lawnmower from your nearby shop, it is a few hassles. After all, you don't want to spend additional time and money to purchase it from a distant place.
Compared to liquid-cooled lawn mowers, air-cooled lawn mowers are more easily available. The reason is that the air-cooled mower is more simple to use, and most gardeners prefer to use them.
So, your current city or nearby location may not have liquid-cooled lawn mowers since a few people only use them. Repairing them will be a little more hassle if your nearby shop doesn't repair them.
Which One Will Be the Best Fit for Your lawn?
Since both lawn mowers are unique and have their own pros and cons, you can go for either option as per your need.
If you don't mind spending extra and want to get a more efficient lawn mowing experience, a liquid-cooled lawnmower appears better choice.
But make sure it has a close-by shop in case any repair requires. You can use them for professional purposes too.
On the contrary, choosing an air-cooled spray appears good if you want an affordable option and are okay with average performance. More importantly, you can easily repair them from your nearby store.
Frequently Asked Questions (FAQs)
Which is better liquid-cooled or air-cooled?
A liquid-cooled lawnmower effectively produces more torque/power and can ensure a better control temperature, while an air-cooled lawn mower is affordable and easy to operate the machine.
What are the disadvantages of air-cooled engines?
One of the biggest disadvantages of air-cooled engines is that they are prone to overheating issues, which lead to a lot of power consumption and reduced performance.
Are lawn mowers liquid cooled?
Some lawn mowers have a liquid-cooled engine that can precisely transfer heat to the surrounding air through the fins area.
What are the advantages of a liquid-cooled engine?
The biggest advantage of liquid-cooled engines is that they are not prone to overheating issues, effectively control the engine's temperature, and ensure its thermal efficiency.
Conclusion
So, which option you have decided to go for after comparing liquid-cooled vs. air-cooled lawn mowers? Choosing the right option requires determining your mowing requirement and choosing based on it.
Regardless of your choice, make sure it can help you cut your lawn conveniently with minimal difficulty. Hopefully, this article helped you learn the primary difference between lawn mowers.