Imagine how you would feel if you didn't get the result you expected from your windows. A big disappointment, right?
It only tells us the importance of choosing the right one. That's why I have decided to talk about the two popular window brands.
Lincoln's windows need high maintenance, whereas Jeld-Wen windows will last longer with moderate care. Besides, you will get more wood options in Jeld-Wen windows than in Lincoln.
Let's dive deeper and see what other differences these two windows brands have.
A Quick Comparison Table
Here is a Quick Comparison table between Lincoln and Jeld-Wen windows for your better understanding:
| | | |
| --- | --- | --- |
| Aspects | Lincoln | Jeld-Wen |
| Windows Lines | 6 Windows Lines Based on Type | 12 Windows Lines |
| Windows Materials | Vinyl, Wood, Aluminum, Hybrid | Vinyl, Wood, Aluminum |
| Special Feature | clean interior stop design | energy-efficient windows |
| Available Colors | 15 Colors In Total | 28 Colors On Average |
| Warranty | Limited Warranty | 20 Years For Wood and 10 Years Transferable Warranty for Aluminum |
| Price | $150 to $550 | $200 to $500 |
In-Depth Comparison Between Lincoln And Jeld-Wen Windows
You have gathered some quick ideas from the above comparison table. But that's not enough to pick up the right brand. You will need more details on their comparison.
Here are some in-depth key differences between Lincoln windows and Jeld-Wen windows: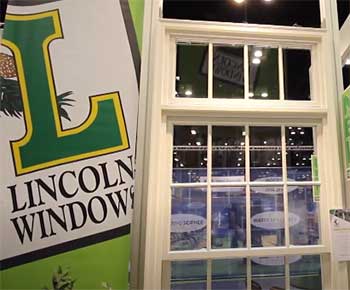 Product lines can be an important factor when choosing a brand for windows.
Different window lines add various values to windows. Besides, you can choose from a handful of options.
Lincoln windows do not have any product lines separately. Its product line is based on the windows types.
In that consideration, you will find 6 windows types or product lines in Lincoln's portfolio.
They are Casement Windows, Awning Windows, Double-Hung Windows, Glider Windows, Bow and Bay Windows, and Specialty Windows. Apart from those, Lincoln also produces patio doors.
On the contrary, Jeld-Wen has various windows lines in its portfolio. To be precise, you will find 12 windows lines under Jeld-Wen's hood. I know, it's a huge deal. But all those lines have apparent differences from one another.
So, you won't face any problem choosing one.
Custom Wood Windows, Premium Vinyl Windows, Siteline Clad-Wood Windows, Builder Vinyl Windows, W-2500 Clad-Wood Windows, and Brickmould Vinyl Windows Are Only Half.
The other half are EpicVue Clad-Wood Windows, Flat Casting Vinyl Windows, W-5500 Clad-Wood Windows, DF Hybrid Vinyl Windows, Builders Atlantic Aluminum Windows, and Premium Atlantic Vinyl Windows.
Material is another crucial factor every customer looks at before buying windows. It's materials that make a window stronger and more durable than anything else.
Looking at materials, you will see that Lincoln uses various materials to make windows. Lincoln windows' frame materials are made from Extruded Aluminum Clad, Primed Wood, Natural Wood, Vinyl, and Hybrid Aluminum Frames with PVC Sill.
Besides, you will find various glass options. Such as multiple energy-efficient glasses, low maintenance glasses, tinted glasses, patterned glasses, etc.
On the other hand, Jeld-Wen also offers various high-quality frames and glass materials for its windows.
You can choose from vinyl, various engineered softwood, and aluminum. The wood option includes oak, knotty alder, mahogany, cherry, walnut, and a handful of others.
For glasses, you will have options between various decorative glasses, energy-efficient glasses, tinted glasses, textured glasses, and many protective glasses.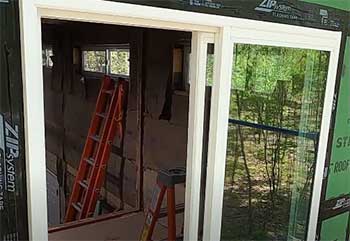 As you can understand, both Lincoln and Jeld-Wen windows are packed with various features. Let's see what they have to offer.
Lincoln windows feature a clean interior stop design. You will get maximum thickness in sill covers.
Plus, all Lincoln windows come with full surround frame weatherstripping.
Besides, the windows have thermally enhanced frames coupling with specialty composite materials. For added stability, you will get gasket frame corners with aluminum-clad windows.
On top of that, the top rail includes a drip cap and sash weatherstrip.
In contrast, Jeld-Wen produces energy-efficient windows. It offers a block frame for both replacement and new construction windows for added safety.
Block frame is a particular type of frame that does not come with a nail fin. It has the same dimension inside and outside and is ideal for concrete walls.
Besides, its full functioning weatherstripping makes the windows more protective and durable. All Jeld-Wen Wood Windows are made with AuraLast technology that protects the woods from damage.
Both Lincoln and Jeld-Wen have plenty of options when it comes to colors. For example, Lincoln offers various basic and ionized color options for its windows.
The basic colors are Black, White, Beige, Ivory, Coffee Bean, Bronze, Adobe, and Hartford Green. Ionized colors include Black, Clear, Light Bronze, Medium Bronze, Dark Bronze, Champagne, and Auburn.
On the other hand, Jeld-Wen offers more than 28 interior and exterior color options for its windows. Some of the colors are Bone White, Brilliant White, Ivory, Mocha Cream, French Vanilla, Silver, Smoke, Hartford Green, Hunter Green, Cranberry, and various others.
You will get a Limited Warranty with Lincoln windows and patio doors. The general windows come with a 10-year Limited Warranty, but the exterior aluminum-clad finish is covered by a 20 years Limited Warranty.
By contrast, Jeld-Wen offers a 20 years warranty for its Wood and Clad Windows. A 10-year transferable warranty covers the vinyl ones.
Plus, you will get 10 years warranty with 2 years of skilled labor with its aluminum windows.
The price of Lincoln windows starts as low as $150 for single hung vinyl windows. Its Casement wood windows will cost around $450 to $550.
On the contrary, Jeld-Wen's vinyl windows start from $200. But you will have to spend around $400 to $500 for wood windows.
Which Window Brand Is Best For You?
As you can see from my above discussion, Lincoln and Jeld-Wen are good brands with high-quality windows.
So, it can be confusing for you to choose the right one.
Nevertheless, I will tell you which one you should go for.
According to facts and many customer reviews, you should buy Jeld-Wen windows. It's slightly better than Lincoln in quality.
But you will get plenty of windows line to choose from. Besides, they come with more interior and exterior color options.
You will have a better warranty service from Jeld-Wen windows at an almost similar price. So, you definitely should go with this choice.
Frequently Asked Question (FAQ)
Are Jeld Wen Windows high quality?
Jeld-Wen produces superior quality windows that are strong and durable. Jeld-Wen windows are among the most reliable ones available in the market.
Are JELD-WEN products good?
Jeld-Wen products are not only good. They are one of the bests in their class. Jeld-Wen windows are famous for energy-efficient solid windows with many color and finish options.
Where are Jeld Wen Windows manufactured?
Jeld-Wen windows are available all across the US and Canada. They currently have two manufacturing facilities. But their windows are made in St. Apollinaire, Quebec.
What are Jeld Wen Windows made of?
Jeld-Wen uses various materials to make its windows, including vinyl, engineered softwood, and aluminum. You will get many wood options to choose from.
Final Thoughts  
Choosing between windows brands can be intimidating. You might not have all the factors covered. But I'm glad that you found my Lincoln windows vs. Jeld-Wen review.
Now you know all the factors for choosing the best window. Not only that, but you also know which one is the best option among these two. So, go ahead and install it.