Lexel and Big Stretch both are very reliable sealants. However, they have differences, too, in terms of material, color options, price, waterproofing, and available sizes.
No matter your sector, sealants are essential to attach wood pieces or fill any gap. However, the market is filled with different options, and finding a suitable sealant can take time and effort.
A good sealant must have certain qualities; both Lexel and Big stretch have those. However, I have compared both options below to find the right choice for you. Let's begin.
Quick Comparison Table
| | | |
| --- | --- | --- |
| Specifications | Lexel | Big Stretch |
| Material | Synthetic copolymer rubber | Acrylic |
| Adhesion | Good | Better |
| Waterproof | Yes | No |
| Usable surfaces | More | Less |
| Elasticity | Less | More |
| Color options | 2 | 13 |
| Available sizes | 5 oz. and 10.5 oz. | 10.5 and 30 oz. |
| Price | More expensive | Less expensive |
Key Differences Between Lexel And Big Stretch
One of the main differences between Lexel and Big Stretch is the material.
While many people don't consider the material with care, performance and quality depend significantly on the material.
Lexel sealant is made of synthetic copolymer rubber, while Big Stretch is acrylic. Each of these materials has its strengths.
Copolymer rubber is known for its all-around performance. On the other hand, acrylic is suitable for a handful of surfaces, but its strength is that it's paintable.
While adhesion is not the primary objective of using sealant, it's a significant upper hand to have on board. In that regard, Lexel and Big Stretch have considerable adhesion to make surfaces stick together firmly.
However, if I have to pick one, Lexel has better adhesive power than Big Stretch. You can apply a minimal amount of Lexel on applicable surfaces and still get severe adhesion instantly.
If you want to stick surfaces alongside closing gaps, Lexel is the better choice.
This particular aspect will be vital for you based on your work. You can use both Lexel and Big Stretch on multiple surfaces.
Now, if your job involves water and you'll apply the sealant with contact water, you should be very careful about the sealant's waterproofing. It'll save you from potentially costly repairs in the future.
If we talk about waterproofing, Lexel is 100% waterproof, thanks to synthetic copolymer rubber. It instantly becomes waterproof when you apply it, and you can even use it to seal active leaks.
On the other hand, Big Stretch isn't waterproof, which means it's not usable for water-related jobs.
As I mentioned earlier, both sealants are made of different materials. So, the usable surfaces are going to be different too.
There is no better or worse here; you need to consider which sealant works with the surface you will work with.
Lexel's most significant advantage is that you can use it with many surfaces, including concrete, stone, wood, brick, cement, mortar, and metals. On the other hand, Big Stretch's useable surfaces are limited to windows, doors, siding, vents, trim, soffits, eaves, and crown molding.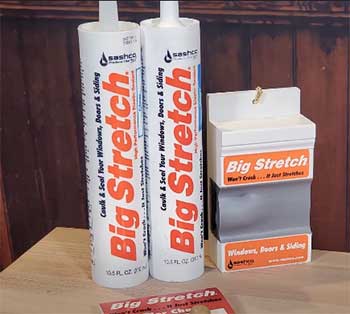 Elasticity is an essential quality for sealant as it helps to protect the integrity of joints and seals, even with movement and deformations.
The more elastic your sealant will be, the better chance it has to hold up against movement.
Lexel and Big Stretch have decent elasticity to hold up against movements.
However, if I have to pick the more elastic one, it will have to be Big Stretch, just as the name suggests.
It has 500% maximum stretch, making it one of the stretchiest sealants on the market.
The color of the sealant is not a big deal in some cases. However, color options still play a massive role in nobs where you must match the surface color with the sealants' color.
In those situations, having multiple color options is super handy for you.
If we look at Lexel, there aren't many color choices left as it comes in only clear and white. On the other hand, Big Stretch comes with thirteen different color choices.
Moreover, you can paint over Big Stretch to match your desired color due to acrylic.
The sizes available will affect your purchase decision if you work with sealants infrequently. Both Lexel land Big Stretch is available in different sizes. In comparison, Lexel comes in a 5 oz. And 10.5 oz. Pack, Big Stretch comes in a 10.5 and 30 oz. pack.
If you use sealant often and in large amounts on different jobs, go for the bigger packs available from Big Stretch. On the other hand, if you use sealant sparingly and need a smaller pack, go for Lexel.
Sealants are relatively inexpensive, so the price might not make much difference to you. However, you should check the price and get the better value option to save every penny possible.
In terms of price, Big Stretch offers better value as it's 10.5 oz. Has almost a similar price as 5 oz. of Lexel. So, Big Stretch should be the more cost-effective choice for you.
Which One Will Be Better For You?
As you have seen above, both Big Stretch and Lexel have pros and cons; while both offer solid performance, they are meant for different surfaces and jobs. After waterproofing and more versatile use, you should get Lexel.
On the other hand, Big Stretch will be your better choice if you want better adhesion, elasticity, color options, and value.                                                               
Final Words
That's a wrap for today. My comparison between Lexel and Big Stretch will help you find the right choice. Both products have excellent performance, which makes them so popular and reliable for use in various sectors.
However, some difference separates their usage and suitability for different customers. When you purchase, carefully consider those differences with your need and get the best product that matches your requirement.