Because of inadequate knowledge of compatibility, I've seen many people pick the SherMax and Big Stretch caulk interchangeably and end up disappointed.
After hours of research, I noticed they have differences in the type of material, where SherMax is made of elastomeric, while Big Stretch consists of acrylic.
Besides that, several differences were noticeable in their price, quantity, curing duration, and many more. Let me disclose all through this detailed comparison.
A Quick Comparison Table
| | | |
| --- | --- | --- |
| Specifications | SherMax | Big Stretch |
| Material | Elastomeric | Acrylic |
| Curing/Drying Period | Fast | Slow |
| Quantity | 10.1 fl. Oz. | 10.5. fl. Oz. |
| Resistance Level | High | Medium |
| Price | Inexpensive | Slightly more expensive than SherMax. |
Key Differences Between SherMax And Big Stretch Caulk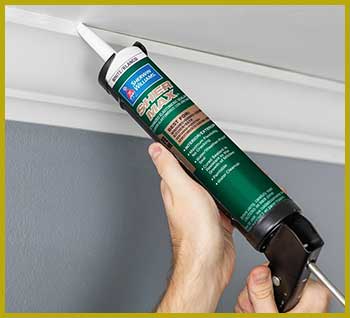 This is the first thing I always notice while choosing a caulk.
In the comparison between Big Stretch and SherMax, you'll find differences in their material type for being differently manufactured.
Let's say the SherMax consists of elastomeric material known to be durable, flexible, and insoluble simultaneously.
On the other hand, Big Stretch incorporates acrylic as its primary material, which is flexible, relatively cheap, and easy to use.
But compared to acrylic, elastomeric is thicker and stronger, ensuring more longevity. That's one of the key reasons why the manufacturer of SherMax offers a lifetime warranty.
Here is where the Big Stretch Caulk is one step forward than the SherMax.
Ask why?
Simply because the SherMax comes with a cartridge of 10.1 fl. oz, while the Big Stretch comes in 10.5 fl. oz.
Even if you get your hands on the combo pack of Big Stretch Caulk (pack of 12), you'll get 10.5 fl. Oz. in each cartridge. Although the difference in quantity is pretty slight, still some homeowners would like to consider it a difference between these two.
Not all sealants can give you the same resistance level, and there is no rocket science! Some might be unable to withstand prolonged dampness, whereas others can stand against harsh weather conditions.
That's where the SherMax Caulk comes into play!
The thing that makes me fall in love with it is its excellent resistance level against stubborn cracks, loose joints, and stuff like that. Moreover, the maker has claimed it to be over 99.99% waterproof and crack-proof.
Unlike the SherMax, Big Stretch has less waterproofing ability. That said, you'll find it capable of resisting chemical effects and moisture at a specific limit.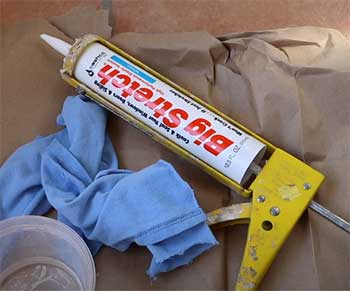 Compatibility is one of the prime things when someone needs to buy a sealant.
Chances are you'll end up with the wrong caulk if you aren't well aware of your product's suitability and the type of material you want to seal.
Let it be doors, windows, sidings, baseboards, or vents, both SherMax and Big Stretch Caulk can seal properly.
That said, what differentiates them is that the Big Stretch cannot withstand prolonged dampness in roof floors and water submersion, while the SherMax can do so.
Why? Because compared to acrylic, the elastomeric is prone to have more waterproofing ability.
One of the most crucial parts of the SherMax is its quick curing ability. And here, it can easily beat the efficacy of Big Stretch because once I applied it, it took only a couple of hours to get completely dry.
In contrast, Big Stretch took 4 to 5 days, known to be too lengthy. See the difference!
The cost is the last and sometimes the first thing to consider. Even though their cost difference is low, you'll find the SherMax a bit more inexpensive than the Big Stretch.
If I talk about myself, I don't count it as a matter of difference because their range is nearly the same. You better ask the seller or check marketplaces to get familiar with their current price range.
Which Caulk Is Better For You?
For being almost similar in terms of the sealant color, flexibility, and overall popularity, you might be finding it tough to decide what to choose between them. Is it?
If so, I'm here to reduce your confusion at the minor level! I prioritized the SherMax over the Big Stretch in terms of material (for being elastomeric), compatibility, and fast-drying ability.
On top of that, this one can also deal with damp rooftops; the credit goes to its ultimate waterproofing.
But yes, I equally prioritized the Big Stretch over the SherMax in quantity and price. Because within almost the exact cost, you'll get some extra ounces (e.g., .4 fl. Oz.) to fill your necessity in sealing.
 Frequently Asked Questions (FAQ)
What is SherMax?
SherMax is a well-known sealant brand that earns fame for its versatility, flexibility, and compatibility with multi surfaces. Besides, its quick-curing ability makes it stand out and ideal for those who are in a rush!
How long does Big Stretch caulking last?
Depending on the temperature and how you applied the sealant, the Big Stretch caulk lasts for up to 3 years without any issues.
How long does SherMax caulk take to dry?
For being super-fast, it won't require more than 4 hours to get dry. However, I'd suggest taking a bit longer so that it confirms more rigidity to seal your floors and joints.
Does Big Stretch caulk shrink?
Usually, Big Stretch caulk isn't prone to shrink, even under harsh weather conditions. But it can't stand against prolonged dampness, keep in mind.
Conclusion
The comparison of the SherMax and Big Stretch Caulk ends here. Hopefully, you've found your desired match for fixing the joints through sealing.
Even though the majority of votes given by the homeowners go for SherMax, it doesn't mean Big Stretch isn't worthy!
But the truth is that SherMax is unbeatable in terms of quick-curing and waterproofing. Let's decide upon your requirements.
Happy Sealing!